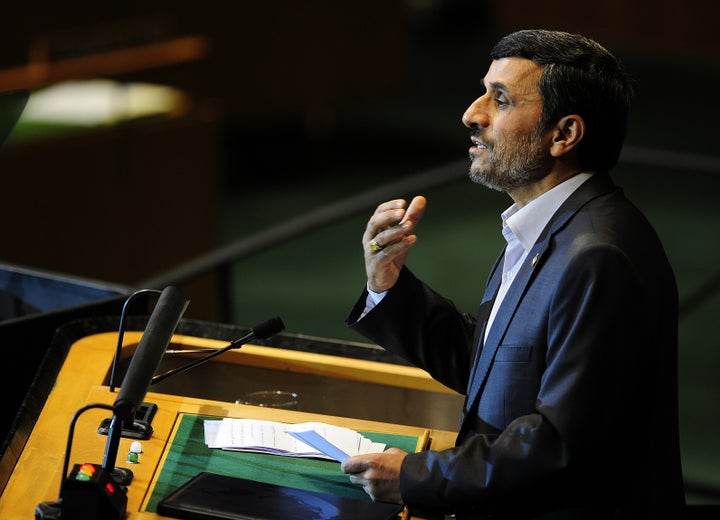 When he addressed the U.N. General Assembly last week, Iranian President Mahmoud Ahmadinejad reiterated his belief that the U.S. government was involved in the 9/11 attacks.
Speaking during the General Assembly debates, Ahmadinejad accused the U.S. of using the "mysterious September 11 incident" as a pretext to for the invasions of Afghanistan and Iraq. In 2010, he claimed that "9/11 was an inside job," while addressing the General Assembly.
The latest issue of the terrorist group's English-language magazine Inspire, quoted in the Iranian media (via The Guardian), says:
"The Iranian government has professed on the tongue of its president Ahmadinejad that it does not believe that al-Qaeda was behind 9/11 but rather, the US government," the article said, according to Iranian media. "So we may ask the question: why would Iran ascribe to such a ridiculous belief that stands in the face of all logic and evidence?"
According to CBS News, the author of the Inspire article, Abu Suhail, claims that Ahmadinejad is trying to assign responsibility for the attacks because Iran is, in essence, jealous:
"Al Qaeda was a competitor for the hearts and minds of the disenfranchised Muslims around the world. Al Qaeda, an organization under fire, with no state, succeeded in what Iran couldn't."
The article blasts the Iranian government for merely paying "lip-service jihad against the Great Satan," and derides Iranian anti-Americanism as "merely a game of politics," according to The Jerusalem Post.
The Financial Times reports that the magazine also includes an article allegedly written by Osama bin Laden, where he tells fighters not to let American soldiers "become great in your eyes."
The terrorist group's dismissal of Ahmadinejad's theories is also a bizarre case of life imitating art. The satirical website The Onion ran a story about an al Qaeda terrorist who felt that claims of the U.S. government being behind the Sept. 11th attacks were "demeaning" to the terrorist group.

Related
Popular in the Community