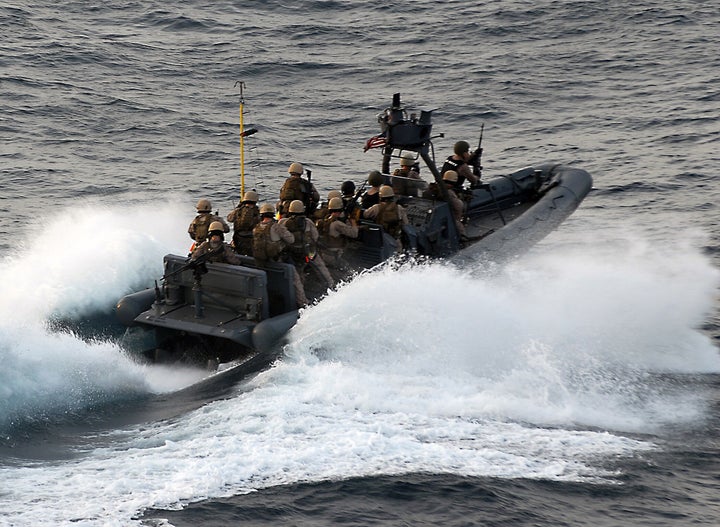 UNITED NATIONS (Reuters) - Somali pirates and Islamists are learning from each other and al Qaeda could hijack oil tankers to be used in September 11-style attacks, Somalia's prime minister said Thursday.
Mohamed Abdullahi Mohamed told a U.N. Security Council debate on Somalia his embattled nation faced "two evils, the scourge of piracy and the plague of terrorism" with common roots in lawlessness, poverty and religious fanaticism.
"Not only are these two ills working in tandem, but they are learning from each other," Mohamed said.
"It will not surprise us if al Qaeda's agents in Somalia start hijacking tankers in the high seas and use them as deadly weapons," along the lines of the September 2001 attacks on New York and Washington using hijacked airliners, he said.
"Why bother with a small plane when you can capture a tanker?"
Somalia's transitional government, backed by African Union peacekeeping forces, is fighting al Shabaab Islamists who claim ties to al Qaeda and control chunks of southern and central Somalia and parts of the capital Mogadishu.
At the same time, pirates operating from the Somali coast have for years been seizing passing ships for ransom. Despite the efforts of international anti-piracy naval patrols, they are currently believed to be holding about 35 vessels.
Mohamed did not elaborate on what targets huge and slow-moving tankers might be used against. The Security Council debate came as Somalia's AU-backed government forces have launched an offensive against al Shabaab. The government says it now holds 70 percent of Mogadishu and that the rebels are on the verge of collapse.
But U.N. Secretary-General Ban Ki-moon told the council on Thursday that the 8,000-strong AU force, known as AMISOM and composed of troops from Burundi and Uganda, had lost "dozens" of men in the fighting.
The military gains were "fragile" and the government's opportunity to consolidate its authority on areas under its control "may not last," he said.
There were "critical gaps" in U.N. support for AMISOM, which needed more resources such as helicopters and intelligence backup. "The international community must keep its end of the bargain," Ban said, calling on U.N. member states to step up contributions to a trust fund for the AU force.
An official statement by the 15-nation Security Council echoed that call and urged "all stakeholders" to develop a comprehensive strategy to establish peace and stability in Somalia, which has been in anarchy for 20 years.
It also urged Somali authorities to speed up preparations for long-term governance of the country by an August deadline imposed by a 2009 peace deal. It said this should be done in "a more constructive, open and transparent manner that promotes broader political dialogue and participation."
Britain's Africa minister, Henry Bellingham, who said London would donate $3 million to the AMISOM trust fund, criticized attempts to extend transitional institutions beyond August.
"It is troubling to me to hear about yet another reshuffle of the (government), as this suggests that political infighting is a higher priority ... than reconciliation and delivery of services to the Somali people," he said.
On piracy, Russian Ambassador Vitaly Churkin said his country would soon introduce a Security Council resolution to promote the struggle against it. That follows a recent U.N. report on ways of prosecuting captured Somali pirates, many of whom are now freed because no country will put them on trial.
Popular in the Community