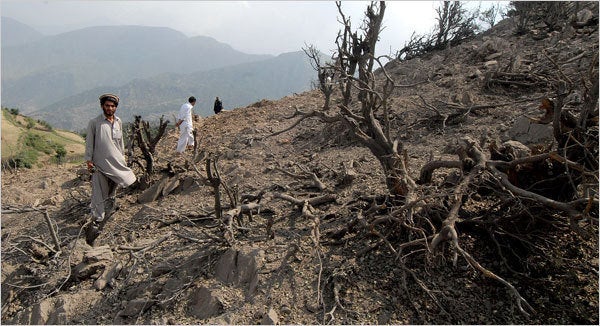 Today's New York Times leads with a report that Al Qaeda is strengthening their organization in Pakistan. With US resources heavily invested in Iraq, focus on the hunt for Al Qaeda in outlying regions of Afghanistan and Pakistan suffered.
Just as it had on the day before 9/11, Al Qaeda now has a band of terrorist camps from which to plan and train for attacks against Western targets, including the United States. Officials say the new camps are smaller than the ones the group used prior to 2001. However, despite dozens of American missile strikes in Pakistan since 2002, one retired C.I.A. officer estimated that the makeshift training compounds now have as many as 2,000 local and foreign militants, up from several hundred three years ago.

Publicly, senior American and Pakistani officials have said that the creation of a Qaeda haven in the tribal areas was in many ways inevitable -- that the lawless badlands where ethnic Pashtun tribes have resisted government control for centuries were a natural place for a dispirited terrorism network to find refuge. The American and Pakistani officials also blame a disastrous cease-fire brokered between the Pakistani government and militants in 2006.

But more than four dozen interviews in Washington and Pakistan tell another story. American intelligence officials say that the Qaeda hunt in Pakistan, code-named Operation Cannonball by the C.I.A. in 2006, was often undermined by bitter disagreements within the Bush administration and within the C.I.A., including about whether American commandos should launch ground raids inside the tribal areas.

Inside the C.I.A., the fights included clashes between the agency's outposts in Kabul, Afghanistan, and Islamabad. There were also battles between field officers and the Counterterrorist Center at C.I.A. headquarters, whose preference for carrying out raids remotely, via Predator missile strikes, was derided by officers in the Islamabad station as the work of "boys with toys."
Calling all HuffPost superfans!
Sign up for membership to become a founding member and help shape HuffPost's next chapter