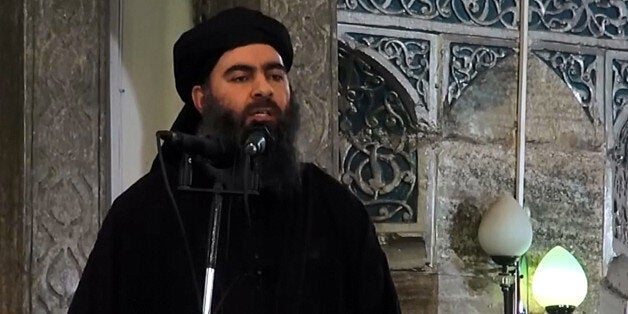 WASHINGTON -- In what would be a nightmare for their enemies across the United States and the rest of the West, global terror network al Qaeda and the increasingly powerful Islamic State militant group may eventually join forces, according to an expert on the Islamic State.
Abu Bakr al-Baghdadi, the leader of the self-declared Islamic State, also known as ISIS, may reconcile with Ayman al-Zawahiri, the leader of al Qaeda, "to fight the crusader enemy," said Hisham al-Hashimi, a former adviser to the Iraqi Security Forces and the author of a just-completed book about ISIS, in an interview with The Fiscal Times. "The attacks by the United States and her allies will unite the two groups," he added.
The Fiscal Times' report cites analysis from other militant-watchers to conclude that ISIS would have much to gain in an alliance with al Qaeda -- including enhancing its ability to attack foreign targets using al Qaeda's "historical roots and global networks."
Such an alliance may result from circumstance rather than a conscious decision, according to an Iraqi security analyst quoted in The Fiscal Times, Ibrahim al-Somaidaei. He predicted that ISIS's current leader, al-Baghdadi, would be killed either by al Qaeda or by U.S.-led airstrikes against the Islamic State in Syria. The result, al-Somaidaei claimed, would be that the Islamic State's fighters -- and its extensive arsenal of sophisticated, internationally made weapons -- would join al Qaeda's ranks.
The current Islamic State organization grew out of al Qaeda's offshoot in Iraq in the mid-2000s. But relations between the two extremist groups have soured over the last two years. Al Qaeda leader al-Zawahri reprimanded the Islamic State's leadership for attempting to expand beyond Iraq last year by claiming dominance over the al Qaeda affiliate in Syria. Al-Zawahri officially severed ISIS' ties to al Qaeda in February.
"I have been monitoring al Qaeda's leaders' rhetoric towards Baghdadi," al-Hashimi told The Fiscal Times. "They are getting softer and softer. ... The Islamic State, regardless of how big or small it becomes, will come back to its mother: al-Qaeda."
Previously, the Syrian al Qaeda affiliate, Jabhat al-Nusra, has worked with brigades of the U.S.-backed Free Syrian Army to fight the Islamic State in parts of Syria. Those U.S.-supported rebels have been angered by the airstrikes against al-Nusra.
Some recent reports suggest that al-Nusra leaders, with U.S.-led airstrikes targeting their fighters, have chosen to abandon those U.S.-aligned rebels for a closer relationship with the Islamic State. A senior al-Nusra source told The Guardian two weeks ago that scores of his group's fighters were already defecting to ISIS.
The Guardian article noted that al-Zawahri, the central al Qaeda leader, had called the U.S.-led strikes against ISIS and al-Nusra-linked targets (the Khorasan Group faction of the al Qaeda affiliate) a "war on Islam." The paper added that a "senior source confirmed that al-Nusra and Isis leaders were now holding war planning meetings."
The right-leaning Israeli news source Arutz Sheva, an outlet catering to the country's settlers, reported last week that its analysis of jihadist websites suggested that five of those Khorasan Group leaders had already joined ISIS.
These claims are few and far between for now. As recently as last month, terrorism expert J.M. Berger suggested that far from cooperating, al Qaeda and ISIS are competing for leadership -- and the associated clout, recruits, funding and notoriety -- in the global extremist movement. Though the calculus for both groups may have changed as the U.S. has expanded its role in the conflict in Iraq and Syria, militant researchers told The Huffington Post they remain skeptical that ISIS can win over either the central al Qaeda group or the Syrian affiliate al-Nusra.
"The problem hindering any reconciliation is that the Islamic State's position is zero-sum: Pledge allegiance and subsume yourself under us, and that especially applies here given that the original cause of the dispute between Nusra and what became ISIS was Nusra's refusal to accept merger under ISIS," said Aymenn Jawad Al-Tamimi, a researcher at the Interdisciplinary Center in Israel and a contributor to the blog Syria Comment. "Nusra might withdraw from areas where other rebels are fighting the Islamic State, but a real reconciliation isn't possible."
He added: "Baghdadi's demand to be recognized as Caliph is simply too much for al Qaeda."
Al-Tamimi suggested in an email that the most realistic sign of a reconciliation between ISIS and the thousands of other extremist fighters across the Middle East is that "many jihadis try to have a 'third way' (ultimately incoherent) of showing sympathy for the Islamic State while not formally pledging allegiance."
Barak Mendelsohn, a Haverford College professor and research fellow at Harvard's John F. Kennedy School of Government who has previously written on the relationship between the two groups, told The Huffington Post the U.S.-led strikes might be "pushing the groups together even if just because they create demand from the rank and file for unity."
But he added that serious obstacles -- most notably al Qaeda's likely reluctance to pledge allegiance to ISIS -- would probably make any cooperation "limited and restricted to the tactical level in specific locations."
While specialist fighters from the Khorasan Group with certain expertise may be joining ISIS individually, Mendelsohn said, this is not likely to give the Islamic State an immediate boost. Those individuals would not bring the larger al Qaeda infrastructure with them.
REAL LIFE. REAL NEWS. REAL VOICES.
Help us tell more of the stories that matter from voices that too often remain unheard.
BEFORE YOU GO