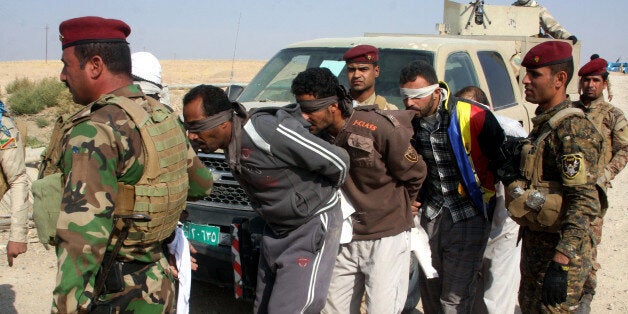 WASHINGTON -- For a while, talk of al Qaeda had died down. American troops withdrew from Iraq, and Osama bin Laden was dead. But in 2012, that changed, with a fresh spate of deadly attacks in Iraq sparking fears of a resurgent al Qaeda. Today, the uptick in discussions of a rejuvinated al Qaeda is motivated in part by the renewed threat the terrorist network could pose amid the ongoing Syrian conflict.
For Jessica Lewis, research director at the Institute for the Study of War, the tie between the resurgence of al Qaeda and the Syrian war is clear: The crisis in Syria helped revive al Qaeda.
"I see that conditions in Syria are the primary driver that gave al Qaeda the opportunity to become strong again both in terms of having mutual support areas in military terms, but also in terms of resources, also in terms of human resources," Lewis said Tuesday, speaking on a panel at the Johns Hopkins School of Advanced International Studies.
Lewis spoke about the sectarian effects of the Syrian crisis with scholars Faysal Itani, fellow at the Atlantic Council's Rafik Hariri Center, and Frederic Wehrey, senior associate for the Middle East at the Carnegie Endowment for International Peace. Itani covered Lebanon, Wehrey covered Gulf countries -- specifically Bahrain, Kuwait and Saudi Arabia -- and Lewis discussed Iraq.
Signs of a resurgent al Qaeda became most apparent in 2012 when attacks targeting predominantly Shia areas in Iraq occurred in over 40 locations in 13 cities, The Washington Post reported. According to a recent report by the Institute for the Study of War, by early August of this year, the Iraqi al Qaeda affiliate AQI, "has regrouped, regained capabilities, and expanded into areas from which it was expelled during the Surge," and "AQI in 2013 is an extremely vigorous, resilient, and capable organization that can operate from Basra to coastal Syria." The report stems back to July 2012, when AQI launched its "Breaking the Walls" campaign, an offensive that included freeing its top imprisoned members.
Events such as the foiled plot to attack two shopping malls in Amman, Jordan, in December 2012 helped confirm the revival as well. The Washington Post reported at the time that investigations in Jordan "affirmed the key role played by al Qaeda's Iraqi branch, commonly known as AQI, which analysts say is rebounding after being all but destroyed by U.S. troops in the past decade." The article goes on to quote Bruce Riedel, former CIA counterterrorism expert, as saying, "What we're now seeing is al Qaeda in Iraq's revival, not only as a movement in that country but as a regional movement."
Fears of al Qaeda in Iraq trickling into Syria have grown in the months since the Iraqi al Qaeda affiliate, the Islamic State of Iraq, changed its name to include "the Levant" (now known by ISIS), reflecting its expanded interests in the region that includes Syria.
In her statements about Iraq, Lewis said she believes that sectarian violence in the country can be quelled with the defeat of al Qaeda, but that that defeat is becoming increasingly difficult with the situation in neighboring Syria.
"There are still ways to prevent against mutual violence in Iraq, but this points back to my current research. Iraq does actually have to defeat al Qaeda in order to achieve this," Lewis said. "What Sunni and Shia mobilization already exist must also settle. It is difficult to imagine this while the civil war, sectarianism, humanitarian disaster and al Qaeda rage next door in Syria. All the more reason that it is vital to regional stability that Iraq not slip further. This boils down in my view to a military campaign against al Qaeda -- a campaign that the Iraqi security forces are fighting, but not winning."
When probed further by moderator Paul Salem, vice president of the Middle East Institute, about the tie between al Qaeda's revival and Syria and Iraq, Lewis said that she does not see a link between some of the more extreme rebel groups in Syria and AQI, but rather that the timing of al Qaeda's revival coincided with the crisis in Syria, and that in turn is "part of why Syria is strategically significant for ISIS / al Qaeda in Iraq."
Lewis said she came to this conclusion by assessing al Qaeda attacks in early 2012 and comparing the timeline of those attacks to what was happening in Syria. Not only did those 2012 attacks coincide with the withdrawal of U.S. troops in Iraq, but they also occurred during the Syrian uprising, she said. This gave Lewis a sense that, "al Qaeda's operations in both countries were coming alive at the same time."
Lewis' statements come amid growing concerns from U.S. lawmakers that America is less safe from potential terrorism, official assertions by the head of the national counterterrorism center that al Qaeda in Iraq is at its strongest state since 2006 and intensified negotiations with Iran, a major player behind the conflict in Syria.
For Lewis and the other panelists, many questions remain about the future of sectarian violence in the region and the involvement of al Qaeda. Perhaps one of the biggest unanswered questions -- who will emerge as a predominant influence in the region -- was posed by Lewis toward the end of the panel: "Is al Qaeda fighting a near-war in Iraq or is it actually fighting a far-war, directed this time at Iran and or Hezbollah?"
Related
Popular in the Community