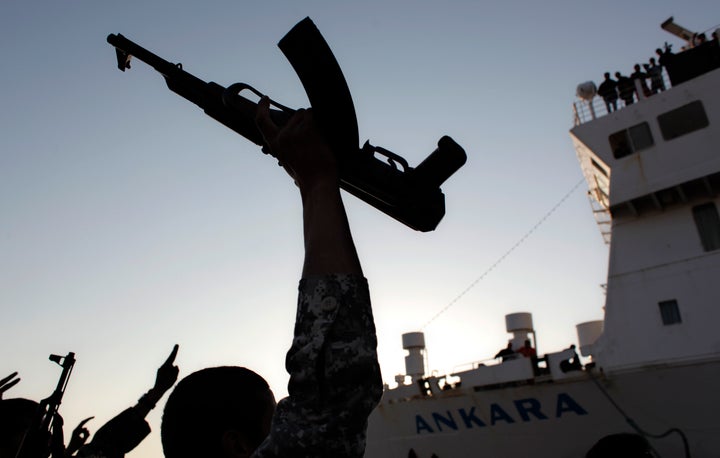 ALGIERS (Reuters) - Al Qaeda is exploiting the conflict in Libya to acquire weapons, including surface-to-air missiles, and smuggle them to a stronghold in northern Mali, a senior security official in neighboring Algeria told Reuters.
Western governments have demanded that Libyan leader Muammar Gaddafi step down after his forces cracked down on a revolt against his rule, but some governments in the region are nervous that al Qaeda could step into a power vacuum.
Algeria, which has been fighting al Qaeda's north African wing for years and closely monitors insurgent activity across north Africa and the Sahara, says there are already signs that this is happening.
Algeria's government has watched with concern as its eastern neighbors have been convulsed by popular uprisings, and is anxious that discontent over living conditions and limits on political freedoms could spark a similar revolt.
Security officials took the rare step of voicing their concerns about Libya to the foreign media because they are worried that events there could reverse their gains in keeping a lid on al Qaeda inside the country.
The senior official, speaking on condition of anonymity, said a convoy of eight Toyota pick-up trucks left eastern Libya, crossed into Chad and then Niger, and from there into northern Mali where in the past few days it delivered a cargo of weapons.
The weapons included Russian-made RPG-7 anti-tank rocket-propelled grenades, Kalashnikov heavy machine guns, Kalashnikov rifles, explosives and ammunition, he said.
He also said he had information that Al Qaeda's north African wing, known as al Qaeda in the Islamic Maghreb (AQIM) had acquired from Libya Russian-made shoulder-fired Strela surface-to-air missiles known by the NATO designation SAM-7.
"We know that this is not the first convoy and that it is still ongoing," the official told Reuters.
"Several military barracks have been pillaged in this region (eastern Libya) with their arsenals and weapons stores and the elements of AQIM who were present could not have failed to profit from this opportunity."
"AQIM, which has maintained excellent relations with smugglers who used to cross Libya from all directions without the slightest difficulty, will probably give them the task of bringing it the weapons," said the official.
The official made no suggestion that the Libyan government was supplying weapons to al Qaeda.
Algeria has spent most of the past two decades fighting an Islamist insurgency inside its own borders. The violence has subsided, but officials believe instability in neighboring Libya could allow the insurgency to flare up again.
Security officials in north Africa and beyond say the best way to contain al Qaeda is to keep a tight rein on the availability of weapons and stop insurgents crossing desert borders -- measures jeopardized by Libya's revolt.
"The Algerians are very, very worried, and with good reason," a Western diplomat told Reuters.
Algerian Prime Minister Ahmed Ouyahia, discussing the Libya conflict last week, said that the government was concerned about the implications for the fight against al Qaeda.
The interior minister, Daho Ould Kablia, last month said that an AQIM operative was arrested in the Sahara desert after crossing the border from Libya.
Algeria's government opposed the Western-led military intervention in Libya, with Foreign Minister Mourad Medelci saying air strikes on Libya were "disproportionate."
Samer Riad, a journalist with Algeria's El Khabar newspaper who specializes in security issues, said there was a danger al Qaeda could capitalize on the conflict in Libya in the same way it did in Somalia.
"Transforming Libya into a Somalia is very easy. All the coalition has to do is turn a blind eye to AQIM's activity in Libya now," he said.
The Algerian security official said al Qaeda was exploiting disarray among forces loyal to Libyan leader Muammar Gaddafi but had also infiltrated the anti-Gaddafi rebels in eastern Libya.
"We understand that AQIM is evolving with ease among the rebels and is taking advantage to acquire the most sophisticated weapons such as SAM-7s (surface-to-air missiles)," said the official.
Libya's rebel administration says suggestions it is linked to al Qaeda are a "fallacy" which plays into the hands of Gaddafi, who has said the people who revolted against his rule are al Qaeda militants.
But a senior NATO commander has acknowledged the presence of "flickers" of al Qaeda among the anti-Gaddafi rebels in eastern Libya, though he stressed the group did not play a significant role.
The Algerian security official said Western states had to realize that if Gaddafi's government fell, al Qaeda could exploit the resulting chaos to extend its influence to the Mediterranean coast, just a few km (miles) from Europe.
"If the Gaddafi regime goes, it is the whole of Libya -- in terms of a country which has watertight borders and security and customs services which used to control these borders -- which will disappear, at least for a good time, long enough for AQIM to re-deploy as far as the Libyan Mediterranean."
"The coalition forces must make an urgent choice. To allow chaos to settle in ... or to preserve the Libyan regime, with or without Gaddafi, to restore the pre-uprising security situation," the official told Reuters.
(Editing by Christian Lowe and Paul Taylor)
Support HuffPost
The Stakes Have Never Been Higher
Related
Popular in the Community