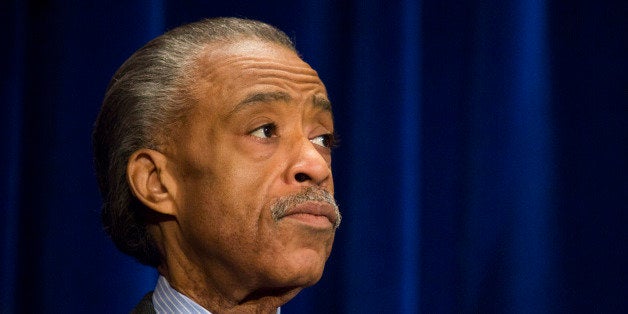 Since Al Sharpton presumably keeps track of the New York papers, he would have noticed that his picture was on the front of two of them on Tuesday morning. The circumstances were less than ideal for the MSNBC host and civil rights activist.
"REV. RAT," the New York Post's cover screamed.
The tabloids were eagerly feasting on a Monday report from the Smoking Gun. The report drew on court documents to allege that Sharpton had been a paid informant for the FBI against some of New York's most powerful and dangerous Mafia families during the 1980s:
Genovese squad investigators--representing both the FBI and NYPD--recalled how Sharpton, now 59, deftly extracted information from wiseguys. In fact, one Gambino crime family figure became so comfortable with the protest leader that he spoke openly--during ten wired face-to-face meetings--about a wide range of mob business, from shylocking and extortions to death threats and the sanity of Vincent "Chin" Gigante, the Genovese boss who long feigned mental illness in a bid to deflect law enforcement scrutiny. As the mafioso expounded on these topics, Sharpton's briefcase--a specially customized Hartmann model--recorded his every word.
In interviews with both the Post and the Daily News, Sharpton said he was never paid and never carried a bugged briefcase. (He later changed that story; see update below.) But he didn't deny that he played ball with the FBI.
"It's crazy. If I provided all the information they claimed I provided, I should be given a ticker-tape parade," he told the Post.
"I was never told I was an informant or I had a number or none of that," he said to the Daily News. "Whether or not they used some of the other information they got during that period for other purposes, I don't know."
He also denied that he had been caught in a drug sting and pressured to turn informant, as the Smoking Gun claimed. Instead, he told the News he had contacted the FBI after receiving mob threats over his activism in the music business.
One thing's for sure: the tabloids are just settling in.
UPDATE: Sharpton held a press conference Tuesday to dismiss the reports.
The civil rights activist and MSNBC host called the allegations "old news," that he had discussed in his 1996 book "Go and Tell Pharaoh," the AP reported. He reiterated that he never considered himself an "informant" for the FBI, though he did go to the authorities after being "threatened" by mobsters in the music business.
Contrary to his earlier interviews with the New York Daily News and the New York Post, however, he did admit to carrying a bugged briefcase. Sharpton said he had tried to record mobsters repeating their threats against him, the Observer reported.
"I was not and am not a rat, because I wasn't with the rats. I'm a cat. I chased rats," he memorably said, adding, "In my own mind I was not an informant. I was cooperating with an investigation."
Support HuffPost
The Stakes Have Never Been Higher
Related
Popular in the Community