Rev. Al Sharpton addressed the public Monday evening and spoke out against a grand jury's decision to not indict police officer Darren Wilson in the killing of 18-year-old Michael Brown.
"This is one case. You have another case with [Akai] Gurley," Sharpton said, referring to the unarmed black man who was accidentally killed last week by a police officer conducting a sweep through a Brooklyn housing project.
Both cases exemplify the concerns many African-Americans have towards law enforcement in regards to racial profiling and police brutality.
Sharpton was joined by the family of Eric Garner, a Staten Island man who died in July after being placed in a chokehold by a police officer. Garner's family members are currently waiting for a grand jury to decide whether the officer involved should face charges.
"Let it be clear. We are dealing with the same attitudes in Ferguson right here in the city," Sharpton said. "It was expected, but still an absolute blow to those of us that wanted to see a fair and open trial."
Tensions have been high since Brown's Aug. 9 shooting, as thousands of protesters have rallied in Ferguson and around the nation, speaking out against harmful police tactics and racial profiling.
Brown's parents asked for 4 and a half minutes of silence immediately following the announcement of the grand jury's decision, to represent the 4 and a half hours Brown's body lay in the street after he was shot.
Brown family attorney Benjamin Crump said Monday that if the grand jury decided to not indict Wilson, the family would look to file federal charges against him. Crump admitted that such cases usually include "very high standards" and that a favorable outcome is "not very likely."
"The family understands that if there is no indictment, the killer of their child won't be held accountable -- and that is heartbreaking to them," Crump said.
Before You Go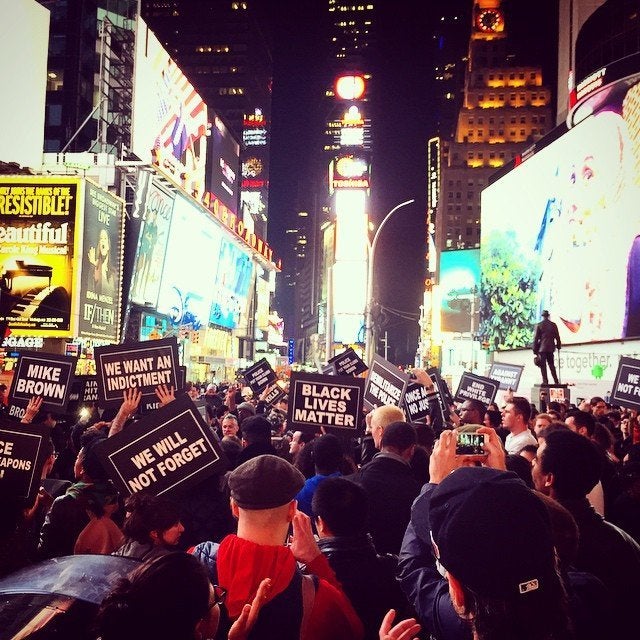 Ferguson Protests Around the Country
Popular in the Community