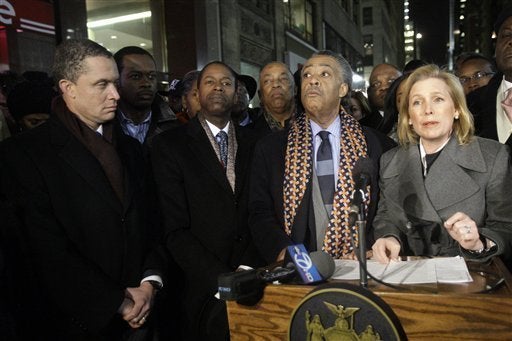 Luck or magic? The Rev. Al Sharpton recently said that New York Sen. Kirsten Gillibrand (D-N.Y.) must have one or the other on her side as a handful of potential primary and general elections challengers have dropped like flies.
The lack of any real action against Gillibrand has particularly frustrated Republicans, who view her as a political novice who was appointed by embattled Gov. David Paterson.
But the GOP has so far been unable to find a formidable challenger. Several potential Republican candidates -- including Gov. George E. Pataki, former Mayor Rudy Giuliani, Mortimer B. Zuckerman, billionaire publisher of The Daily News, and former Bush adviser Dan Senor -- have not thrown their hat into the ring. (Several other lesser-known Republicans have launched campaigns).
Democrat Harold Ford, who was seriously considering mounting a primary challenge to Gillibrand, eventually decided against it.
Nevertheless, Gillibrand's own campaign team appears aware of the political realities facing the senator: "She is weak, but she is no pushover," one of her advisers told The Times. "So there's a lot to lose in running against her. Nobody is willing to take the risk."
Popular in the Community