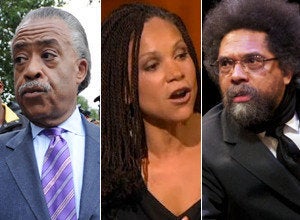 Al Sharpton and Prof. Cornel West are trading jabs over their contrasting viewpoints on President Obama — and over West's harsh attack on Sharpton's fellow MSNBC host Melissa Harris-Perry.
In a recent interview with Diverse magazine, West alleged that Sharpton has been soft on the Obama administration in exchange for access to the White House. "You watch his show on MSNBC and you want to say, 'Brother Al... tell the truth about the White House,' but he won't say a mumbling word," he said.
West also brought up what he felt was his negative experience with Harris-Perry from their days teaching at Princeton. He called her a "liar" among many other things.
"She's become the momentary darling of liberals, but I pray for her because she's in over her head," West said. "She's a fake and a fraud. I was so surprised how treacherous the sister was."
Sharpton and Harris-Perry have tangled over President Obama before. Sharpton and West got into a shouting match in April. West alleged that Obama has been a "mascot" for the wealthy who has done little for black Americans, while Sharpton claimed that West was demanding too much of the president.
Sharpton slapped back West's criticism of himself and Harris Perry in an interview published on Wednesday.
He sharply rebuffed the notion that he and Harris-Perry, whose new MSNBC show debuts in February, received their posts as rewards for supporting Obama, as some have alleged. "All of these conspiracy theorists need to check facts more clearly," he said.
Sharpton referenced Tavis Smiley, who frequently makes media appearances with West, to make his case. "Who rewarded Tavis Smiley with his show?" Sharpton asked. "Tavis can have a show [and] that's fine. But if Dr. [Harris] Perry [and] I have a show all of a sudden it's some kind of a conspiracy theory?...black people are not that stupid."
The MSNBC host also defended Harris-Perry as "an extremely gifted and important part of the social-political dialogue going on in this country." His advice to his colleague: "Don't look back. Keep going forward...and let the haters be haters."
Popular in the Community