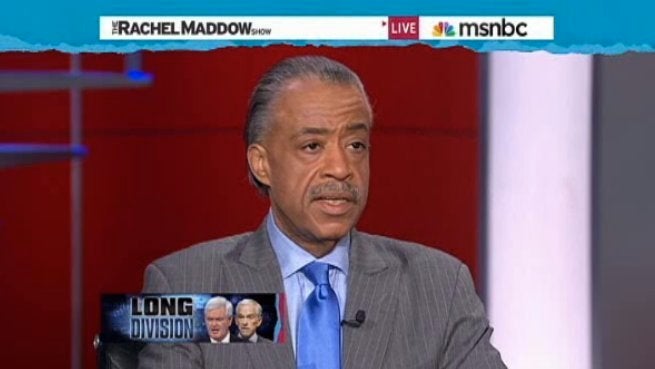 Al Sharpton blasted Newt Gingrich on Tuesday, accusing the presidential candidate of using "racial demagoguery" to win votes in the contentious South Carolina primary.
Gingrich's highly charged exchange with Juan Williams about his infamous comments on food stamps and child labor became the most talked-about moment of Monday's debate in the Palmetto State. On Tuesday's "Rachel Maddow Show," Sharpton and Maddow discussed the debate, which seemed to trouble them both.
Sharpton noted that South Carolina still uses the Confederate Flag, saying that issues of race had to be seen in a different light there. He pronounced himself to be aghast when the audience cheered Gingrich for taking on Williams, who he called a "black conservative on Fox." (Williams would likely disagree with the "conservative" characterization.)
"Gingrich and others are playing to an element they believe to be there," Sharpton said. He also picked up Gingrich's comments earlier in the month, where he said that the "African American community should demand paychecks and not be satisfied with food stamps."
"This is not subtle," Sharpton said. "This is not some inference...this is blatant." He pointed out that the majority of people on food stamps are white.
Sharpton concluded by saying that Gingrich had actually been to black communities with him as part of an education initiative, and that his language around race had been markedly different. For that reason, he said, he saw Gingrich's current comments as "a cynical manipulation of racial demagoguery in order to get some votes."
WATCH:
Calling all HuffPost superfans!
Sign up for membership to become a founding member and help shape HuffPost's next chapter
BEFORE YOU GO
PHOTO GALLERY
Newt Gingrich 2012