With the emergence of scripted television programing shifting across digital platforms, actor and filmmakerAl Thompson has intentions on being in the forefront of the rapidly increasing trend.
The drama series, which stars Thompson, Dorian Missick, Ryan Vigilant, Michael K. Williams, Jamie Hector, and Vanessa Bell Calloway, revolves around three friends as they navigate through the fast paced dating scene in Manhattan's uptown neighborhood.
In speaking with the Huffington Post, Thompson opens up on creating the series alongside partner Brian Rolling and writer Jorge Rivera in addition to his plans on etching his name into digital media.
What's the synopsis behind Lenox Avenue and its setting in Harlem?
The foundation of where it all comes from is with myself being born and raised in Harlem, and kind of seeing the transitions of what Harlem has been going through. Especially being in Manhattan, a lot of times in film and television shows you never really get to see Harlem in its extension of Manhattan. You've seen it a little bit as far as New Jack City, Sugar Hill, or New York Undercover and that was pretty much it. I really felt it was time for Harlem to have its own TV series.

In terms of distribution, have you tried to shop the project to any networks or are you thinking about keeping it on an online platform?
For me, my motto is if you create a digital series on the internet the studios can never cancel you. They don't really give TV shows a chance, considering all of the money that they put into for a pilot. You'll see four episodes and then it disappears. And I think the biggest thing is showing what today's world represents.
The world is no longer marketing in strategic check boxes, where's it like, "Oh, we have a white person here, check. We have an Asian person here, check." It's more of a universal situation, where we have these characters in the series who are living, working, and playing in Harlem and they're not going downtown any more. We have a multicultural aspect to it.
Would you consider yourself anti-television when it comes to creating a project?
I think in the general sense a lot of people say, "what are you making, a TV series?" or "why don't you try to make it for TV?" And I'm always open to TV, but I've known people to have those experiences and they're very excited about the opportunity and the check. But also, they could pick your project up and they could fire you, or they could pick your project up and put it on the top shelf. For me, even though this series is created by me, it's not my series. And I genuinely mean that. This series is for all the people who are not happy with what they're seeing on network television or film, and seeing projects that don't speak to them. This is a show of the people and if the fans are into it, support it and enjoy it and I will keep creating it.
How has your experience with acting and being a voice over artist on shows such as, The Cleveland Show help benefit you in producing your own projects?
I definitely took in a lot of notes and a lot of steps from all of the super talented and successful people that I've worked with. The executive producer of The Cleveland Show, Mike Henry, and Seth MacFarlane have been big inspirations to me as far as being in the writer's room and seeing how billion dollar productions are run. It doesn't get any better than being a fly on the wall in that capacity and being able to reach out to these guys with questions and advice.
How would you describe your creative process in developing a project?
It comes from a lot of different places. Some are from old school television of what's really missing today and what are some of the things that I want to see on TV. It's like, "what are some of the things that would entertain my mother, my sisters, or my brother that would be really cool." And then I get inspired by a lot of other artists from seeing what they're doing. So it comes from so many different places.
Are you currently working on any other projects aside from Lenox Avenue?
Yes, I just started pre-production on a new digital series called The Realness. And it's basically follows three female friends that live between the South Bronx and the Northern Bronx of Co-op city. The main character is a female DJ in the Bronx who is up and coming and trying to do their thing. So it's set in the world of music, but there's definitely that relationship, soap opera kind of feel to it.
Check out the official trailer for Lenox Avenue above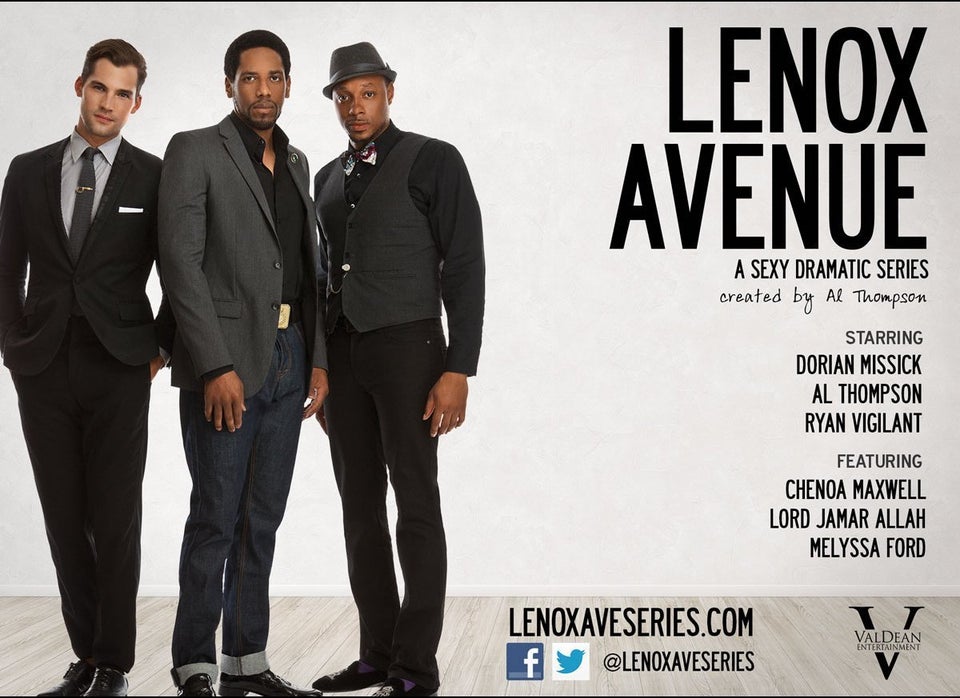 Lenox Avenue Photos
Popular in the Community