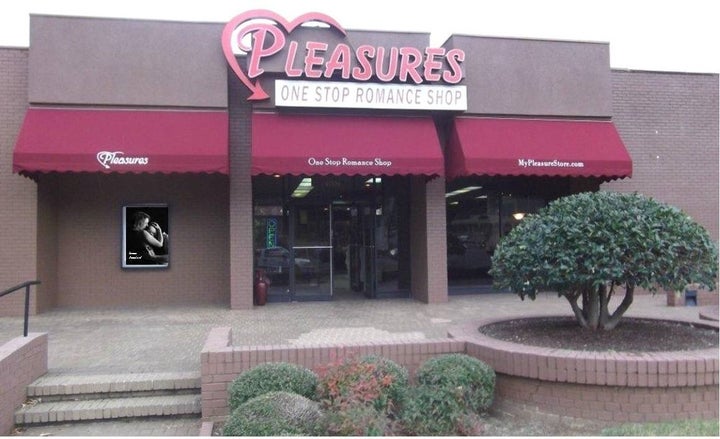 As incentive, persons who donate a toy for the charity will receive their choice of a complimentary adult toy from a sort of "goody box," containing lube, blindfolds, edible body paint, vibrating bullets and other risque items. In addition, the store will donate $1 to the Save the Ta-Tas organization in that person's name.
The drive began Nov. 20 and runs through Dec. 15. On Dec. 3 local Huntsville radio station 95.1 will be broadcasting from Pleasures, where donators can pose for a picture with Dirty Santa or Sexy Mrs. Claus.
Pleasures owner Sherri Williams told The Huffington Post the idea for the dual-charity drive came naturally to her. She is a long-time supporter of breast cancer research and, since it's Christmas, she also wanted to something to help children in need. And while the thought of an adult store holding a toy drive for children might strike some as unusual, Williams said it's a perfect fit.
"Well, you've got to wonder how we all got here," Williams told The Huffington Post. "Passion played a part in that."
However, the Toy for Tots Foundation isn't too fond of the idea, calling it "very unusual" and "inappropriate."
"Toys for Tots should not be advertised at an adult store," Ret. Major Brian A. Murray, vice president of operations for the foundation, said in an email.
This is the first year the store has held the drive, and Williams said she's impressed with the results so far. The store has already received a variety of toys, including several bicycles.
"People are being very generous," she said.
While the drive benefits kids, Williams emphasizes one must be 18 years or older to enter the store.
Pleasures captured media attention earlier this year with the opening of the country's first adult store drive-thru window. The store, which first opened in 1993, was the subject of significant legal backlash from the state government following the move.
But Williams fought the state's anti-obscenity laws and pushed for the right to sell objects for sexual stimulation. After finding a loophole that allows the distribution of the items for "medical, scientific, educational, legislative, judicial, or law enforcement" purposes, her store now distributes anonymous questionnaires to couples asking if they have trouble with sexual fulfillment.
After the nine-year battle, Williams said she's finally in a good place and is glad to be giving back.
"[It's great to] share some of the profits with charities that I like to support," she said.
Calling all HuffPost superfans!
Sign up for membership to become a founding member and help shape HuffPost's next chapter