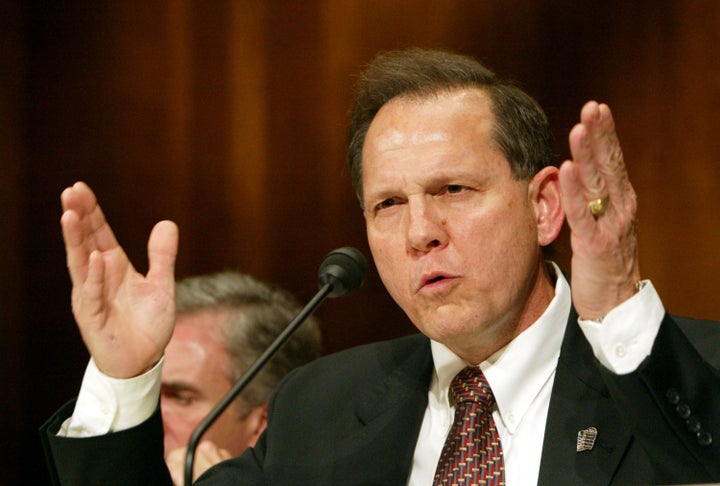 The chief justice of Alabama's Supreme Court issued an administrative order on Wednesday barring state judges from issuing same-sex marriage licenses, in contravention of the broadly accepted meaning of a June 2015 U.S. Supreme Court ruling.
Chief Justice Roy Moore directed probate judges in the state not to issue marriage licenses that violate the state's laws prohibiting same-sex marriage "until further decision by the Alabama Supreme Court."
Moore argued that the U.S. Supreme Court had only explicitly struck down same-sex marriage bans in Michigan, Kentucky, Ohio and Tennessee in its landmark decision Obergefell v. Hodges -- although he acknowledges that based on well-established precedent, the ruling may be interpreted to apply to other states' bans as well.
Some judges in Alabama had chosen to interpret the ruling as requiring them to issue same-sex marriage licenses, according to Moore, while others had not. Noting numerous developments since Obergefell -- including the jailing of Kim Davis, a Kentucky county clerk who made headlines last year for refusing to issue marriage licenses to same-sex couples -- Moore called the present environment one of "confusion and uncertainty," and said he hopes to address it with his administrative order.
"This disparity affects the administration of justice in this State," he wrote.
Moore said he was choosing to act now in part because the U.S. Court of Appeals for the 8th Circuit had recently held that since the Supreme Court's Obergefell ruling did not "directly invalidate" same-sex marriage bans in that circuit, there were grounds at least to hear a challenge to its application there. The 8th Circuit, Moore admitted, had nonetheless applied Obergefell on the basis of precedent.
How the Alabama Supreme Court interprets the Obergefell decision is within its legal discretion to decide, according to Moore, and has "yet to be determined."
CORRECTION: A previous version of this story incorrectly stated that the 8th Circuit's ruling concerned Kansas. It concerned all seven states in the 8th Circuit, a group that does not include Kansas.
Support HuffPost
The Stakes Have Never Been Higher
Popular in the Community