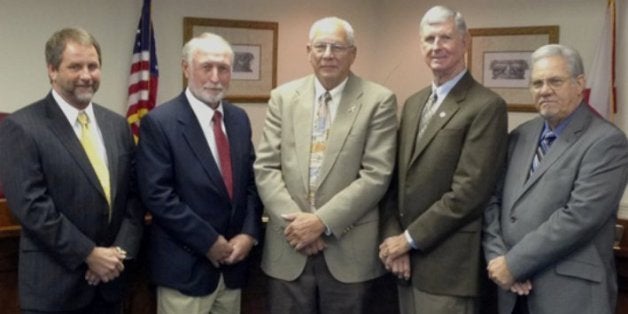 The Freedom from Religion Foundation is challenging an Alabama county commission's decision to allocate $3,000 in public funds to a local evangelical Baptist church as a flagrant constitutional violation of the separation of church and state, according to a letter of complaint addressed to county officials Tuesday.
Earlier this month, the Covington County Commission approved a request by Commissioner Harold Elmore to donate the taxpayer funds to the Covington Baptist Association (CBA) as it works to revamp its men's ministry program.
"They're gone meet once a month, and it's nothing but men," Elmore, who also serves as a deacon in the Judson Baptist Church, explained in early October. "They've done a lot of work on it down there. They come to me and asked me for our help."
According to the Andalusia Star News, the church is seeking donations to renovate the Old Stanley School House, church-owned property designated for the CBA's monthly men's ministry meetings. The meetings, which are described by the church as a "countywide outreach to non-churched men," offer men free steak dinners as a way to recruit "father" figures who will then convince family members and non-believers to convert to the Christian faith.
In Tuesday's letter to Covington Commission Chairman Bill Godwin, the Freedom from Religion Foundation accused county officials of breaching the U.S. and Alabama Constitutions by using government dollars to finance religious activities.
"There couldn't be a more flagrant violation of the Constitution than a direct cash donation to a Christian ministry for the purpose of promoting church-going," Annie Laurie Gaylor, Freedom from Religion Foundation co-president, said in a press release.
The religious watchdog group is also asking the commission to reverse the grant and recover all publicly funded donations from the Baptist ministry.
The Covington County Commission did not immediately respond to requests for comment.
REAL LIFE. REAL NEWS. REAL VOICES.
Help us tell more of the stories that matter from voices that too often remain unheard.
BEFORE YOU GO
PHOTO GALLERY
Top 10 Most and Least Religious States