Alabama's chief elections official intends to hand prosecutors the names of nearly 700 voters suspected of violating a new law by crossing party lines to vote in last month's Republican Senate runoff.
Secretary of State John Merrill (R) will share the list of 674 people his office identified for newly illegal crossover voting after election officials verify the names. The law gives local district attorneys the authority to prosecute people who voted in the Democratic primary for Senate, then voted in the GOP runoff election between Sen. Luther Strange and Roy Moore on Sept. 26. Violators could be fined up to $15,000 and sentenced to as much as 10 years in prison.
Alabama banned so-called crossover voting in May, and the GOP runoff was the first time the measure was in effect. Merrill warned against crossover voting on the day of the GOP runoff, saying he had heard reports of poll workers wrongly allowing people to cast ballots even though they had voted in the Democratic primary. The state Democratic Party sent voters a letter three days before the runoff, warning against crossover voting.
Critics said that Merrill didn't do enough to educate people about the new law, and argued that county election officials could have prevented crossover voting. They said prosecuting voters may confuse people into thinking they can't vote in the Senate general election on Dec. 12 between Moore and Democrat Doug Jones.
"We find it surprising that election officials, who must have had the voting records available to them, would have permitted any crossover voting," Randall Marshall, executive director of the ACLU of Alabama, said in a statement. He added: "The state's 'gotcha' approach to voting rights is counterproductive."
Moore defeated Strange by more than 44,000 votes in the runoff for the GOP nomination. Jefferson County, the state's most populous, had 380 people accused of crossover voting, the most in the state. In some counties, just one voter was accused.
Merrill defended efforts to educate voters about the new law and said the low number of suspected crossover voters showed those efforts worked. He said he spoke about the law in media interviews, press releases and public appearances.
"This was one of the most high-profile pieces of legislation that was considered during the 2017 regular session," Merrill said. "That said, there wasn't a whole lot of additional attention that needed to be given to it. Everybody in the state who pays attention to the legislature, I'm not saying that's everybody, because it's certainly not, they all knew it would be enforced the next time there was an election."
Tom Ryan, chairman of the Madison County Democratic Party, said poll officials on Election Day could have allowed questionable runoff voters to cast a provisional ballot that wouldn't be counted if they were found to have voted in the Democratic primary.
"If he had property educated the election officials, that person would not have been allowed to vote, or at most, only been allowed to vote a provisional ballot. None of those provisional ballots were counted," Ryan told WHNT, referring to Merrill.
Merrill said local probate judges were responsible for educating poll workers about the new law, but it was "absolutely" possible there was confusion.
Gov. Kay Ivey (R), who signed the law in May, told al.com on Tuesday people need to obey the law. But she also suggested prosecution might be going too far.
It's not the first time Merrill has been accused of failing to properly educate voters about a change in election law. After a new state law earlier this year clarifying which types of convicted felons were eligible to vote, Merrill said he didn't need to do anything to help those affected. Plaintiffs in a lawsuit against him asked a federal judge to force Merrill to act, but the judge declined.
Support HuffPost
The Stakes Have Never Been Higher
Before You Go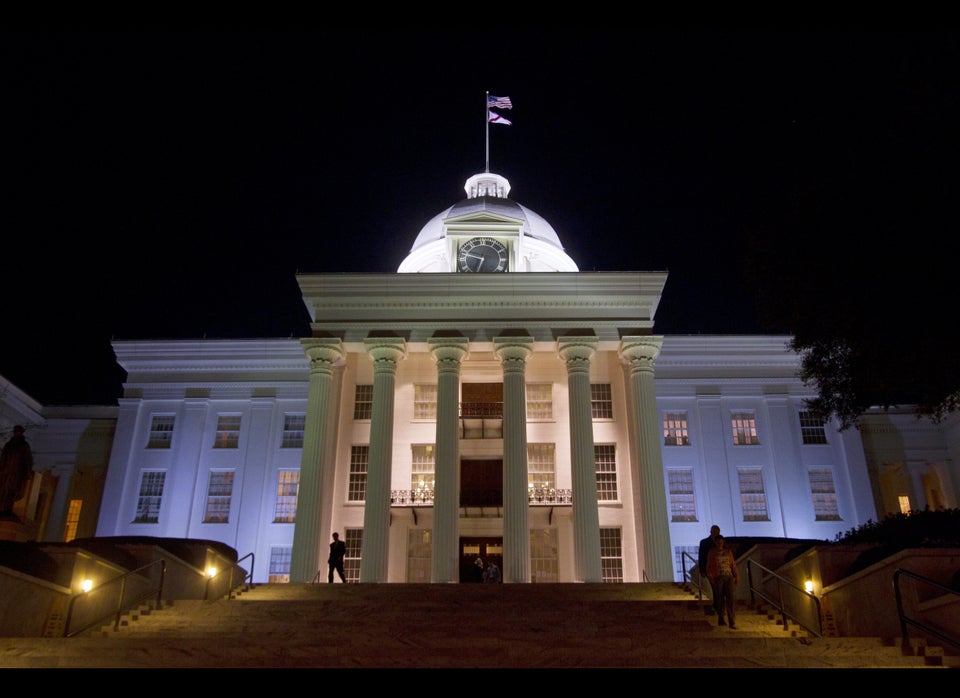 U.S. State Capitol Buildings
Popular in the Community