After publicly suggesting that nearly 700 voters could face jail time for violating a new voting law in the state, Alabama's secretary of state has announced that he won't refer anyone to be prosecuted following further investigation from election officials.
Alabama Secretary of State John Merrill (R) said last month that his office had identified 674 people who may have illegally voted in the September GOP runoff election between Roy Moore and Sen. Luther Strange. The state recently passed a law prohibiting people from voting in primary elections for two different parties, and the Moore-Strange contest was the first time it had been in effect.
Merrill told ThinkProgress that he believed anyone who violated the law should face the maximum penalty: a fine of up to $15,000 and as many as 10 years in prison.
Merrill's office asked local probate judges to verify the names of 674 people suspected of breaking the law and investigate what had happened. The office said Friday in a statement that it had found 534 cases of a poll worker, election official or voter committing an error and 140 confirmed incidents of illegal crossover voting.
When Merrill followed up on those 140 cases with the probate judges, there wasn't a single incident in which a judge recommended referring the case to local prosecutors for potential charges. Merrill's office said it will document the names of crossover voters, but that it now considered the matter closed.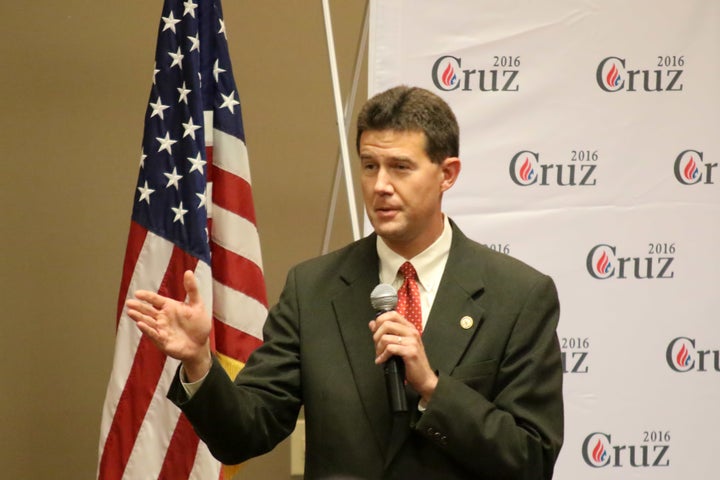 Critics say Merrill was too quick to suggest that hundreds of people had committed a crime when there was widespread confusion among voters and election workers about the new law. The incident underscores how episodes that seem like nefarious examples of voter fraud can be inadvertent errors. Moore defeated Strange by more than 44,000 votes in the special election in September.
Merrill told HuffPost in an interview that he didn't initially intend to draw attention to the crossover voters. He said he sent the list of suspected crossover voters to local officials, and that they gave it to the press. Merrill said he wanted to be as clear as possible about what he was doing to address the issue when a reporter contacted him about it.
He said he wouldn't do anything differently in the future, except maybe ask the local probate judges not to share information with the press until their offices had been able to review it.
Although Merrill previously said anyone who violated the new law should be punished, he said Friday that he was "excited" no prosecution was recommended.
"We were very excited to see that our efforts to educate and inform voters, in conjunction and cooperation with local election officials, were successful and that the Probate Judges have determined these findings do not warrant prosecution," he said in a statement.
"As our state continues to inform election officials and voters about how the new law works, it is important that we prioritize voter education over punitive measures."
Randall Marshall, the executive director of the ACLU of Alabama, said state election officials always had the information needed to prevent people who had voted in the Democratic primary from voting in the Republican runoff.
"Much as we predicted, the Secretary of State's initial grandiose statements about this being a widespread problem that should result in people being imprisoned has now ended with a whimper," Marshall said in a statement to HuffPost. "This was always a matter that could be prevented by state election officials ― after all, they have the records of who voted in the initial primaries and could effectively prevent such a person from voting in a runoff election. We hope the fear of prosecution has not deterred any eligible voters from participating in the upcoming election, and we are focused on ensuring Alabamians are informed about their right to vote on December 12."
Merrill told HuffPost he didn't think anyone would be confused about who they could vote for or whether they would be eligible to vote in the special election next month.
"I don't know why anybody would think this is even applicable to a general election because this is only applicable to the primary process and the primary process has been executed," he said.
Asked whether a Republican who showed up at the polls might think they weren't allowed to vote for a Democrat, Merrill said, "That doesn't confuse me, and I don't know why it would confuse anybody that's a thinking person in the state."
"That's never been introduced in the history of the state," he said. "It's been introduced by some trolls in Twitter and some trolls on Facebook, but it hasn't been introduced by anybody who's got any credibility."
More than half of the people who Merrill's office suspected of violating the crossover voting law came from Jefferson County, the state's most populous.
Alan King, the county's probate judge, told HuffPost earlier this month that more than 300 of the cases came from a precinct where the chief inspector had crossed off names in a pollbook to indicate people who were ineligible to vote. Merrill's office, King said, misinterpreted those crossed-out names as people who had illegally voted in both the Democratic primary and the Republican runoff. King said Merrill had threatened voters "prematurely."
Rep. Terri Sewell (D-Ala.) previously accused Merrill of trying to intimidate voters by promising such harsh penalties ― an accusation Merrill strongly denied. Sewell said Monday in a statement that she was glad Merrill was dropping the matter.
"I am pleased that no voters are facing prosecution under Alabama's new crossover voting law," she said. "As our state continues to inform election officials and voters about how the new law works, it is important that we prioritize voter education over punitive measures."
Nancy Worley, the chairwoman of the Alabama Democratic Party, said she wished Merrill had done a more thorough review before making a public statement.
"I think there's always concern when an election official has publicized wrongdoing and people don't understand that thoroughly," she said.
Popular in the Community