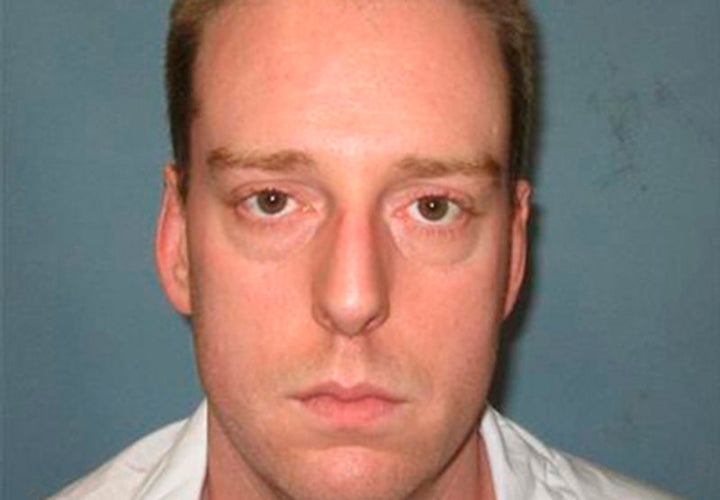 (Reuters) - Alabama executed a former Eagle scout on Thursday for a convenience store killing in 1994, the 20th person executed in the United States this year and the second in Alabama.
Ronald Smith, 45, was pronounced dead at 11:05 p.m. (0505 GMT) at the Holman Correctional Facility in Atmore, where he was executed by lethal injection, a spokesman for the AlabamaDepartment of Corrections said.
Smith was executed after the U.S. Supreme Court lifted a second stay on the execution, having twice put it on hold on Thursday. He was originally scheduled to die at 6 p.m. (midnight GMT).
The Supreme Court gave no explanation for any of its three orders issued in the case on Thursday.
The Supreme Court granted a last-minute hold to stop Alabama carrying out another man's death sentence a month ago. Justices gave no reason for the stay in that case either.
Alabama's death penalty process is under scrutiny after the high court ruled in January that a similar death penalty law in Florida gave judges too much discretion.
Smith was convicted of murdering Casey Wilson, a convenience store clerk in Huntsville, during a failed robbery.
The jury that convicted Smith recommended a sentence of life in prison without parole. However, trial judge Lynwood Smith, now a federal judge, imposed a death sentence, as allowed by state law.
Trial testimony showed Smith had been an Eagle Scout and a member of the National Honor Society, but struggled with alcoholism as an adult.
In a Supreme Court appeal, Smith's attorneys argued that his death sentence should be overturned.
They contended that Alabama's process was similar to Florida's, struck down by the court this year. The justices ruled that Florida judges were given powers that juries should wield in deciding death penalty eligibility.
The U.S. Supreme Court has since ordered Alabama to review similar practices in four other cases not involving Smith, court documents show. Those reviews are pending.
Smith was the 20th person executed in the United States this year and the second in Alabama, the non-profit Death Penalty Information Center said.
Alabama contends its law is different from Florida's and that the Supreme Court ruling in the Florida case was not retroactive, applying to prior cases.
(Reporting by David Beasley in Atlanta; Additional reporting by Dan Whitcomb in Los Angeles and Brendan O'Brien in Milwaukee; Editing by Jonathan Oatis, Leslie Adler and Paul Tait)
REAL LIFE. REAL NEWS. REAL VOICES.
Help us tell more of the stories that matter from voices that too often remain unheard.