WASHINGTON -- The U.S. Supreme Court refused on Monday to halt same-sex marriages in Alabama, paving the way for the first gay couples to marry in the state that day. But a handful of probate judges in Alabama have reportedly refused to issue marriage licenses to same-sex couples -- or issue any marriage licenses at all -- because Alabama's top judge instructed them to defy the federal court ruling.
Upon the request of Alabama Attorney General Luther Strange, a federal judge put a stay on the ruling that overturned the state's ban on gay marriage, but that stay expired on Monday. The Supreme Court had the opportunity to intervene by temporarily putting a hold on same-sex marriages, but declined to do so in a 7-2 decision on Monday. As a result, Alabama becomes the 37th state where gay marriage is allowed.
While the Supreme Court's decision should, in theory, have allowed gay and lesbian marriages to proceed, Alabama Supreme Court Chief Justice Roy Moore complicated the matter Sunday night by sending an order to state probate judges telling them not to issue marriage licenses to gay couples. Last month, Moore threatened to defy the "tyranny" of federal courts on the gay marriage issue. The justice is famous for previously disobeying a federal court's order to remove a monument to the Ten Commandments in the state judicial building.
Despite Moore's orders, many same-sex marriages did proceed in Alabama on Monday. According to Equality Alabama, Dee and Laura Bush became the first couple to apply for a marriage license in Birmingham, the state's largest city:
But other couples weren't so lucky. In Tuscaloosa County, two employees of the Tuscaloosa Police Department were denied a marriage license, while Jackson County and Marshall County were also reportedly refusing to issue marriage licenses to same-sex couples. Shelby County is not issuing any marriage licenses, and a probate judge in Baldwin County has decided not to perform any marriages at all.
UPDATE, 1:45 p.m. -- Alabama Gov. Robert Bentley (R) said on Monday that he would not take any action against probate judges who issue -- and, presumably, those who don't issue -- same-sex marriage licenses in the state.

Before You Go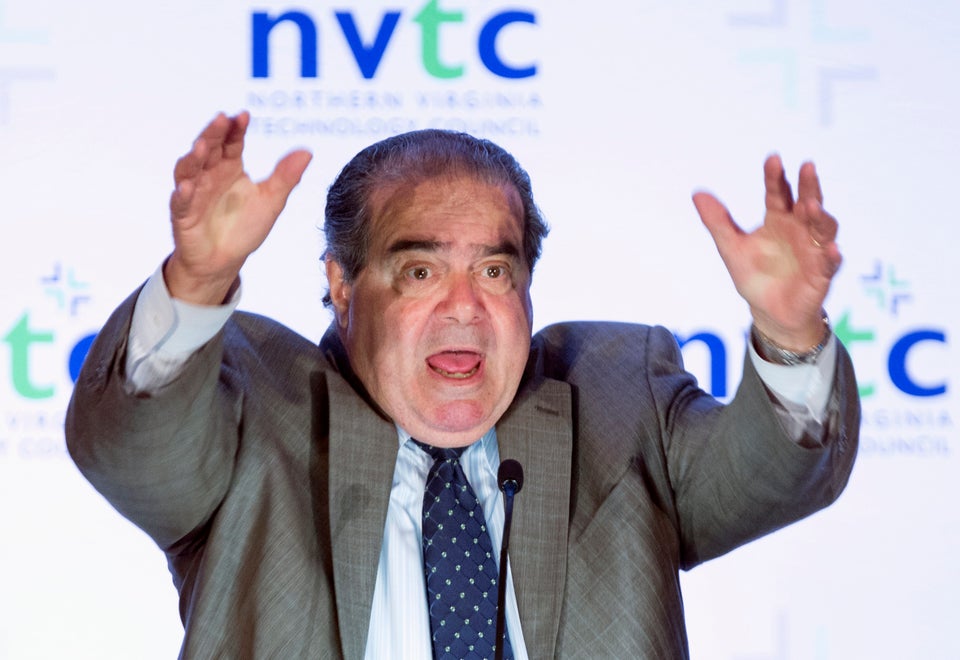 Antonin Scalia's Supreme Faces
Popular in the Community