WASHINGTON -- A federal judge ordered a county official in Alabama to issue marriage licenses to same-sex couples Thursday, saying they can no longer ignore her earlier ruling that struck down the state's marriage equality ban.
Alabama's same-sex marriage ban began crumbling in January, when U.S. District Judge Callie Granade found it unconstitutional. At the request of the state attorney general, Granade put a two-week stay on her ruling so the state could ask the U.S. Supreme Court to intervene and delay it even longer. On Monday morning, however, the Supreme Court declined to get involved, and Alabama became the 37th state where gay marriage is legal.
Despite the ruling, dozens of probate judges around the state have refused to comply with Granade's ruling. According to the Human Rights Campaign, which advocates for lesbian, gay, bisexual and transgender rights, as of Thursday afternoon, only 23 of the state's 67 counties were issuing marriage licenses to all couples.
Their defiance is due to instructions from Alabama Supreme Court Chief Justice Roy Moore (R), who sent an order to the state's probate judges Sunday night not to issue marriage licenses to same-sex couples. He argued that they were not bound to follow the federal ruling.
Four same-sex couples requested a hearing with Granade to clear up the confusion over the issue in the state. Her order came a few hours after the hearing concluded Thursday afternoon. Granade's order was directed specifically at Mobile County Probate Court Judge Don Davis, who has refused to give licenses to same-sex couples, but it also negates the arguments of other probate judges who have been refusing to follow her earlier decision.
In her order, Granade said Davis may not deny marriage licenses "on the ground that Plaintiffs constitute same-sex couples or because it is prohibited by the Sanctity of Marriage Amendment and the Alabama Marriage Protection Act or by any other Alabama law or Order pertaining to same-sex marriage." In other words, the federal decision trumps the state laws.
Randall Marshall, legal director for the American Civil Liberties Union of Alabama, said Granade's ruling "confirms that the U.S. Constitution requires Alabama probate judges to issue marriage licenses to all qualified couples, gay and straight."
"We hope state and local officials will recognize that their first obligation is to comply with our federal Constitution and will move quickly to follow the court's ruling so that all couples in Alabama will be able to share in the dignity and protection that marriage provides," he added.
"It is time for the judicial chaos that Chief Justice Roy Moore has caused to end," said HRC Legal Director Sarah Warbelow in a statement. "Both the law and Judge Granade's action today are crystal clear: refusing to follow the law has consequences. All probate judges should do their duties as public servants and begin to issue licenses to committed, loving same-sex couples immediately."
And shortly after Granade's order, Mobile began issuing marriage licenses to same-sex couples.
Others in Alabama have also done their fair share of trying to ignore federal directives. One of the most iconic moments from the civil rights movement was when then-Gov. George Wallace (D) blocked the doors to the University of Alabama to stop black students from enrolling. Wallace cited states' rights as his reason for refusing to follow the federal order. He ultimately stepped aside when President John F. Kennedy's administration called the Alabama National Guard to intervene.
Want more updates from Amanda? Sign up for her newsletter, Piping Hot Truth.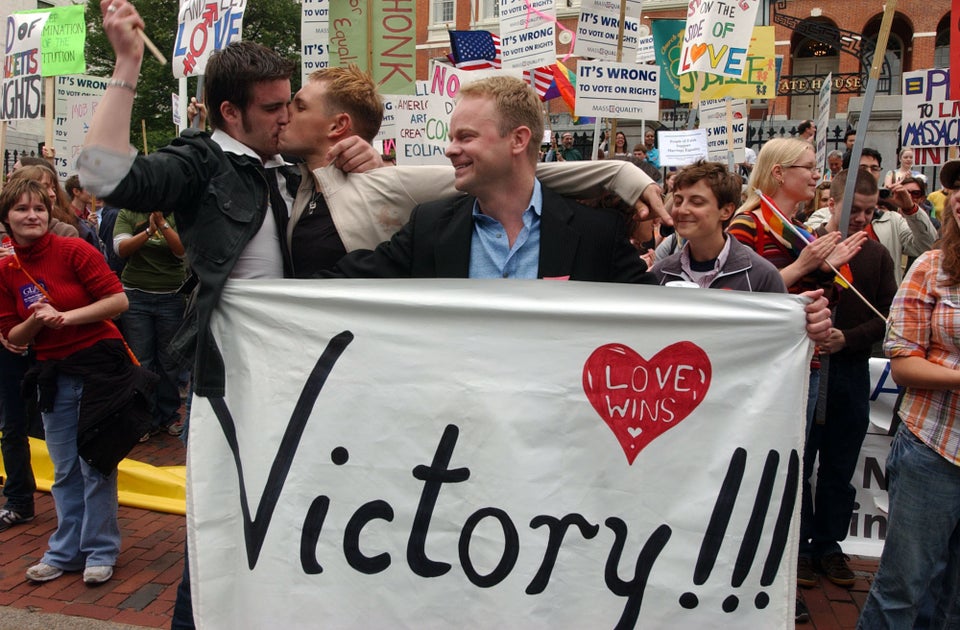 10 Incredible Improvements For LGBT People Since The First State Legalized Gay Marriage
Popular in the Community