WASHINGTON -- At least 43 of Alabama's 67 counties are now issuing marriage licenses to same-sex couples, following a federal judge's order Thursday reiterating that marriage equality is legal in the state.
Same-sex marriage officially became legal in Alabama Monday, a result of U.S. District Judge Callie Granade's ruling on the matter in January. But many counties in this conservative state initially refused to comply. They were following orders from Alabama Supreme Court Chief Justice Roy Moore (R), who told the county probate judges that the federal decision did not apply to them.
On Thursday, Granade attempted to provide some clarity. In an order directed at Probate Judge Don Davis of Mobile County, Granade said there were no more excuses for denying same-sex couples marriage licenses. Shortly thereafter, the county began complying.
Other counties have started to follow suit. On Thursday, before Granade's order, there were just 23 counties in Alabama marrying same-sex couples, according to the Human Rights Campaign.
"These numbers represent a seismic shift in favor of equality and justice. Resistance to happy, loving and committed gay couples getting married is quickly crumbling throughout the state," said Fred Sainz, the Human Rights Campaign's vice president for communications. "Judge Granade's order was quickly heeded and we would expect that by the end of the day, the vast majority of Alabama's counties will allow gay couples to marry."
Indeed, the situation is continuing to change. Hale, Marion and Pickens counties aren't currently issuing licenses to same-sex couples, but said they will start next week.
Probate Judge Ben Bowden in Covington County said he plans to sit down Friday to look at Granade's order to see if it should apply to his jurisdiction. Currently, Covington County is issuing licenses to heterosexual couples only.
"I haven't had time today to look at Judge Granade's order," he said. "I've been in hearings this morning, so I just really haven't had time to focus on it and see what effect, if any, it would have on my original decision. It's under evaluation, but I plan to set aside some time today to really look at that."
In some counties, there was just confusion. A Bibb County employee said the probate county judge has been out sick most of the week, so the county is still operating on his directions from last week. A Clarke County employee said they were surprised they hadn't received any new marching orders, but noted that their judge was in court most of the day.
Other counties seem to be holding out. A representative with the Clay County probate court told The Huffington Post that they would continue to follow Moore's order unless there's a federal order specifically directed at them.
"That was Mobile County, this is Cleburne County," said a representative in that jurisdiction when asked why they were still not issuing licenses to same-sex couples after Granade's order.
Lawyers who have represented same-sex couples fighting to get married in Alabama said they may bring legal challenges against other individual probate judges if they don't start recognizing marriage equality.
Alabama is the 37th state where same-sex couples can legally wed.
Counties issuing marriage licenses to same-sex couples: Autauga, Barbour, Baldwin, Blount, Bullock, Butler, Calhoun, Cherokee, Chilton, Coffee, Colbert, Conecuh, Crenshaw, Dale, Dallas, Elmore, Escambia, Etowah, Fayette, Franklin, Greene, Henry, Jackson, Jefferson, Lamar, Lauderdale, Lawrence, Lee, Limestone, Lowndes, Macon, Madison, Marshall Mobile, Monroe, Montgomery, Morgan, Perry, Russell, Talladega, Tuscaloosa, Wilcox, Winston.
Counties issuing marriage licenses to heterosexual couples only: Chambers, Clay, Cleburne, Covington, Dekalb, Marengo, Shelby, Sumter, St. Clair, Washington.
Counties issuing no marriage licenses: Bibb, Choctaw, Clarke, Coosa, Cullman, Geneva, Houston, Pike, Randolph, Tallapoosa, Walker.
Counties that will start issuing marriage licenses to same-sex couples next week: Hale, Marion, Pickens.
Julia Craven, Jesse Rifkin and Maxwell Tani contributed reporting.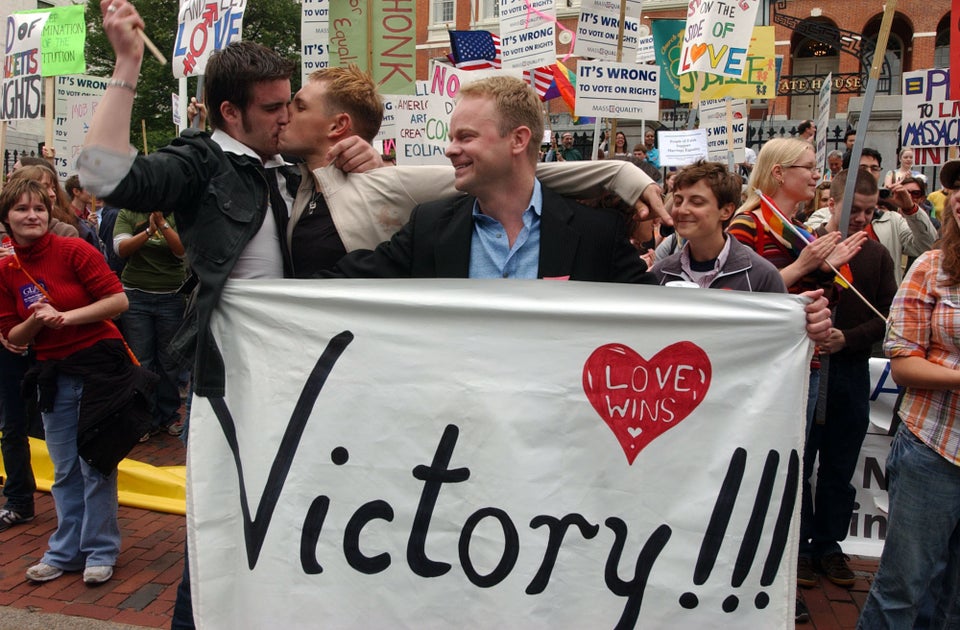 10 Incredible Improvements For LGBT People Since The First State Legalized Gay Marriage
Popular in the Community