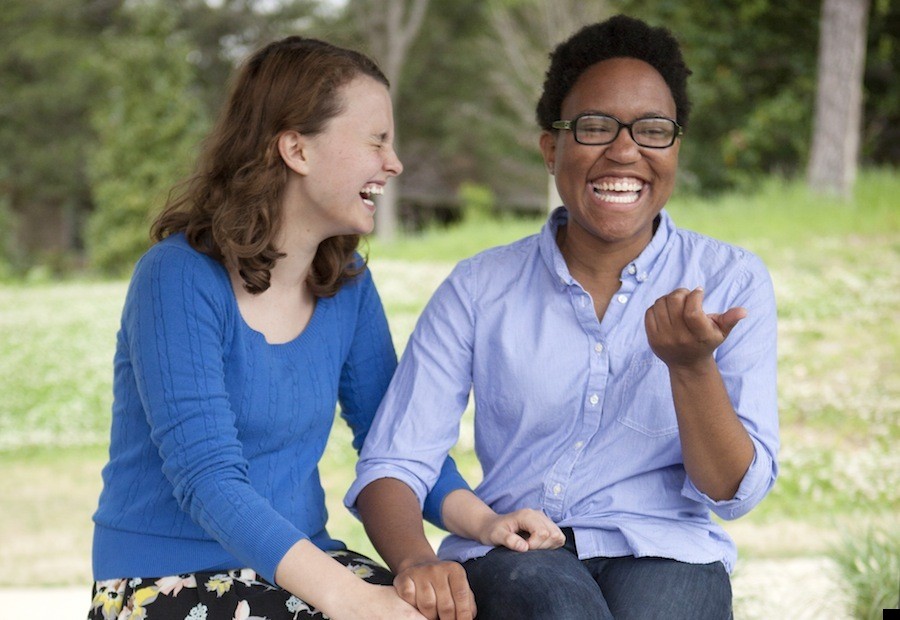 Ann Huckstep was in her 40s before she acknowledged to herself that she was gay. It took another eight years for her to get together with Carol Misner, a woman she'd been thinking about off and on her whole adult life. They'd met at Huckstep's high school in 1969, when Misner was a married 25-year-old algebra teacher and Huckstep was her 15-year-old student. Huckstep tried to look up Misner almost two decades later, but by then, Misner had split with her husband and changed her name.
Over the years, Misner often thought about Huckstep, an exceptionally bright student who used to hang out with her friends in Misner's classroom after school, doing homework and picking out classic rock tunes on her guitar. "I was fascinated by the way she played it," Misner said recently. "She was extremely talented." Huckstep, listening in on our phone call, laughed and belted out a bar of Simon & Garfunkel's "I Am A Rock." She remembered Misner having "very penetrating eyes," she said. "When she focused on you, she listened to what you had to say."
In 2001, a mutual friend put the two women in touch. They fell in love that year, and bought a trailer in the woods by a quiet lake about an hour's drive from Birmingham, Alabama, where more than a hundred gay and lesbian couples had established a secluded community along miles of shoreline. At supper clubs and poker nights with their friends, on lazy days wading in the crystal-clear water and rambling over the pine-covered hills, Huckstep and Misner could be themselves. But to most people back in Birmingham, where Huckstep worked as a corporate lawyer, their sexuality was still a secret.
Growing up in Birmingham, Huckstep had learned in school and at home that to be gay was to be "deviant." Her family belonged to the United Methodist Church, which bars gays from serving in the church and holds that the "practice of homosexuality is incompatible with Christian teaching."
"Homosexuality was regarded in my circles with ridicule, and great disdain," Huckstep's older sister, Betty George, told me in an email. George says she is close with both women, despite her enduring worry about whether they will be able to join her in "Eternity."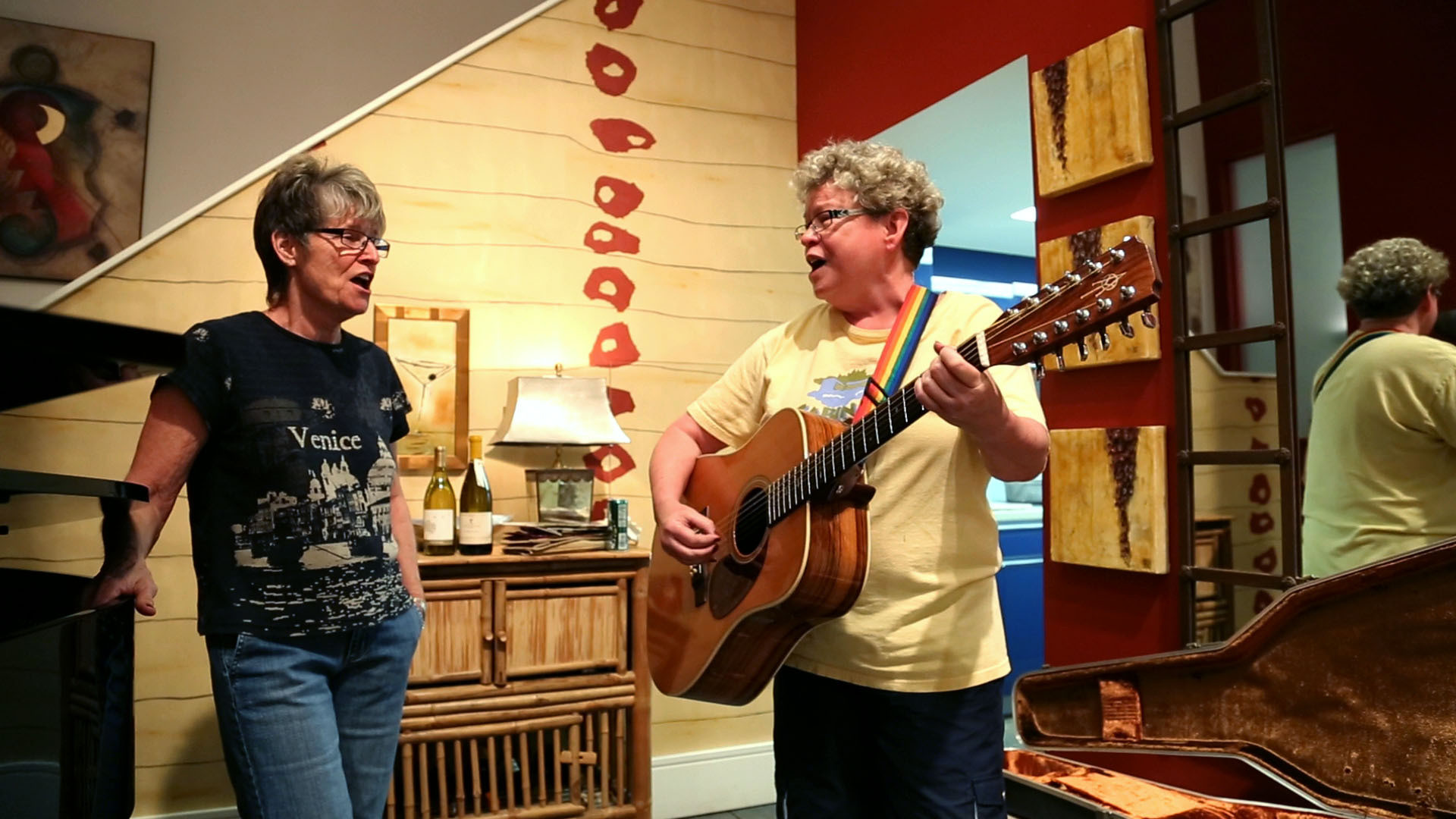 As an adult, Huckstep worried that people in her business circle would view her sexual orientation similarly. Apart from a few brief "encounters" with other women, she had had no romantic or sexual relationships before Misner. On the few occasions when Huckstep would have straight colleagues over for dinner back at their Birmingham home, Misner would prepare the meal, then hide in a guesthouse out back. Now and then, when Huckstep brought Misner to a work function, she would introduce her as a friend. Misner, who had lost custody of her children from her previous marriage after her ex-husband learned that she was gay, agreed that silence was best.
Gay rights leaders around the country have long viewed Alabama, and the rest of the Cotton Belt, as unwinnable terrain, a backwater hopelessly mired in the past. While gay couples in other states are lining up to get marriage licenses, LGBT people in Alabama are celebrating a court ruling throwing out the state's sodomy law more than a decade after the rest of the country has moved on. And as growing numbers of Republicans in other states are proclaiming their support for marriage equality, conservatives in Montgomery are as vehemently opposed to pro-gay legislation as ever. Alabama remains one of a dwindling number of states in the country with no laws protecting LGBT people from discrimination or hate crimes. The chief justice of the state Supreme Court is waging a campaign around the United States to enact what nearly everyone in the country sees as a politically dead idea -- a federal constitutional amendment to define marriage as a union of a man and a woman, something even former President George W. Bush couldn't pull off in 2004.
But in just the last few years, the conversation about gay rights in Alabama has begun to shift in subtle ways. There's the candidacy of Patricia Todd, Alabama's first openly gay lawmaker, who just won the Democratic primary for her third term as representative for Birmingham's downtown district, and who stands unopposed in the general election. There's the sight of young gay couples holding hands on Birmingham's historic brick-lined streets -- something gay people in Huckstep's generation only dreamed of doing. There are the bumper stickers endorsing the Human Rights Campaign, the country's largest gay rights organization, which recently announced an $8.5 million plan to open offices in Alabama, Arkansas and Mississippi -- the largest investment in the region by any gay rights group in history.
In 2013, the statistician Nate Silver predicted that Alabama will be the last or next-to-last state in the nation to support same-sex marriage by a majority of the population. But Alabama also holds a second, more encouraging position in states' rankings. Between 2004 and 2012, the percentage of Alabamans who expressed support for gay marriage rose from 16 to 32 percent, making Alabama the only state in the country where support doubled during that period, outpacing Louisiana and Arkansas. For now, however, the social and political shifts in Alabama are unaligned.
On a recent trip to Alabama, I spoke with a range of people, young and old, who are hoping to prod and cajole their state into the 21st century. In the liberal pockets of Birmingham, everyone spoke of change as possible, even inevitable. One afternoon, I met with Huckstep and Misner at Huckstep's former law office, on the 30th floor of the tallest building in Birmingham. Mounted on the walls were Misner's diaphanous acrylic paintings of a cowcumber (a type of native magnolia), a flame lily and a plumeria; in 2001, she retired as a teacher to pursue a full-time career as an artist.
Huckstep came out to most of her colleagues, and to the city itself, in 2012, after a local artist invited her and Misner to take part in a widely publicized photo exhibit about the difficulties of being a lesbian in Alabama. Almost all of her colleagues and associates rallied around her, and many contributed funding to the project, both personally and through their businesses. "I just was astounded," said Huckstep, "but very pleased." Emboldened by the business community's warm response -- not to mention the money she raised from its leaders, better than $125,000 -- Huckstep retired early, in part to lead the fundraising effort for "State and Union: Lesbian Families in the Deep South," a documentary inspired by the exhibit.
Gay people who work in executive offices on the top floors of tall buildings in Alabama's most liberal district enjoy advantages that most other LGBT people in the state don't share. The farther you venture from the glass towers of downtown Birmingham, the more you're likely to hear traumatic stories about parents losing custody of their children, kids getting kicked out of their homes and churches, and people of all ages trying to suppress or change their sexual orientation. Some activists hope that the Birmingham mindset will eventually spread to the rest of the state, noting that sweeping grassroots movements usually begin in cities. As Michael Bronski, author of A Queer History of the United States, put it, "Change radiates out."
In Montgomery, a considerably more conservative city, several dozen young people and faculty members at the local branch campus of Auburn University sat around a conference room one afternoon, sipping sweet tea and talking. They were gathered for a "safe zone" training, a national program to help raise awareness of LGBT issues and provide faculty with sometimes very basic definitions and history. "'Gay' is preferred to 'homosexual,'" explained Paul Hard, a mental health counselor and professor at the school and the leader of the program.
Hard spent part of the session arming the queer students in the audience with humorous responses to insensitive questions and terms. "I have to tell you," he said, "when I first came out to some of my friends that I went to Baptist college with, this was their remark: 'Well you know, I love you no matter what.'" He paused for effect. "'I don't care if you're a murderer, a thief, I'm going to love you all my life,'" he continued, with a hearty laugh. "And I said, 'I appreciate that so dang much, and appreciate the comparison, too.'"
After the session, members of the school's gay-straight alliance crowded around a table and clamored to answer my questions about gay life in Alabama, thrilled to linger on a topic that's still mostly talked about in whispers.
"My family doesn't know where I am right now," a freshman named Nick Long volunteered. "I live at home. I tell my dad, 'I'm going to an event.' He says, 'What event?' I say, 'Just an event.'"
Devin Cutrell, a junior wearing a dark crystal on a metal chain, nodded. "When I came out, the initial response of the pastor was to kick me out, even though I was not involved in any activities."
"Well, at least you didn't try to fast and pray yourself out of homosexuality," said Clifton Gibbons, a graduate student in English and philosophy. "I did it twice. Ended up in the hospital."
Long said he'd grown up in the suburbs of Montgomery, where the student handbook at his Christian high school warned that homosexual behavior could lead to "immediate expulsion." Cutrell was living in a country town called Beatsville when the pastor of his Baptist church sat him down and told him that being gay was a sin. All of the students I spoke to said that at least some of their friends and family had grown more accepting after they came out. But when I asked when they thought the law would reflect these changes, they laughed.
"Maybe in a hundred years," one young woman said.
"Maybe when we're dead," said Long.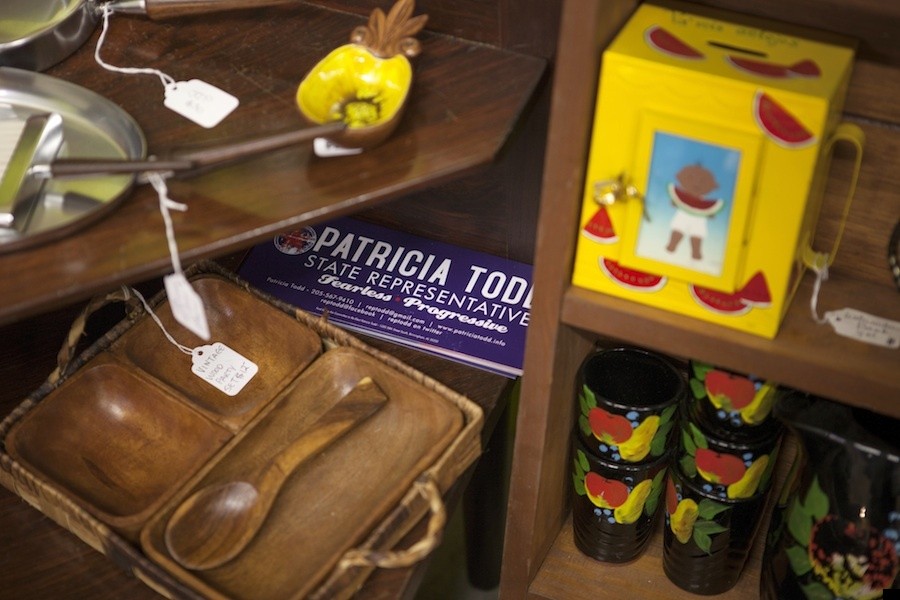 To the extent that Alabama has changed, no single person has played a more prominent role in the shift than Patricia Todd, an affable self-described cat freak (she has seven). As Alabama's first openly gay elected official, Todd learned to counter bigotry with a sly joke and a booming laugh. She refers to her hate mail as her "love letters," and says she doesn't mind the suggestion that there's a place in hell reserved for gays, since "that's where all my friends are going to be."
When Todd first arrived in Alabama in her mid-20s, some 30 years ago, most of those friends were "very lonely and very afraid," she said. "They were not coming out to their families. They were living miserable lives. There was a couple of bars and a softball team and one local group that ran a help line, but as far as political action, there really wasn't any." (Todd was a bit lonely too; she'd moved to the state for love, but she and her girlfriend split soon after she arrived.)
In New York, the gay rights organization Lambda Legal, already a decade old, was filing lawsuits on behalf of same-sex couples and lesbian and gay parents. In Washington, D.C., the Human Rights Campaign was raising money for congressional candidates who supported gay causes. Along with the Gay and Lesbian Defenders in Massachusetts, these groups were laying the groundwork for the modern gay rights movement and fighting its first battles on a variety of fronts -- legal, cultural, political. But there were no analogous groups on the ground in Southern states like Alabama. "We were just totally isolated," Todd said. "We were written off."
In 1999, when Todd was 44, she was fired from her job as executive director for the alumni association at the University of Alabama at Birmingham, where she'd gone to grad school. As she tells it, the vice president of the university simply told her that the alumni association had never had any controversy and wanted to keep it that way. (The school today has an active LGBT student community and has been praised for its inclusive atmosphere.)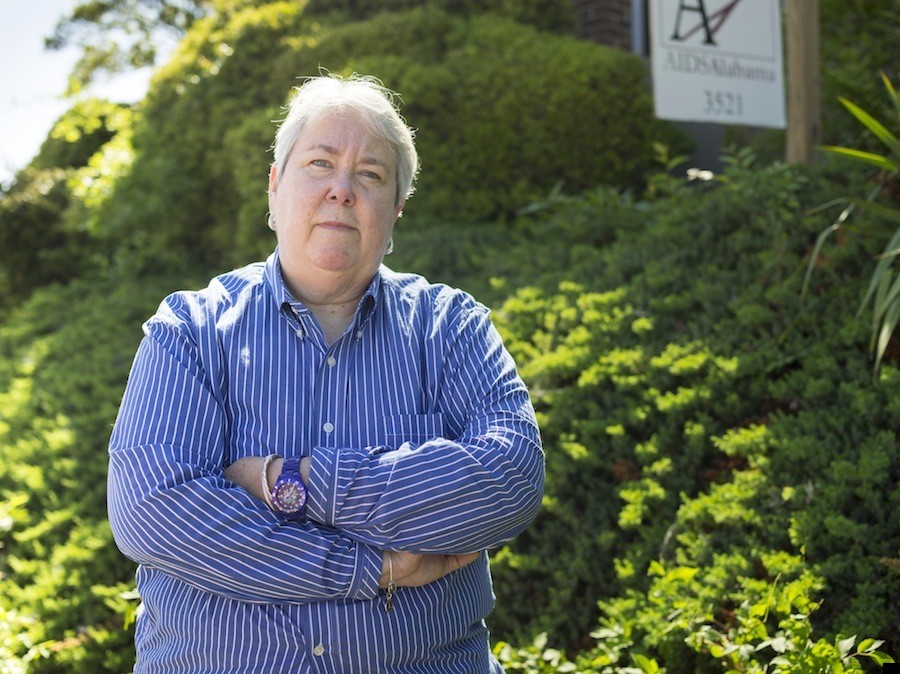 Then, as now, Alabama had no laws that prevented businesses from firing people on the basis of their sexual orientation or gender identity. (The federal government didn't either, until last month, when President Barack Obama signed an executive order banning government organizations and contractors from discriminating on these bases.) Powerless to fight back against her former employer, Todd took a job teaching computer literacy at a women's business center, then began working as a fundraiser with an AIDS organization, one of the few activist groups in Alabama that did any work related to LGBT concerns. (In 2013 she became the group's executive director, a position she still holds today.)
In the spring of 2006, Todd and two activist friends testified against the state of Alabama as lawmakers geared up for yet another attempt to ensure that gay residents would never be able to marry their partners. Alabama had already banned same-sex marriage twice, first in 1996 with an executive order from then-Gov. Fob James, and again in 1998, with a law supported by all but 12 of the 109 legislators who voted on the measure. Since then, a judge in Massachusetts had allowed gay couples to wed, raising fears that judges in other states could do the same. By 2008, 29 states had passed constitutional amendments defining marriage as a heterosexual union.
Todd and her two friends weren't optimistic that their testimony would dampen Alabama lawmakers' enthusiasm for such an amendment -- nor were they prepared for the level of vitriol they encountered when they took turns addressing the House Judiciary Committee at the Capitol in Montgomery. On the drive home to Birmingham, the activists talked about how futile the exercise had been. "We realized that one of us had to run for the legislature," said Todd. "We would never change that conversation unless we were sitting at that table."
That June, by a landslide vote of 81 percent, Alabama passed an amendment banning same-sex marriage. The same day, Todd placed first in a primary race to represent downtown Birmingham in the state House of Representatives. It was a bitter election, though not due to any Republican interference: Todd won in a majority-black district and Democratic stronghold against a black businesswoman whose mother-in-law filed an unsuccessful challenge against Todd after the votes were counted. Later that year, Todd took office as the second openly gay state lawmaker in the Deep South.
Thus far, Todd's most important contributions to the LGBT rights movement in the state have been chiefly symbolic. Nearly every gay person I interviewed for this story spoke of her in glowing terms, calling her "courageous," "a hero," "a beacon of hope." As a legislator, however, Todd has been careful not to "beat people over the head with a gay flag," as she puts it. In all of her campaigns, she has run on an anti-poverty platform, promising to improve access to payday loans, welfare and inexpensive healthcare. She waited two years before she introduced her first bill centered on LGBT issues, an attempt to expand the state's definition of a hate crime to cover sexual orientation and gender identity. That bill never made it to the House floor for a vote. Nor did any of her eight or so other bills aimed at improving the lives of LGBT Alabamans, including efforts to legalize same-sex marriage and remove derogatory references to homosexuality in the state's sex-education policy.
On the other hand, Todd's opponents haven't had much success either: Not a single anti-LGBT law has been passed during Todd's eight-year tenure. Torey Carter, the managing director of the Victory Fund, a political action committee that works to elect LGBT politicians, argued that Todd's presence in Montgomery may have played a role in that. "All of this really comes down to relationships and having her colleagues get to know her and understand her position and see her as their equal," said Carter. "We saw it in Maryland, and we saw it in New York, where having a cohort of LGBT elected officials helped move the needle. So hopefully Alabama can be an example of that in the near future."
Bronski, the queer academic, pointed to studies from the last decade that show how the presence of a female or black judge on a three-judge panel increases the probability that the male colleagues will rule in favor of a woman, or that the white colleagues will rule in favor of a person of color. A similar dynamic, Bronski said, may be starting to take hold among Todd and her colleagues. "I'd argue that just her introducing these bills profoundly changes things."
Across the country, Republicans and Democrats who have announced changes of heart on the issue of same-sex marriage usually say their relationship with a gay friend or family member is what inspired the shift. Todd believes she'll be that friend to some of her colleagues. "I use humor to make folks comfortable, so I am always making comments about how nice it would be to be able to marry the person you love," she said. "They smile because I am not beating them over the head with it."
She mentioned Scott Beason, a Republican "friend" in the state Senate. The two have plastered each other's bumper stickers on their cars, and they lunch together once a week. Beason called Todd a "very nice lady," and he co-sponsored her bill on payday lending earlier this year. Still, Todd is realistic enough not to expect any dramatic reversals from her colleague soon. Beason told me that he and Todd "disagree vehemently on a number of issues," and that their budding friendship hasn't changed his reading of Scripture. "I believe devoutly that marriage is between a man and a woman," he said.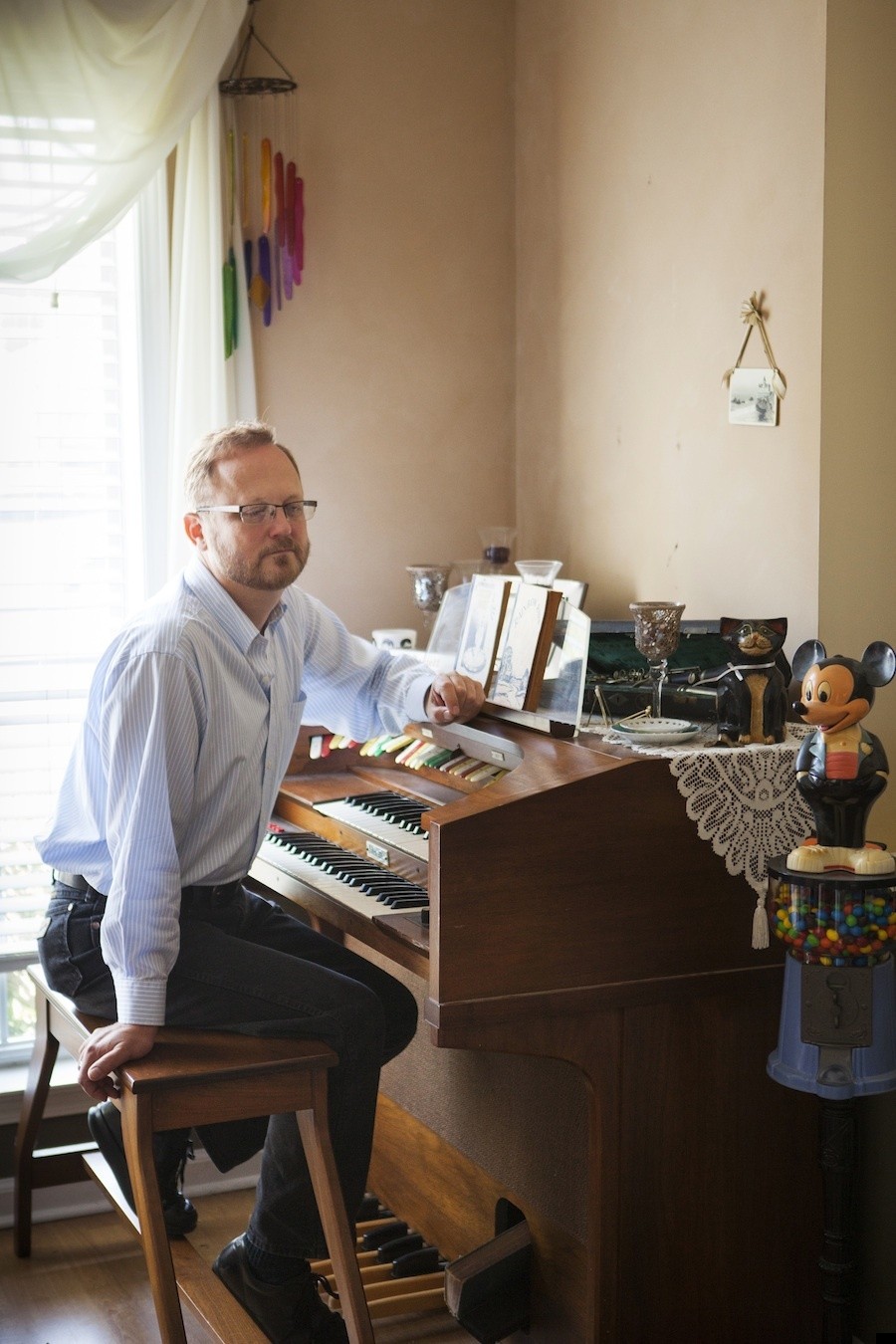 On the domed ceiling of the Alabama Capitol, a ring of murals depict a number of watershed events in the state's history, including the surrender of the Creek chief William Weatherford to General Andrew Jackson in 1814, and the inauguration of Confederate President Jefferson Davis on the Capitol steps in 1861. Jerry Fielding, a Republican state senator, recently introduced a measure calling for the state to pay tribute to another man revered by many: Phil Robertson, the "Duck Dynasty" star who grouped gays with "drunkards" and terrorists in a rambling response to a question from a GQ interviewer last winter. Following that incident, Fielding declared that Roberston should be "celebrated as a hero for courageously revealing his self-truth and Christian ideals."
These sentiments aren't confined to the tea party fringe, or even the GOP. Todd stopped caucusing with the state Democratic Party two years ago after one member tried to introduce an amendment to an education bill that would have allowed the state to fire teachers for "teaching homosexuality" in schools. ("I don't even know what that means," said Todd.)
On the Republican side, Mike Hubbard, the speaker of the state House of Representatives, described a recent lawsuit challenging Alabama's marriage law as part of a "coordinated liberal agenda that is designed to erode the conservative Alabama values that the citizens of our state hold close to their hearts." Beason, who is running for Congress, says he doesn't understand why gays in the state feel marginalized. "I've never seen anyone persecuted. I've never seen anyone not served somewhere. I've never seen any of that kind of thing," he said. "I mean, I know people that I believe are gay who have very good jobs and make very good money, live their lives. So I'm really not sure what is supposed to be changing."
Sweeping legal changes, whenever they come, may not start at the capitol building at all. Even Todd admits this. Sitting in her office at the Birmingham headquarters of the nonprofit AIDS Alabama, she noted that it was the U.S. Supreme Court that ended the reign of Jim Crow in the Deep South half a century ago. Today, gay rights activists are hoping for another federal intervention.
Many lawyers expect the Supreme Court to weigh in sometime soon on the legality of state bans against same-sex marriage. Last June, the court struck down the 1996 law that restricted the federal government from recognizing same-sex marriages. Justice Antonin Scalia, who has compared homosexuality to murder, polygamy and animal abuse, warned that judges in lower courts would interpret the decision as a justification for overturning state bans on same-sex marriage around the country.
This turned out to be a self-fulfilling prophecy. In the past year, lawyers have filed challenges against same-sex marriage bans in every state that still refuses to marry gay people. In every one of the 19 states where judges have issued a ruling, the courts have sided with same-sex couples, sometimes sarcastically thanking Scalia for his guidance on how to interpret the Supreme Court decision.
Although no one has yet attempted to force Alabama to marry same-sex couples, plaintiffs in four cases have recently challenged the state's refusal to recognize same-sex marriages performed elsewhere. Judges are expected to rule on these cases in the coming months. Two of the cases involve couples who hope to be able to adopt the children they have raised, and a third case centers on the predicament of two women who want the state to recognize their Iowa marriage so they can get divorced.
The fourth case has the highest profile, in part because it was picked up by the Southern Poverty Law Center, a prominent civil rights firm based in Montgomery. Founded in 1971 in an attempt to preserve and enlarge the legacy of the civil rights movement, the SPLC has successfully represented a range of clients, including undocumented immigrants who were assaulted by a vigilante border patrol group in Texas and Vietnamese fishermen who were harassed by the Ku Klux Klan. In 2010, the firm established a legal team devoted to LGBT issues in the Southeast. "Our project is really dedicated to making certain that steps forward in places like New York and San Francisco find their way down to the South at some point," said David Dinielli, an attorney with the firm. "And to be honest, we're getting anxious."
In the fall of 2013, Paul Hard, the professor and safe-zone mentor at Auburn University at Montgomery, came to the SPLC with a tragic story. Hard, who has teddy-bear features and a fuzzy red beard, came out in his 40s, and married his partner of seven years, Charles David Fancher, on a Cape Cod beach in May 2011. Back home in the suburbs of Montgomery, they displayed their marriage certificate and a bottle of Cape Cod sand on their mantel. Less than three months later, Hard got a call from a nearby hospital. Fancher had been in a car accident. Hard grabbed the folder containing their marriage license and rushed out the door.
At the hospital, an apologetic nurse told Hard that he couldn't let him see his husband or provide any information about Fancher's condition. "We don't recognize gay marriage here," the nurse said nervously. Half an hour passed before an attendant agreed to take Hard to Fancher's room. Hard asked if Fancher was badly hurt. "Well, he's dead," the attendant said, according to Hard. Hard's knees gave out. He reached for the attendant, but the attendant stepped away. Hard collapsed.
Hard later learned that Fancher's car had slammed into an overturned truck that had lost control on the highway. He tried to collect money from a wrongful death lawsuit on Fancher's behalf, but discovered that Alabama only awards the proceeds of such cases to surviving spouses and family members. In the state's eyes, Fancher and Hard were strangers.

In December, the SPLC sued Alabama, claiming that the state had violated Hard's right to equal protection under the 14th Amendment. Three months later, Fancher's mother, Pat, stepped into the fight, arguing that the money was rightfully hers. In a motion approved by the court, her lawyer, Gabriel J. Smith, said she was "deeply disturbed that the death of her son David, whom she deeply loved and with whom she had a good relationship, is being used by Plaintiff Paul Hard to advance the cause of same-sex marriage which she strongly opposes."
Smith works for the Foundation for Moral Law, a Montgomery group founded by Alabama Supreme Court Chief Justice Roy Moore, one of the country's leading anti-gay activists. In 2002, Moore became a villain in the eyes of gays and lesbians everywhere when he ruled against a lesbian who had sought to gain custody of her children from her allegedly abusive ex-husband. In the opinion, Moore argued that the state should use "confinement and even execution" to prevent the "subversion of children" toward the gay and lesbian "lifestyle."
Moore and the Southern Poverty Law Center are old foes. In 2001, the year Moore was first sworn in as chief justice, he arranged for workers to install a two-and-a-half-ton granite monument of the Ten Commandments in the central rotunda of the state courthouse. The SPLC was among several groups to file a suit calling for the monument's removal, citing the separation of church and state -- complaints that led to Moore's dismissal in 2003. Moore was re-elected to the post in 2012.
Moore and Smith both declined to speak with me about Hard's case. Smith also turned down my request to speak with Pat Fancher, describing her on our phone call as a "very sweet, precious older lady who does not want to speak with the media at all."
At his home just two miles from campus, a ranch house overstuffed with mementos from his life and travels with Fancher, Hard said he was disappointed by his mother-in-law's decision. "I don't quite know how to interpret that," he said, adding that his in-laws were "good folks" who had never treated him with "anything but courtesy" while Fancher was alive. In fact, he said, they didn't stop returning his calls until about a year after Fancher's death. As the collapse of their relationship shows, the Southern virtues of politeness and goodwill don't necessarily translate into political solidarity. Beside Hard, above the fireplace, a bottle still held sand from the Massachusetts beach where he and his husband were wed.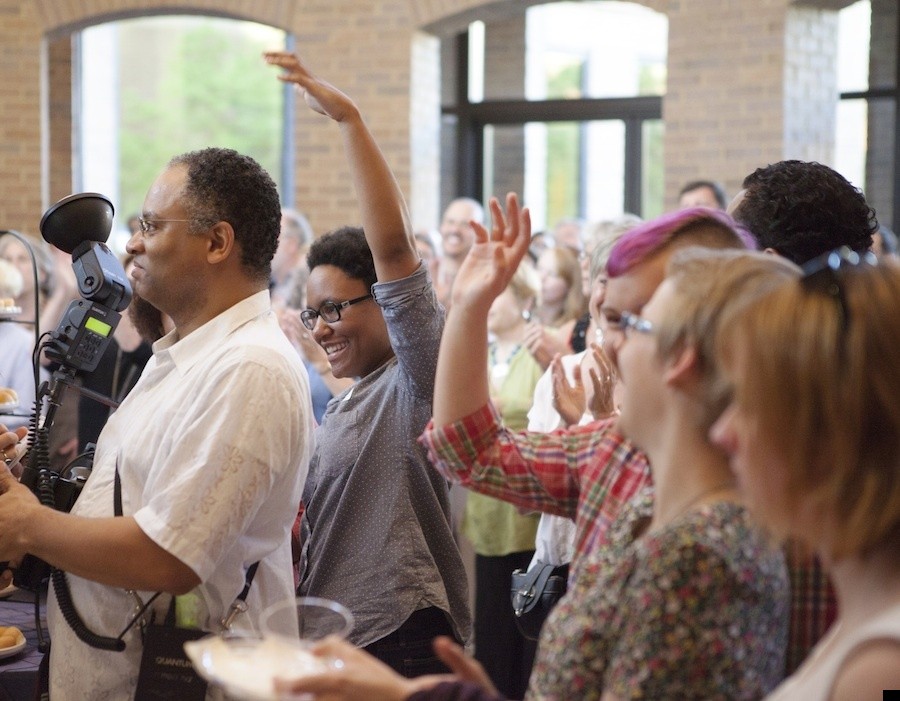 A.Eric Johnston, a 66-year-old lawyer who has lived in Birmingham his entire life, helped draft the language of the state's law against gay marriage. At his Birmingham office he keeps a shrine on a bookshelf to the 40th president, complete with brass candlesticks, collectible dinnerware and a copy of The Quotable Ronald Reagan.
"I think homosexuality is wrong, but I'm not going to condemn them for doing it," Johnston told me. "For the homosexuals to say, 'You have to go along with this and do stuff for me,' that's what I believe is totally wrong."

Right-wing Christians have increasingly raised the specter of this scenario. This winter, conservative lawmakers around the country introduced bills that sought to expand the ways in which an employer or business could use religion to avoid complying with laws prohibiting discrimination against gay people. Alabama voters already approved such a law in 1998; Johnston wrote it.
Katherine Franke, director of the Center for Gender and Sexuality Law at Columbia Law School, argued that this trend counterintuitively demonstrates the success of the gay rights movement in the Bible Belt. "The turn to religion is Plan B," Franke said. "Those who opposed gay rights for so long and really held the public agenda now see themselves as retreating to an enclave -- an enclave that's protected by free-exercise rights and the pickets of religion. And that's such a shift, to see themselves having gone from established norms to being the discriminated minority themselves."
Although Evangelicals still account for about half the population of Alabama, compared with a quarter of the national population, the number of religiously unaffiliated people in the South has more than tripled over the past decade. Robert Jones, head of the Public Religion Research Institute, a nonpartisan group that conducts surveys on religious and political trends, sees the church's stance on gay rights as a driving force in this shift. "The youngest generation grew up at the height of the Christian Right movement in the country," he said. "They grew up seeing a very politicized version of Christianity. This kind of hyper-politicized religiosity is a real turnoff for younger Americans."
Depending on whom you ask, the Human Rights Campaign's arrival in Alabama this year will either be a tipping point in this narrative of change, or a sign that the tipping point has already occurred. In April, HRC president Chad Griffin announced his group's plan to open offices in Alabama, Mississippi and Arkansas, where Griffin was born. Brad Clark, who is leading that effort, said the region's 20 new staffers will strive to change "laws, institutions, and hearts and minds."
"I think in all of those areas, things are achievable in Alabama," Clark told me, his voice brimming with confidence.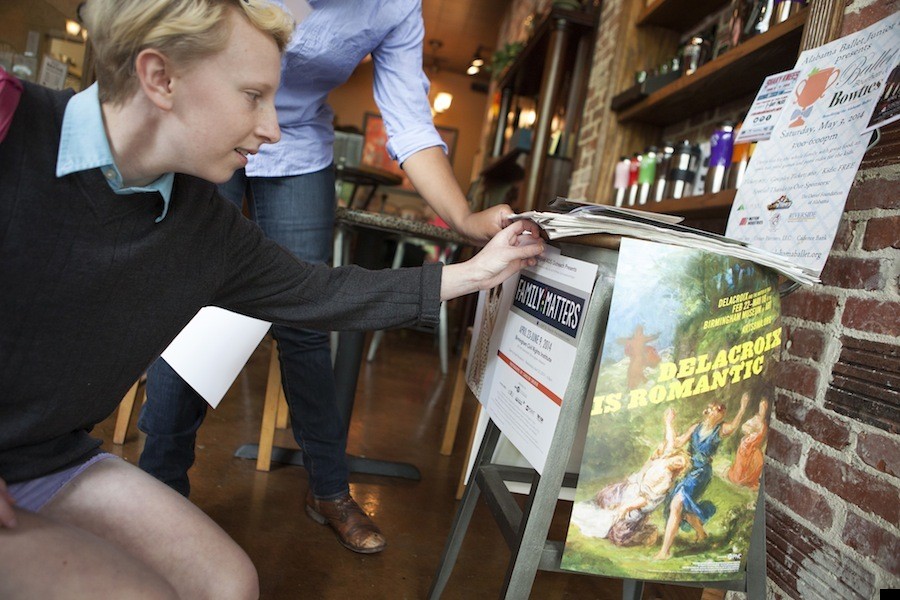 Lauren Jacobs, a 23-year-old queer activist who lives in Birmingham, has mixed feelings about the Human Rights Campaign. Although she's intrigued by the group's promise to bring more LGBT activists and money to the state, she has more respect for old-school activists like Patricia Todd, who was working in Alabama long before HRC entered the picture. In April, Jacobs and her girlfriend, Taylor Winfrey, drove around Birmingham with a friend, taping up fliers for a photo exhibit on queer youth in Alabama. The exhibit, called "Family Matters," was a sequel to the project that prompted Huckstep and Misner to come out to the business community in 2012. Every time Jacobs and Winfrey passed a blue-and-white yard sign endorsing Todd, they cheered. Jacobs referred to Todd as "Pat" and said that just knowing about her was "huge."
The exhibit was to take place at the Birmingham Civil Rights Institute, a museum opened in 1992 to honor the city's historic struggle for equality and justice. A tour of the permanent collection takes visitors through artifacts of the city's segregated past: a pair of "White" and "Colored" water fountains; the original door of the Birmingham jail cell where the Rev. Martin Luther King Jr. penned his famous letter; a Klan robe that someone anonymously donated to the museum after finding the garment in a trunk. Conservative foes of the gay rights movement, as well as some veteran civil rights activists, have rejected comparisons between the travails of Southern blacks in 1963 and the difficulties faced by Southern gays and lesbians today. Jacobs, who is black and grew up hearing firsthand accounts of the civil rights movement from her mother and aunts, agrees that it's irresponsible to link the two movements too closely. "I don't like it when people call this 'the new civil rights movement'," she said. "That implies an end to the civil rights movement centered around race."
Whatever you call the new movement, no one would claim its gains in Birmingham have been anything other than modest, especially when compared with what LGBT activists have achieved in other places. "I remember when I was in high school, looking for things to go to, and there was a youth group at the time, but it was just two people and they weren't really doing anything," said Jacobs. "Now, if I were to sit down and Google 'LGBTQ Birmingham,' all this stuff would come up." She mentioned the specialized programming for young adults at this year's Pride festivities, as well as the Magic City Acceptance Center, a Birmingham facility for LGBTQ youth that opened its doors in June.
Still, as tame as those developments might sound to someone in New York or San Francisco, Jacobs and her friends seemed excited. As they drove around town with the fliers, Jacobs and Winfrey instantly gravitated toward each other and clasped hands each time they stepped out of the car. Outside one coffee shop, two grizzled older men in cowboy hats glanced up at the women through a cloud of cigarette smoke as they passed, their expressions sinking into grimaces; the girls giggled, but didn't break their grip.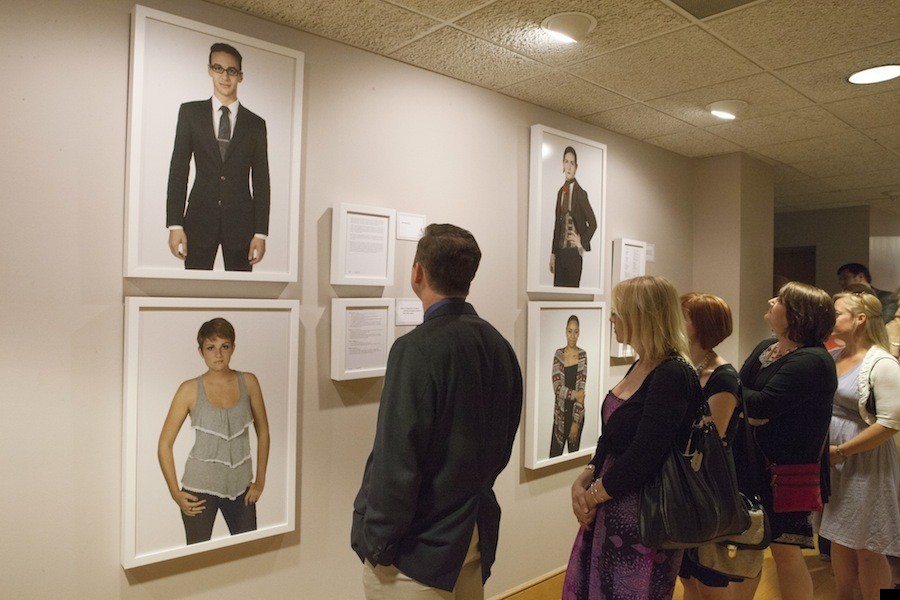 The next day, Jacobs and Winfrey arrived at the museum before the festivities began. As guests filed into the reception hall, the two women looked at the pictures on the wall of the gallery. Jacobs' picture showed her in an open flannel shirt with rolled-up sleeves and a hint of a smile on her lips, her eyes inspecting the viewer from behind a pair of black-rimmed glasses. Jacobs studied the picture closely. "I don't like the face I'm making," she told Winfrey, making a similar face in spite of herself. She sighed, gave the photo one last look and walked off to mingle with the crowd.
Michael Bronski, the author of A Queer History, said that political change happens in many ways. "The most crucial way is that you need numbers," he told me. "You need people to sign petitions, to vote, to actually instigate those bills, to instigate the propositions. And it seems to me that those have always come out of cities."
In the reception area of the Birmingham museum, about 400 guests were nibbling on biscuit sliders. An organizer read out the names of the 12 people in the photographs and asked the subjects to identify themselves. The crowd cheered loudly as the young models raised their hands.
Enjoy reading this article? Read more selections from the best of HuffPost in
Huffington Magazine
.
REAL LIFE. REAL NEWS. REAL VOICES.
Help us tell more of the stories that matter from voices that too often remain unheard.