Alabama Gov. Kay Ivey (R) has enacted a controversial program aimed at permitting select school administrators in her state to become deputized, so they can use lethal force in active shooter situations.
The Alabama Sentry Program, which Ivey implemented via an executive memorandum on Thursday, permits select administrators in schools without police as resource officers to keep firearms on campus.
"We must provide a way for schools to protect their students in the upcoming school year," Ivey said in a press release announcing the program.
The program, which comes amid a string of deadly school shootings, permits individuals designated as "sentries" to use "lethal force to defend the students, faculty, staff, and visitors."
The measure does not force school districts to arm administrators and will not require them to carry guns. But it allows each school district to choose whether to arm administrators. It took effect immediately.
The measure is not being touted as a permanent solution. Larger districts may have the ability to hire school resource officers ― itself a controversial measure ― but many smaller schools can't afford to. Ivey said her memorandum is a stopgap measure until legislatures can come up with a "concrete plan" to have a school resource officer on every campus.
"With the unfortunate continued occurrence of school violence across our country, we cannot afford to wait until the next legislative session," Ivey said.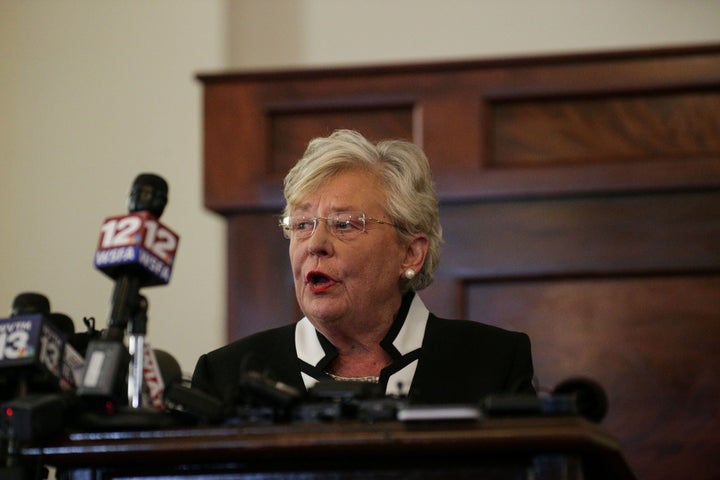 Hal Taylor, Alabama's secretary of law enforcement, said the program is "a common-sense approach to increasing security in our schools."
Dr. Eric Mackey, the state superintendent of education, also praised the initiative.
"Schools are sanctuaries of learning and, as such, they must be safe places for our children to learn, knowing that the adults around them are watching out for their safety and security," he said.
However, not everyone is in favor of the decision.
In a statement to The Tuscaloosa News, Benard Simelton, president of the Alabama NAACP, was critical of the memorandum.
"This is the absolute worst idea imposed on students," Simelton said. "Since the Columbine school massacre in 1999, more than 215,000 students have been exposed to gun violence in schools. The answer to stop gun violence is not to bring in more guns."
"From our research, school safety experts, teachers, [and] law enforcement officials oppose arming teachers and staff," said Leader, whose organization advocates for gun safety and reform. "They have other jobs they are meant to be doing in schools. They aren't trained sharpshooters and don't have ongoing training."
In addition to possessing a school administrator certificate and a concealed-carry permit, volunteers must pass annual law enforcement training, a mental health assessment and a drug screening.
Individuals who meet the requirements will be sworn as reserve deputy sheriffs. Each one will be provided with an authorized weapon, ammunition, a weapon storage safe and a "distinctively marked" bulletproof vest.
Ivey hopes to get volunteers trained this summer and have them ready and on campus before the start of the 2018-2019 school year.
"We look forward to representing our members in the ongoing conversation," Vic Wilson, the group's executive director, told The Birmingham News.
Popular in the Community