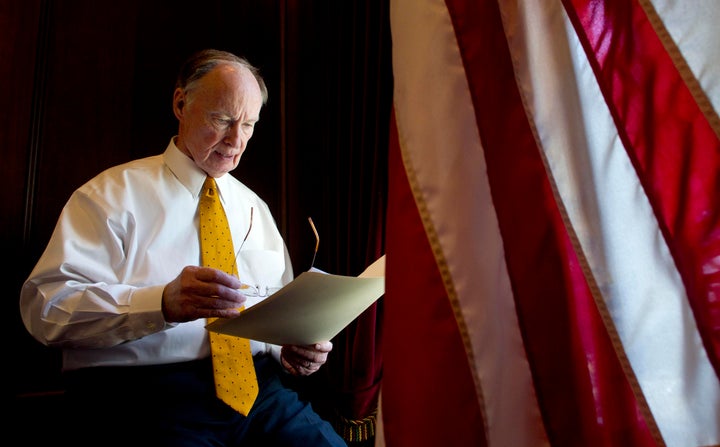 WASHINGTON -- Alabama lawmakers took the first step Thursday toward amending -- but not repealing -- the state's contested immigration law.
Republican House Speaker Mike Hammon filed a bill that would make changes to H.B. 56, a partially blocked law that allows police and other government officials to inquire about citizenship status in a number of situations. The law drew a federal lawsuit and complaints from leaders in business, education and religious groups, who said it hurt their ability to hire workers or serve their communities.
The bill introduced Thursday, H.B. 658, was in response to some of those concerns, Republican Gov. Robert Bentley said in a statement.
"As we met with various groups, we discussed how portions of the law needed revision so the law was more clearly understood and more enforceable," he said. "The revisions we have outlined accomplish the task of addressing illegal immigration while providing the proper guidelines for adhering to and upholding the law."
Still, Bentley said the "essence of the law" -- the portion many Democrats and civil rights groups, as well as the federal government -- take issue with, will remain the same. The law is intended to drive undocumented immigrants from the state, and Bentley reiterated that "anyone living and working in Alabama must be here legally."
Opponents of the law say it violates civil rights, hurts business and could harm children born in the country to undocumented parents. The amendment has support from the governor and is expected to pass.
The Justice Department sued the state in August 2010 to block some portions of the law, saying it preempted the federal government's right to police immigration. A federal judge upheld most of the law in September 2010, but blocked measures that would criminalize renting to or transporting undocumented immigrants, and bar them from seeking work or enrolling in public universities. The judge also blocked a provision that would penalize drivers that stopped to hire day laborers.
Among the changes: Police would be required to ask about immigration status if they became suspicious only during traffic citations or arrests, not at any stop. It would also eliminate a provision that said renting to an undocumented immigrant could be considered harboring and clarify business' obligations in dealing with people in the U.S. without papers.
Public schools would no longer be required to check immigration status of students, which the authors of H.B. 56 said would be used to estimate the cost of educating undocumented children. The changes to the law would shift the responsibility of determining that cost to the state Department of Education.
Republican lawmakers indicated in the past that they were willing to make some changes to clarify the law. Attorney General Luther Strange also said in December 2011, that parts of the law should be repealed. But Hammon has remained committed to the law in the past, saying it helped lower unemployment in the state.
"Despite how desperately illegal immigrant sympathizers have tried to portray this law as somehow harmful to our state's economy, the truth is more Alabamians are working today thanks in part to our decision to crackdown on illegal immigration," he said in a statement then, according to The Birmingham News. "The evidence is clear: This law is helping put more Alabamians back to work, and that's why such a strong majority of Alabamians support it."
His spokesman tweeted on Thursday that the new bill would "maintain the strength of Alabama's illegal immigration law, while making it more workable for local governments ... more enforceable for state and local police, and less burdensome for law-abiding citizens and businesses."
Hammon's office did not immediately respond to a request for comment.
A major opponent of the law, Democratic state Sen. Hank Sanders, said changes to the bill seemed to be mostly directed toward business interests. Only a full repeal would help to counteract the bad message the immigration law has sent, he said.
"It was a terrible bill, it's still a very bad bill," Sanders said. "It just does not do what needs to be done."
Calling all HuffPost superfans!
Sign up for membership to become a founding member and help shape HuffPost's next chapter
BEFORE YOU GO