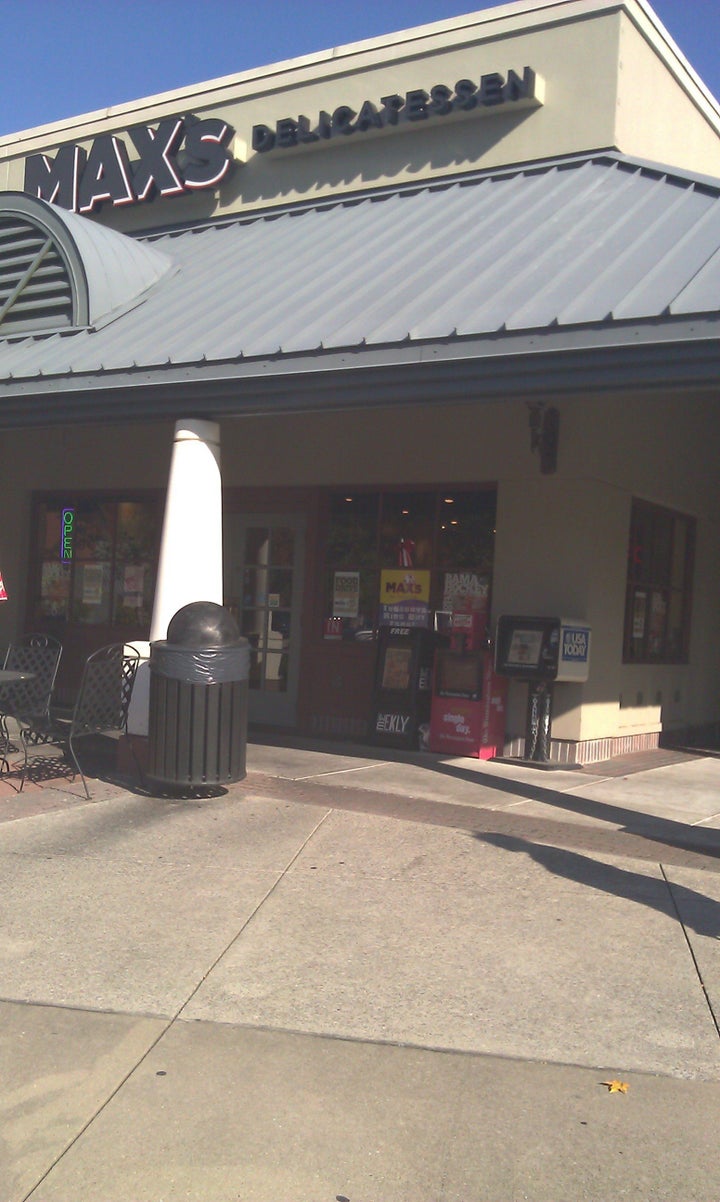 Last week HuffPost told the story of Steve Dubrinsky, a Birmingham deli owner who was pilloried by strangers for defending his Latino workforce in an interview with the Birmingham News. Dubrinsky had told the paper that even documented Latinos were scared of Alabama's sweeping new immigration enforcement law, and that many legal workers would end up leaving the state because they no longer felt comfortable there.
Outraged by Dubrinsky's support of immigrants, strangers flooded his inbox with threats to boycott his restaurant, Max's Delicatessen. Typical of the missives Dubrinsky received: "I hope your unamerican establishment closes down!!!!" His restaurant suddenly received dozens of negative one-star reviews on Google, mostly from anonymous first-time posters.
But since late last week, Dubrinsky has witnessed an outpouring of support from a different set of strangers. After reading of Dubrinsky's plight, opponents of the new law have rallied around his deli, leading to one the busiest stretches at the restaurant that Dubrinsky can recall. He tells HuffPost that new diners have been driving from up to forty miles outside the city just to try his reuben and thank him for standing up for Latino workers.
"I've shaken more hands in the last two days than in the previous two years. It's been amazing," Dubrinsky said. "The restaurant has been pretty darn busy."
One reader told HuffPost that her friend had visited Max's this weekend to show her solidarity, but it was so busy the woman had to go eat elsewhere. Another reader from Georgia told HuffPost that she and a group of friends were putting together a caravan to travel to Max's from Atlanta just for lunch.
The restaurant's Facebook page has been inundated with fan requests from all over the country, Dubrinksy says. Rather than bashing him and his workers, visitors to the page have been telling the staff at the Jewish deli to stand tall: "Thanks for being a mensch, Max's Deli. Hang in there and I'll be bringing my very hungry teenagers to your deli the next time we're in town."
His score on Google, which had plummeted to 1.5 stars, has climbed back up to 3.6 thanks to positive reviewers.
Among the many emails Dubrinsky has received was this one from a Nevadan: "I'm sure this has been very difficult for all of the employees who work at Max's, and their families, but reasonable people have to stand up on this issue instead of spewing hate. I'm sorry that I live in Nevada -- too far to support your restaurant -- but if I'm ever back in Birmingham, you'll be my first stop!"
When he spoke out against the Alabama law, Dubrinsky was wading into controversial territory. The law -- the toughest of its kind in the country -- authorizes police to demand documentation during a stop if they have "reasonable suspicion" someone is in the country illegally. Although hard-liners have praised its harsh measures, many business owners have said the law has already led to a labor shortage in certain industries.
Several of Dubrinsky's Latino employees have told him he should look for replacements. But just as many farmers have had difficulty finding non-Latino workers to pick their fields for modest pay, Dubrinsky hasn't had much luck finding non-Latino workers who will toil in his kitchen at an entry-level wage. "It's easier said than done," he said last week.
The show of support hasn't fixed any staff problems Dubrinsky may face, but it has lifted his spirits after a week of feeling embattled. It's also convinced him that many people in Alabama and beyond share his worries when it comes to the new law.
"Last week I was thinking I was on the wrong side of this issue," Dubrinsky says. "Now, I don't. It's clear from the response that there are far more people concerned with this law than you would think."
Popular in the Community