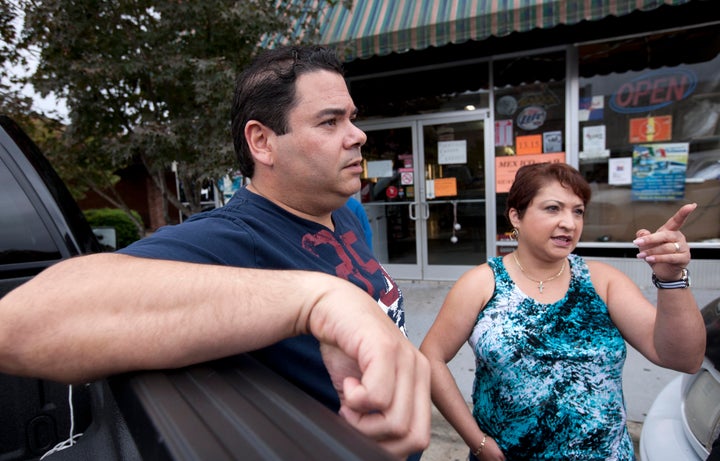 By JAY REEVES, ASSOCIATED PRESS
ALBERTVILLE, Ala. (AP) -- At least a half-dozen poultry plants shut down or scaled back operations Wednesday and many other businesses closed as Hispanics in Alabama skipped work to protest the state's toughest-in-the-nation immigration law.
The work stoppage was aimed at demonstrating the economic contribution of Alabama's Hispanic immigrants. It was unclear exactly how widespread the protests were, but a poultry company spokesman said officials were reporting unusually high absences at plants in northeast Alabama, where much of the state's chicken industry is based.
In the northeast Alabama town of Albertville, numerous Hispanic-owned businesses along Main Street had the lights off and signs that said they wouldn't be open. Mexican restaurants, a bank that caters to Hispanics, small grocery stores and supermarkets were all shuttered.
Jose Contreras owns a restaurant and store on Main Street. He said he was losing about $2,500 in revenue by shutting down.
"We closed because we need to open the eyes of the people who are operating this state," said Contreras, originally from the Dominican Republic and a U.S. citizen. "It's an example of if the law pushes too much, what will happen."
Republican supporters say Alabama's strict new immigration law was intended to force undocumented workers out of jobs and help legal residents find work in a state suffering from high unemployment.
The law allows police to detain people indefinitely if they are suspected of being in the country illegally and requires schools to check the status of new students when they enroll.
Since a federal judge upheld much of the law two weeks ago, many frightened Hispanics have hid in their homes or fled Alabama. Schools have reported high absentee rates among Hispanic students, and officials said even more students were absent Wednesday, apparently because of the protest.
At Crossville Elementary School in DeKalb County, Principal Ed Burke said about 160 of the school's 600 students weren't in class.
"We normally would have about 20 or 30 out," he said.
The Obama administration is among the critics of the new law and asked a federal appeals court Wednesday to at least temporarily block enforcement, arguing in court documents the statute oversteps the state's authority. It's not clear when the 11th Circuit Court of Appeals will rule on the administration's request for a preliminary injunction.
Not far from Contreras' businesses, the parking lot was virtually empty at a Wayne Farms poultry plant that employs about 850 people. Company spokesman Frank Singleton said other plants were also reporting unusually high absences.
"We know it's related to the immigration law. I don't think it's going to be just today," he said.
The protests were being promoted partly through Facebook and other social media, as well as a Spanish-language radio station in Birmingham. Supporters say they want to show the economic impact of Hispanic people in Alabama and demonstrate solidarity in opposition to the law.
There are an estimated 185,000 Hispanics in Alabama. The Pew Hispanic Center estimates that 70 percent of the state's Hispanic residents are Mexican.
Popular in the Community