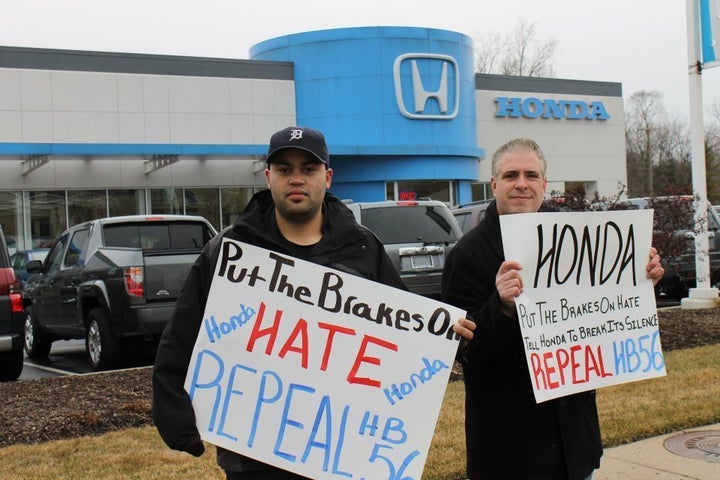 Civil rights groups plan to increase pressure on automakers that have plants in Alabama in an effort to stop the state's contested immigration law, a member of the coalition told The Huffington Post on Tuesday.
As civil rights groups fight Alabama House Bill 56, considered the most extreme bill in the U.S. aimed at driving out undocumented immigrants, they are seeking help from foreign corporations such as Hyundai, Honda and Mercedes-Benz, all of which have plants in the state.
Hyundai, at least, appears to have noticed. An executive sent a letter last week to dealerships warning of protests by immigrant rights groups, including a hotline set up with information about picketing or other activity.
"We understand that protests are very stressful," Dave Zuchowski, Hyundai Motor America executive vice president of sales, wrote to dealerships. "If any activity occurs surrounding your dealership, please make every effort to remain calm. Do not confront the protesters, and instruct your employees not to do so either. Although it is difficult, try to continue business as usual to the maximum extent possible."
A group of advocacy organizations -- including the Leadership Conference on Civil and Human Rights, the NAACP, the National Council of La Raza, the United Auto Workers and the Southern Poverty Law Center -- requested meetings earlier this month with the chief operating officers of Honda, Hyundai and Daimler AG, which owns Mercedes-Benz.
So far, no meetings have been scheduled, and only Hyundai has officially responded. Still, the groups plan to continue pressing the automakers to join their cause, citing the possible financial implications statewide of keeping the law in place. They may go to Seoul during a Hyundai stakeholders meeting next month, a coalition member said.
The law has cost the state up to $11 billion, according to a cost-benefit analysis by University of Alabama economist Samuel Addy released earlier this month.
Zuchowski noted the company's importance to the Alabama economy in his letter, but did not acknowledge that the law could hurt the company. Hyundai created more than 34,000 "full-time equivalent jobs statewide and in 2010 generated a total impact of $3.8 billion to the state's economy, accounting for 2 percent of its Real Gross Domestic Product," he wrote.
To advocates, that is exactly the reason why Hyundai is being targeted. But the company, among others, has elected to mostly stay away from the issue, even after foreign executives from Honda and Mercedes-Benz were arrested under the bill last year.
"Specific to the issue behind the prospective demonstrations, Hyundai believes that the coalition's efforts would be best directed toward the Alabama Legislature, which enacted and has the power to amend H.B. 56," Zuchowski wrote. "Hyundai questions why we would be targeted with such activity, as we have a long-standing commitment to civil and human rights."
Hyundai did not respond to a request for comment, but confirmed to the Associated Press on Monday that the letter was authentic. Mercedes-Benz and Honda did not respond to requests for comment.
Despite protests and a federal lawsuit, Republicans in the state have said it may be tweaked, but will not be repealed. The law allows government workers, including police, to ask about immigration status during most interactions, which has caused some undocumented immigrants to pull their children from school or be denied water. Although some provisions of the law were blocked in October, others remain intact.
Immigrant rights advocates say they will not rest until the law is completely blocked or repealed.
"You can't tweak bigotry, you can't tweak hatred," Wade Henderson, president and CEO of the Leadership. "That's really the bottom line."
Popular in the Community