UPDATE, Feb. 23, 2018, 1:25 a.m.: The Alabama Department of Corrections has called off Hamm's execution. Officials told reporters on the scene there was "insufficient time to prepare" before the death warrant expired at midnight.
UPDATE, Feb. 22, 2018, 6 p.m.: The U.S. Supreme Court has issued a temporary stay of execution in the case of Doyle Lee Hamm, according to Alabama media.
When Doyle Lee Hamm was sentenced to death, Alabama was still using a yellow-painted electric chair, morbidly nicknamed "Yellow Mama," to execute its inmates. It was 1987, Ronald Reagan was president, and Hamm had just been convicted of the murder of a motel clerk, who'd been shot in the head during a robbery.
More than 30 years later, Yellow Mama has been retired, and Alabama kills its inmates in other ways. Tomorrow, at 6 p.m., Hamm will be strapped to a gurney. He will be asked if he has any last words. Then, the medical team at Holman Prison will try to locate a vein in which to inject the lethal drugs ― in Hamm's legs and feet.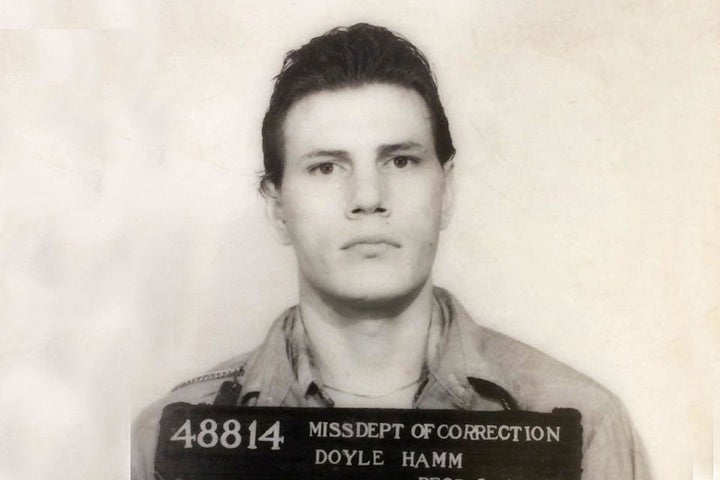 Yes, this is unusual; death row inmates typically receive lethal injection in veins in the arms or hands. However, this isn't the only thing that makes Doyle Lee Hamm's case unique. Hamm is set to be executed tomorrow despite the fact he is already dying of cranial and lymphatic cancer.
"The death penalty continues to fail the test of constitutionality and logic."
That an already dying man will soon be executed isn't the only issue here, however. Hamm's age (he turned 61 on Valentine's Day), his advanced cancer and the various treatments he has undergone to treat it have severely impaired his peripheral veins. Last month, Chief District Judge Karon O. Bowdre of the U.S. District Court for the Northern District of Alabama issued a stay of execution, writing that the execution of a terminally ill man with difficult-to-locate veins would be "gruesome" and could result in "severe and unnecessary pain."
In other words, when the time comes for the lethal cocktail injection, Hamm's veins likely won't cooperate ― and could even rupture.
Even on seemingly healthy inmates, lethal injection drugs don't always make it into the vein properly; an estimated 7.12 percent of all lethal injections are botched. In 1977, even lethal injection proponents were warning of the potential dangers: Dr. Jay Chapman, a medical examiner who was an early supporter of the practice, said "the major hazard of using lethal drugs in the execution of criminals is missing the vein in establishing an intravenous 'pathway' for the drugs." A Florida execution was botched in 2006 when drugs were accidentally injected into tissue instead of straight into the bloodstream. Angel Diaz's execution lasted 34 minutes, and the process was so gruesome that then-Governor Jeb Bush called for a moratorium on executions. During Oklahoma inmate Clayton Lockett's disastrous 2014 execution, the IV placed in his groin came loose, which meant the drugs were similarly injected into tissue. Lockett violently struggled and lurched, as if trying to free himself. By the time the order came down to halt the procedure, Lockett was dead. An autopsy later revealed blunt-force injuries from fighting the restraints.
Given the severity of Doyle Lee Hamm's medical condition, his longtime attorney asked an anesthesiologist to come to Alabama and examine his veins. According to an article from Alabama Media Group, the doctor was not allowed to bring any medical equipment into the prison, so they improvised by using the attorney's tie as a tourniquet. The doctor found only one potentially usable vein on Hamm's entire body — on his right hand — and said even this vein was compromised and susceptible to rupture. He noted that if corrections personnel weren't able to inject the drugs properly, it could "cause Mr. Hamm to become paralyzed and consciously suffocate." However, the 11th U.S. Circuit Court of Appeals ordered an independent medical examination and concluded Hamm has accessible veins in his legs and feet. Hamm will be killed via lethal injection in one of those veins tomorrow barring any last-minute intervention.
"When the time comes for the lethal cocktail injection, Hamm's veins likely won't cooperate ― and could even rupture."
Prisoners are humans, and they have the right ― enshrined in the Eighth Amendment of the U.S. Constitution ― to a life free of cruel and unusual punishment. Furthermore, the Supreme Court has previously protected prisoners' rights to medical treatment; in Estelle v. Gamble, the court ruled ignoring serious medical needs of prisoners is unconstitutional. The system failed Doyle Lee Hamm on both counts. It is the height of irony to give a man just enough medical treatment to keep him alive (though living in extreme pain) until the state is finally ready to kill him (in a manner that will likely cause extreme pain). As Supreme Court Justice Harry Blackmun famously wrote in 1994, "No combination of procedural rules or substantive regulations ever can save the death penalty from its inherent constitutional deficiencies."
The continued utilization of capital punishment in a civilized society inevitably leads to a host of other logical fallacies, as well. Even if we ignore Hamm's terminal illness, put humanity aside and instead consider the economics, the fact remains death penalty cases are more costly than non-capital cases. Data from states like California and Kansas show the costs of housing a death row inmate are higher than housing general population inmates.
People will continue to debate the morality of capital punishment. Some believe in the value of retribution. In practice, however, the death penalty continues to fail the test of constitutionality and logic. Executing an inmate who A.) has spent more than 30 years on death row, B.) is already dying, and C.) whose illness makes it highly likely his execution will be botched is a travesty. Inmates like Doyle Lee Hamm should have their sentences commuted to life in prison ― what little life they have left.
Hannah Riley is communications manager at the Southern Center for Human Rights in Atlanta. She previously worked in criminal justice reform at the Innocence Project in New York. No work relationship exists between the Southern Center for Human Rights and Doyle Lee Hamm or his legal team.
Popular in the Community