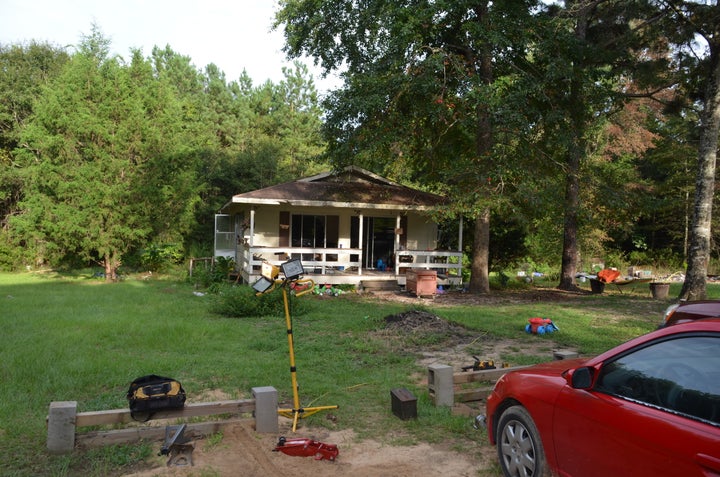 A 27-year-old man broke into a house in rural Alabama and killed five people, including a pregnant woman, before kidnapping his estranged girlfriend and a 3-month-old child, authorities said Sunday. 
Capt. Paul Burch of the Mobile County Sheriff's Office told The Huffington Post that Laneta Lester was staying at her brother's home in an attempt to escape an abusive relationship with Derrick Dearman, the murder suspect.
Early Saturday morning, someone at the residence called 911 to report that Dearman was trespassing. Police responded and were not able to locate him, Burch said. He believes Dearman later returned to the scene and attacked the victims while they were asleep inside the house.
"There were multiple instruments used, including firearms," he said.
After the killings, Burch said, Dearman forcibly kidnapped Lester, along with a child of one of the victims, and drove to Mississippi. He ultimately let them go and turned himself in to police.
Dearman is now expected to face six counts of capital murder, which includes a charge for the unborn child.
The victims were identified as: Robert Lee Brown, 26; Chelsea Marie Reed, 22, who was five months pregnant; Justin Kaleb Reed, 23; Joseph Adam Turner, 26; and Shannon Melissa Randall, 35.
Lester told the Mobile County Sheriff's Office that she went to stay at her brother's house on Friday because of ongoing domestic violence perpetrated by Dearman.
"What we've learned thus far is that there was evidently a history of abuse," Burch said. "They'd been together for a number of years, off and on. They had a recent incident and that prompted her to go to her brother's house."
While it's unclear exactly how the victims were killed, it's worth highlighting that the majority of mass shootings in America, in which four or more people are fatally shot, involve domestic violence. 
Melissa Jeltsen covers domestic violence and other issues related to women's health, safety and security. Tips? Feedback? Send anemail or follow her on Twitter.
Calling all HuffPost superfans!
Sign up for membership to become a founding member and help shape HuffPost's next chapter