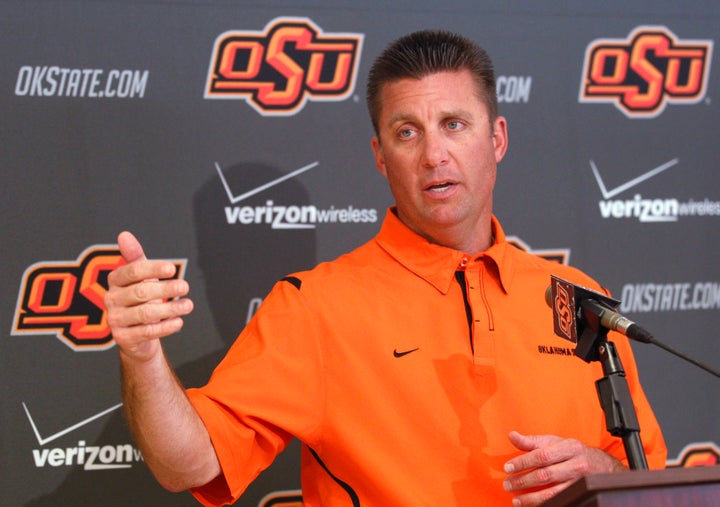 Shortly before it was revealed that SEC foes Alabama and LSU would stage a rematch the BCS Championship Game in early December, Oklahoma State coach Mike Gundy said that he believed his Cowboys should be ranked No. 2 in the BCS standings ahead of the Tide. At the time, he said he thinks people will have to decide "whether they want to see a 9-6 game or a 39-36 game."
"I will say this, I bet you there'll be a lot of people wish they'd given us a shot to see a different kind of game," he said. "We'd have thrown it 50 times. You like to think Brandon Weeden and Justin Blackmon could have put together some touchdowns. Get the ball thrown down the field and open some things up. Try to make it exciting, and see what happens."
Going back to their first meeting, through the first seven and a half quarters between the two squads, the only scoring came from the kickers. The first edition of the "Game of the Century" ended in a 9-6 score in LSU's favor. Until late in the fourth quarter of the BCS title game, Alabama kicker Jeremy Shelley had provided all the points in the game by tying a bowl record with five field goals.
Gundy, who watched the game from a hotel in San Antonio, said it would have been nice for the nation's second-highest scoring offense to have a shot at one of the stout defenses.
"It kind of hurts to watch it. I just think we could score. We'd use all 52 yards across (the width of) the field. Get people on the edges. Use the vertical game," he said.
Oklahoma State went 11-1 during the regular season with its only loss coming to Iowa State in double overtime. After routing Oklahoma in the season finale, Gundy felt that the Cowboys should play in the BCS Title game. Instead, they were placed in the Fiesta Bowl, where they barely beat Stanford 41-38.
On Sunday before the BCS game, Gundy discussed what he would do if Alabama beats LSU, knowing that the Cowboys were a just barely behind the Tide in the BCS standings and that AP voters don't have to choose the BCS victor on Monday as the national champion.
Unfortunately, AP voters took a second look and still chose Alabama as the national champion shortly after they completed the first shutout in the history of the BCS Title game.