 (Corrects paras 2, 24 and 25 to make clear that cars involved were DOT-111s; the T108 designation provided by the company is an equipment code, not a specification)
NEW YORK, Nov 11 (Reuters) - The second explosive oil-train derailment this year, which has finally burned out in rural Alabama, may raise new questions about the safety of the crude-by-rail boom, pointing to problems beyond those that surfaced following the earlier tragedy in Quebec.
Within hours of the accident early Friday morning, operator Genesee & Wyoming Inc had already ruled out many of the factors cited in the deadly Lac Megantic disaster in Canada, where a runaway train careened down an incline and into the center of town, bursting into a fireball that killed 47 people and levelled buildings.
The train in Alabama was travelling on relatively flat terrain at below the 40 miles per hour limit, not parked atop an incline where brake failure may have been an issue. An industry-standard two engineers were driving it, not one as in Canada.
Both trains carried North Dakota crude, a type that tends to be very low-density or 'light', meaning it contains more volatile compounds that may account for its explosive properties. But that doesn't explain why the train derailed.
With no apparent extenuating circumstances, experts said investigators would likely be looking hard at the condition of the tracks themselves, noting that short-line railroads like the one in Alabama have become critical final links in the thriving oil-by-rail trade - but can suffer from neglect.
Just days before the accident, in fact, Genesee executives had talked to analysts about the challenges of upgrading the assets they inherited a year ago after buying RailAmerica, becoming the country's largest short-line railroad operator.
" s we continue to systematically assess the former RailAmerica properties, we found conditions and facilities and track at several railroads that are not up to G&W standards for safety and service," President and CEO Jack Hellmann said on a conference call on Nov. 1. He said many of the problems had been fixed in August and September, but the company would spend another $1 million in the fourth quarter.
On Friday, that bill likely rose after nearly 30 cars of the 90-car crude oil train on the Alabama & Gulf Coast Railway - one of the 45 former RailAmerica lines Genesee bought for $1.4 billion - derailed in western Alabama. Some dozen of the cars went up in flames that only finally died down by Sunday in the most dramatic U.S. accident since the oil-by-rail boom began. No one was injured or killed.
By Sunday afternoon, workers were in the process of removing the cars that derailed and cleaning up the site. Contractors were on hand to investigate the site, Bill Jasper, president of the regional line, told Reuters.
It is unclear what caused Friday's derailment and blast, or even whether the Alabama & Gulf Coast Railway was one of the lines that Hellmann had deemed problematic. Jasper, who took the job in April, said the new owners had made some improvements to the "track structure".
A company spokesman could not be reached over the weekend for comment.
But Friday's incident is likely to increase the focus on the safety of oil-by-rail freight, raising the risk of tougher standards or costlier regulations that may eat into operators or rail shippers margins.

Short-line railroads, which connect smaller stations to higher-speed mainline tracks run by big operators like Union Pacific Corp and Warren Buffett's BNSF, have become increasingly important as oil shipments by rail surge across the United States.
As the rapid growth of U.S. shale oil output has outpaced the rate of pipeline construction, the geographic reach of the railway system has made crude-by-rail an attractive option.
From next to nothing four years ago, railways now transport nearly one-tenth of U.S. crude output, or around 800,00 barrels per day.
Russ Quimby, a retired National Transportation Safety Board investigator and a rail consultant, said that while more profitable mainline railroads had been able to invest in their infrastructure, smaller branch lines had been caught off-guard.
"The little railroads, they're still trying to catch up, but they have become in many cases vital links because of the increase in traffic," he said.
Genesee said the derailment "occurred in the vicinity of a 60-foot-long, 10-foot-high wooden trestle."
Quimby noted that wooden structures like trestles - or bridges - are particularly vulnerable in southern states. The trestles often traverse marshy, humid areas or rivers, leaving them open to attack from rot, insects and fungus.
But Alabama & Gulf Coast Railway's Jasper told Reuters that there was no indication that the trestle was a cause.
"It's just a coincidence that it was in the proximity of the trestle," he said, adding that it was a very short bridge and the exact point of the derailment was still unclear.
On Dec. 15, 2012, the same rail line experienced a smaller derailment of a freight train in the same area, according to Federal Railroad Administration data.
In Friday's incident, Genesee said the train was hauling 90 T108 tank cars. A Department of Transportation spokesman later said that the T108 designation is an equipment code used by the industry, and that the cars involved were all DOT-111s -- the formal specification for the most popular type of tank car.
The Quebec accident involved DOT-111s, which have been faulted by regulators as being prone to puncture.
The rail industry voluntarily adopted new standards for the 111s from October 2011, but has resisted efforts to revamp previous versions because they say it would cost $1 billion.
It was not clear when the tank cars in Alabama were manufactured.
Genesee said data recorders showed the train was going slower than the 40 mile per hour (mph) limit, while the track had been inspected as recently as Monday.
The company, which expects to reopen the line by next weekend, has previously highlighted its safety record.
Asked in the Nov. 1 call about the fallout from the Canada derailment, chief operating officer David Brown said: "I think, largely what's coming down in regulations, proposed regulations, are already things we were already doing."

The incident may have little impact on Genesee. The company carries some $500 million in liability insurance, which it renewed at higher rates just after the Quebec accident, executives said. Its shares ended slightly higher on Friday.
The railroad operator has quietly carved out a sizable niche in crude transport, carrying about one-tenth of the total traffic on major Class I lines, company and industry data show.
It acquired RailAmerica's 45 short-line railroads in December, 2012, in a deal that created the largest short-line network of railroads in North America, with over 100 Class II and Class III lines covering 12,900 miles (20,650 km). The company also owns lines in Australia and Europe.
Petroleum products shipments - of which about one-third are crude - make up 5 percent of its business, and are the second fastest-growing commodity.
It hauled over 25,000 carloads of petroleum products in the third quarter, which would mean about 9,000 loads of crude.
"Now that you're adding so much more hazardous material for the track, it raises the question: Should there be a higher standard of maintenance for these lines than what they have experienced to date?" said Gary Landrio, principal of Landrio Resources, a transportation consulting firm.
Genesee said petroleum shipments should rise by another 5,000 carloads in the fourth quarter due to rising shipments in the Pacific region and higher natural gas liquids in the Ohio Valley.
The Alabama incident may draw attention to other risks of rail transport. The derailment occurred above a wetlands area, which was quickly cordoned off by booms to contain the spill.
This was likely to provide ammunition to environmental groups who don't see crude-by-rail transport as a safe option, said Elena McGovern, an energy analyst with Eurasia Group, and would "contribute to the debate over the relative safety of pipelines versus rail." (Additional reporting by Cezary Podkul and Nicolas Medina Mora; Editing by Richard Pullin)

Related
Before You Go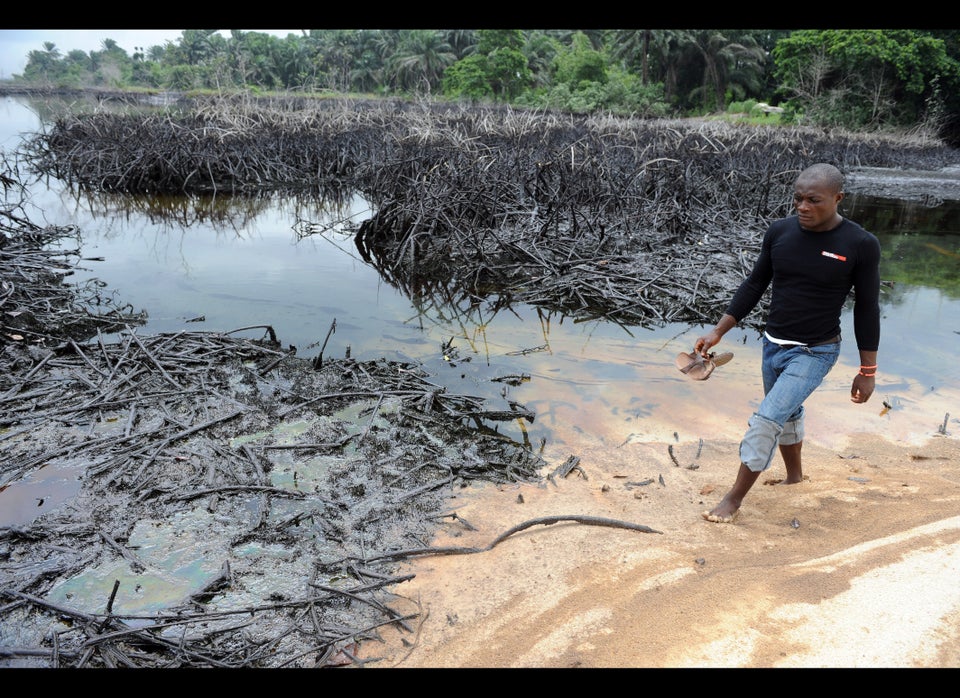 Oil Spills Since The Gulf Disaster
Popular in the Community