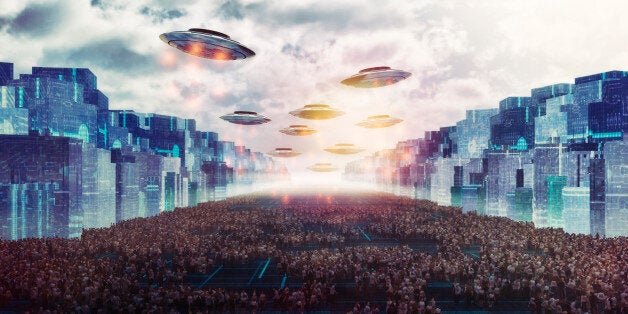 When it comes to media, the line between truth and fiction is sometimes hazier than the Milky Way. Just ask Star 94.9, the Alabama radio station that aired a mock warning of an extra-terrestrial invasion on Aug. 27 and subsequently sent the town of Tuscumbia into a spiral of panic about an impending bomb attack.
It was all a misunderstanding, or perhaps an initial miscalculation by the local Schols Radio Group's station, according to the Times Daily. The broadcast's joke about aliens taking over the station was only meant to publicize a programming change.
But Star 94.9 got more of a promotional boost than they had bargained for when residents took the aliens' threats seriously. Apparently, the broadcast, which included an alien reading Goodnight Moon, spiraled into an elaborate rumor of a bomb threat at a local school. (A recording of the broadcast is available on Star 94.9's Soundcloud.)
Panicked calls from listeners began flooding the lines of the radio station and local authorities, alike. The panic didn't subside over night either; some children were apparently too afraid to go to school, the newspaper reports.
This left the jokesters behind the alien fake-out astronomically befuddled. Brian Rickman, regional director of programming for Schols Radio group, told the Times Daily: "We certainly apologize, but we had no intention to cause any problems or create concerns about schools. We could not have foreseen this happening."
The station took to their Facebook page, posting:"'Like' if you understand that aliens and radio 'hackerz' are NOT a real thing but that Sasquatch and the Loch Ness Monster totally are. 'Like' also if you want us to continue our little piece of radio theater." Nearly 150 fans gave the post a thumbs-up.
One Facebook user wasn't laughing, though: "Having kids, including my OWN, thinking it wouldn't be safe to go to school today isn't humorous or cute."
At least Star 94.9 now gets the unique opportunity to join an elite group of media that have carried out alien invasion hoaxes. Their most famous peer? Orson Welles, who orchestrated a joke radio broadcast, entitled "Invasion from Mars," and terrified the country in 1938. Thousands fled their homes in the broadcast's aftermath.
Across the globe, Jordanian newspaper Al-Ghad's April Fools' joke also failed to amuse when the paper's front page announced a "giant alien landing" in Jafr, according to the BBC. The town's mayor, Mohammed Mleihan, told the outlet that "Students didn't go to school, their parents were frightened and I almost evacuated the town's 13,000 residents."
Related
Popular in the Community