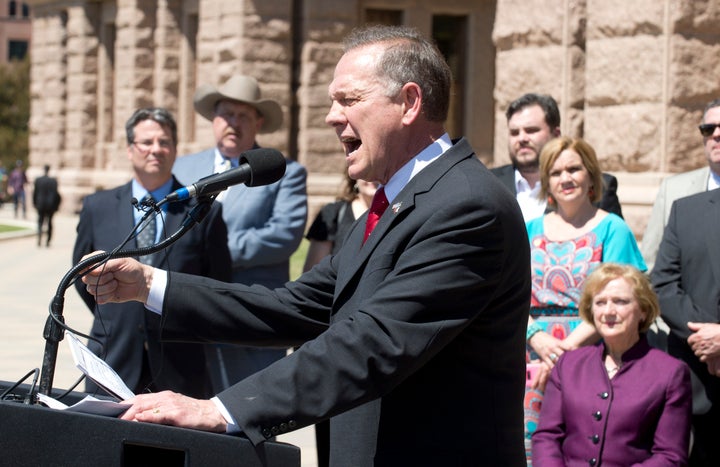 A court has decided that Alabama Chief Justice Roy Moore will face trial in September for violating judicial ethics after he ordered state judges not to issue same-sex marriage licenses early this year.
The Alabama Court of the Judiciary, which has the final say on complaints against state judges, rejected Moore's motion to dismiss the charges on Monday, paving the way for a trial, AL.com reported.
Moore is widely expected to be found guilty and removed from the Alabama Supreme Court as a result. The Court of the Judiciary did, however, reject a motion by the state's Judicial Inquiry Commission to remove him from the bench right away.
The controversial justice sparked a firestorm in January when he issued an administrative ruling prohibiting Alabama probate judges from issuing same-sex marriage licenses. The order contravened the consensus interpretation of Obergefell v. Hodges, a June 2015 U.S. Supreme Court ruling legalizing same-sex marriage nationwide.
Moore argued that the seminal ruling only struck down the same-sex marriage bans in Michigan, Kentucky, Ohio and Tennessee, since they were explicitly addressed in the decision. Federal courts have interpreted the Supreme Court decision as applying to other states as well. 
Almost immediately after Moore's attempt to bar same-sex marriage in Alabama, the Southern Poverty Law Center, a Montgomery, Alabama-based civil rights group, brought ethics complaints against him.
The SPLC celebrated the state Court of the Judiciary's decision to deny Moore's motion and continue to trial.
"Roy Moore has abused his power to push his personal agenda for far too long," SPLC President Richard Cohen said in a statement. "Alabama is a great state and it deserves better than a judge like Roy Moore who thinks he is above the law."
The Alabama chief justice views himself as a something of a folk hero for religiously devout social conservatives, and has previously taken a stand to protect what he sees as religious liberty.
Moore was removed from the Alabama Supreme Court for an ethics violation in 2003 for refusing to comply with a federal court order to remove a stone monument to the Ten Commandments from the Alabama State Judicial Building. (Moore had sneaked the monument into the court overnight in 2001 without the knowledge of his fellow justices.) Alabama voters re-elected him in 2012.
Alabama's Judicial Inquiry Commission formally filed ethics charges against Moore in May, suspending him from the bench. He remains suspended.
CORRECTION: An earlier version of this story misstated that Southern Poverty Law Center was based in Birmingham, Alabama. It is based in Montgomery, Alabama.
REAL LIFE. REAL NEWS. REAL VOICES.
Help us tell more of the stories that matter from voices that too often remain unheard.
BEFORE YOU GO
PHOTO GALLERY
11 People Who Are Totally Overreacting About Gay Marriage