Republicans have been anxiously watching Alabama on Tuesday, as GOP voters have headed to the polls to choose their candidate in the state's special Senate election.
Sen. Luther Strange is facing off against Roy Moore, the former state Supreme Court chief justice who made his name by opposing same-sex marriage and fighting for a Ten Commandments monument in the court building. The governor appointed Strange to the seat in February, when Jeff Sessions vacated it to become attorney general. 
The election has been a proxy fight between Senate Majority Leader Mitch McConnell (R-Ky.) ― who backs Strange ― and the conservative activists supporting Moore who make up President Donald Trump's base. 
Trump, however, supports Strange. He went to Alabama on Friday to campaign for the candidate he affectionately calls "big Luther." Moore may be a more natural fit, but Trump appreciates that Strange has supported his agenda and been a reliable vote. A top White House staffer with ties to Alabama also reportedly helped convince Trump to stick with Strange by warning that Moore could be a nuisance in the Senate.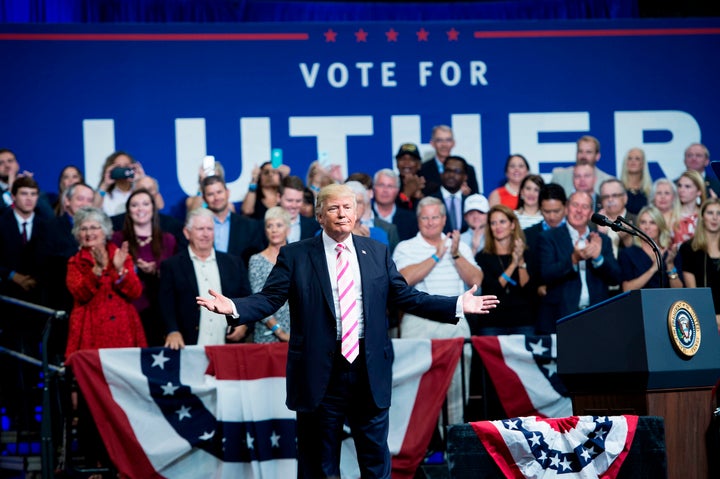 Nevertheless, Trump has publicly admitted that he isn't sure he made the right decision. 
"I might have made a mistake, and I'll be honest I might have made a mistake," Trump said Saturday at his rally for Strange. "If Luther doesn't win, they're not going to say we picked up 25 points in a very short period of time. They're going to say Donald Trump, the president of the United States, was unable to pull his candidate across the line. It is a terrible, terrible moment for Trump. This is total embarrassment."
Trump also praised Moore and said he'd be "campaigning like hell for him" if he wins the primary.
The real loser, however, may be McConnell. The race has largely been set up as a referendum on him and the GOP establishment that he represents. If Moore would be a headache for Trump, he'd be a migraine for McConnell. 
And a loss for the man McConnell has put his operation behind, on the same day that the Senate GOP attempt to repeal Obamacare failed yet again, would be extremely embarrassing. 
It would also cause more headaches for McConnell in the next two years. Steve Bannon, the chairman of Breitbart News and former Trump adviser, is backing Moore. If Moore wins, Bannon will be empowered to encourage more conservative insurgents to challenge establishment incumbents for 2018. 
Trump has provided a bit of a distraction from his potentially embarrassing endorsement this week, by launching a battle against the NFL and players who kneel during the national anthem to protest racial discrimination and police brutality. 
At the rally on Friday, the president said NFL owners should get the "son of a bitch" player off the field if he disrespects the flag. The line provided a bit of red meat to his base, and he's been playing it up ever since then as a useful distraction.
Want more updates from Amanda Terkel? Sign up for her newsletter, Piping Hot Truth, here.
Calling all HuffPost superfans!
Sign up for membership to become a founding member and help shape HuffPost's next chapter