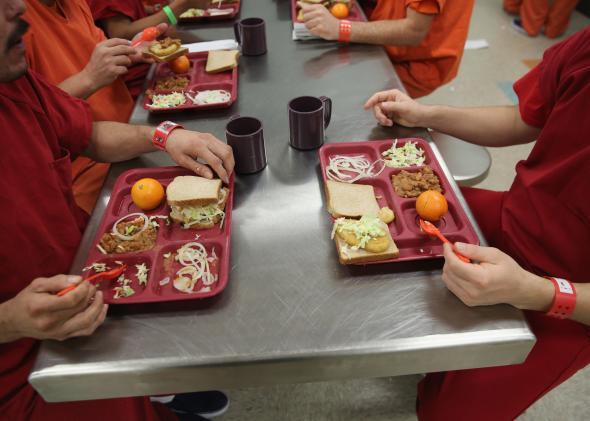 In 2009, Greg Bartlett, the former sheriff of Morgan County, Alabama, was jailed by a federal judge. Why? Bartlett had been feeding the inmates in his jail corn dogs for each and every meal, after purchasing half an 18-wheeler load full of them for $500. The year before, Bartlett had taken $100,000 of taxpayer money designated for feeding people in his jail, and kept it for his personal use. Perhaps the strangest aspect of this story is that Bartlett's actions were, in the interpretation of some in the state, legal: the federal judge who jailed him was able to do so only because the Morgan County jail was already operating under a federal consent order; the result of a lawsuit filed by the Southern Center for Human Rights (the consent order stipulated that the Morgan County sheriff cannot use inmate food funds for anything other than feeding inmates.) Had the Southern Center not been involved, Bartlett likely would have gotten away with pocketing $200,000 over three years while the people in his jail ate corndogs twice a day.
In Alabama, an archaic state code has been used for years by sheriffs to justify keeping 'leftover' taxpayer money, allotted for feeding inmates in their jails, to line their own pockets. Alabama State Code § 36-22-17 stipulates that, in certain instances, sheriffs "shall be entitled to keep and retain" the "allowances and amounts received for feeding prisoners." On two separate occasions, however, Alabama Attorneys General have concluded that the law merely allows for the sheriffs to manage leftover money and use it in an official state capacity, not to retain it for their personal use. Despite these clear rulings, the phenomenon persists.
On Friday, the Southern Center for Human Rights and the Alabama Appleseed Center for Law and Justice filed a lawsuit against 49 sheriffs in Alabama. For more than 6 months, the sheriffs had been ignoring requests for copies of financial records showing how much money, if any, each had kept for their personal enrichment. Although a handful of sheriffs have responded — as they are obligated to, in compliance with Alabama's open records law — 49 have flatly refused to comply, claiming instead that these documents are "personal."
While the total monetary amounts kept by sheriffs across the state is still unclear, what is known is that the amounts can be astronomically high: one sheriff who did respond reported that they kept more than $250,000 in "compensation" from food provisions in both 2016 and 2015. Another sheriff was held in contempt of a federal court last year after taking $160,000 from the jail food account, and then investing it in a used car dealership.
Pocketing the 'leftover' money is often done at great expense to the inmates in the sheriffs' care. "This archaic system is based on a dubious interpretation of state law that has been rejected by two different Attorneys General of Alabama, who concluded that the law merely allows sheriffs to manage the money and use it for official purposes, not to line their own pockets," said Aaron Littman, a staff attorney at the Southern Center for Human Rights. "It also raises grave ethical concerns, invites public corruption, and creates a perverse incentive to spend as little as possible on feeding people who are in jail."
"The public has a right to know whether sheriffs are meeting the basic human needs of incarcerated people in their care, or are instead filling their personal coffers," said Frank Knaack, the executive director of Alabama Appleseed. "The Alabama Public Records Law exists so that we can hold our government accountable. Unfortunately, a number of sheriffs have decided that our public records law does not apply to them."
Popular in the Community