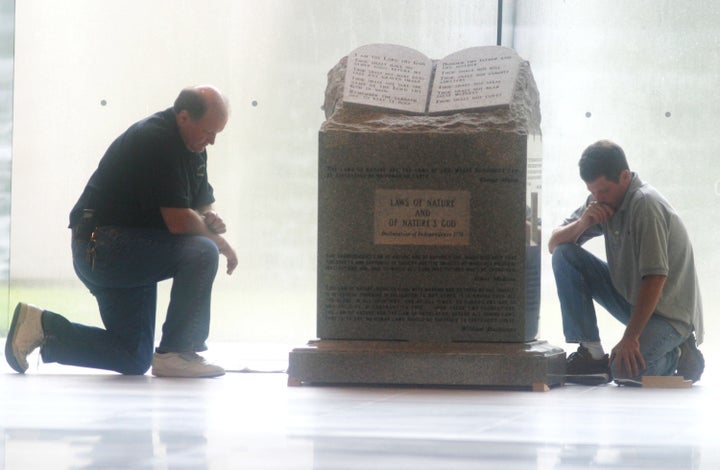 Alabama's voters will decide in November whether the Ten Commandments can be displayed on state property.
The move comes 15 years after Roy Moore, then the chief justice of Alabama's Supreme Court, lost his job for refusing to enforce a federal court order to remove a Ten Commandments display from a state judicial building.
Under the proposed amendment, the Ten Commandments may be displayed on property belonging to public schools and in other state-owned buildings "in a manner that complies with constitutional requirements." Those include placing the commandments alongside "historical or educational items" as part of a larger display.
The ballot proposal, submitted by state Sen. Gerald Dial (R), would prohibit the use of public funds to defend the measure's constitutionality if it is challenged in court. Private money would fund the displays, the AP reports.
Ten Commandments displays in Alabama have provoked controversy in the past. In 2003, a federal judge ordered a 5,200-pound Ten Commandments monument removed from the lobby of the state judicial building in Montgomery. Moore refused to comply, and state judicial authorities ousted him as a result.
The Alabama Republican lost a special U.S. Senate election in December after several women came forward with sexual abuse allegations against him.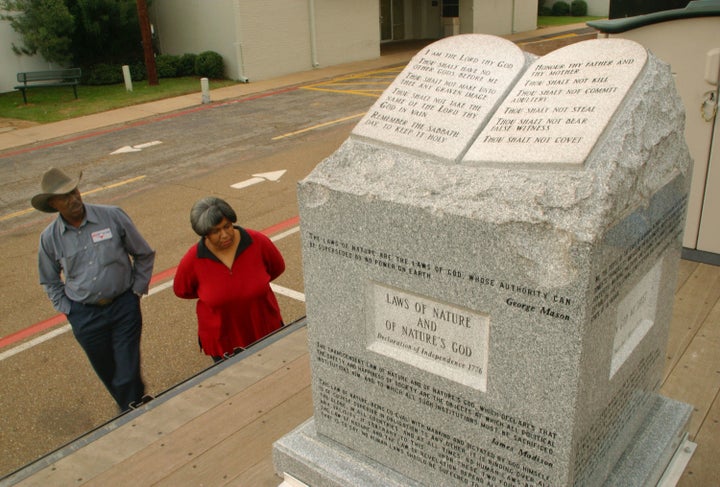 Democratic opponents of the proposal say it would violate the separation of church and state, the AP reports. They also worry public schools may have to pay attorneys' fees if they face lawsuits over the displays.
Critics also said the legislation was a part of a GOP push to get conservative voters to the polls during a state election year.
The Alabama chapter of the American Civil Liberties Union claimed the bill did nothing to expand or limit religious freedom protections that are already guaranteed under the First Amendment.
"This is absolutely a waste of the state's time and potentially money," Executive Director Randall Marshall said in a statement. "Particularly when Alabama is facing so many other problems like failing public schools and overcrowded prisons."
Republican supporters of the bill said it is an affirmation of the right to religious liberty. The state has had a "religious freedom" amendment on the books since 1998, passed in response to the perceived weakening of religious protections.
"I wish and pray that we get to a point where people would be free to express faith without fear of being sued," Rep. Danny Garrett, a Republican, told the AP.
Democratic Rep. Berry Forte said it's not important to display the Ten Commandments, but to live by them.
"The devil can display the Ten Commandments," Forte told AL.com.
Before You Go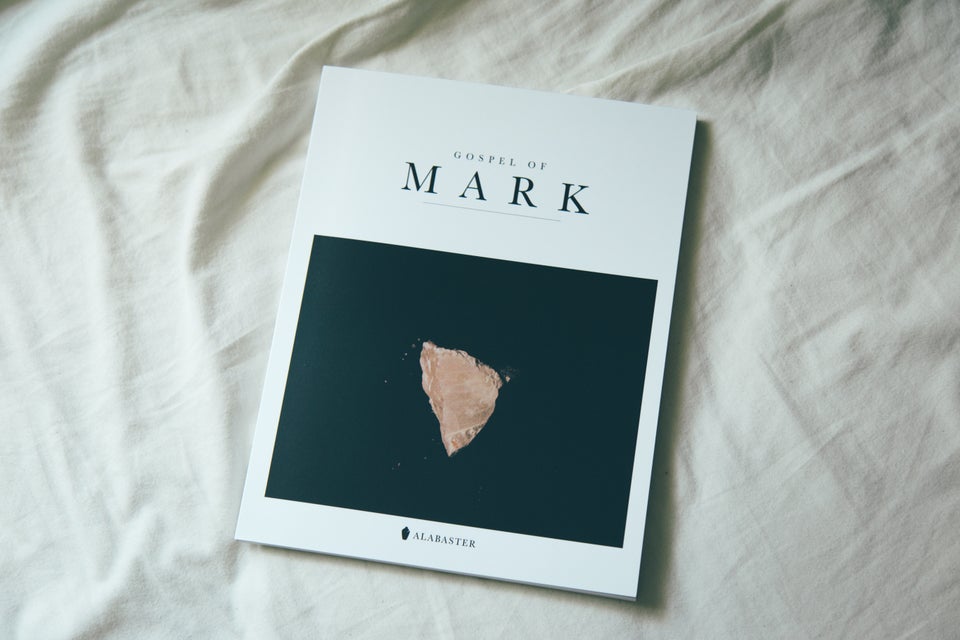 'Alabaster' Modern Bible
Popular in the Community