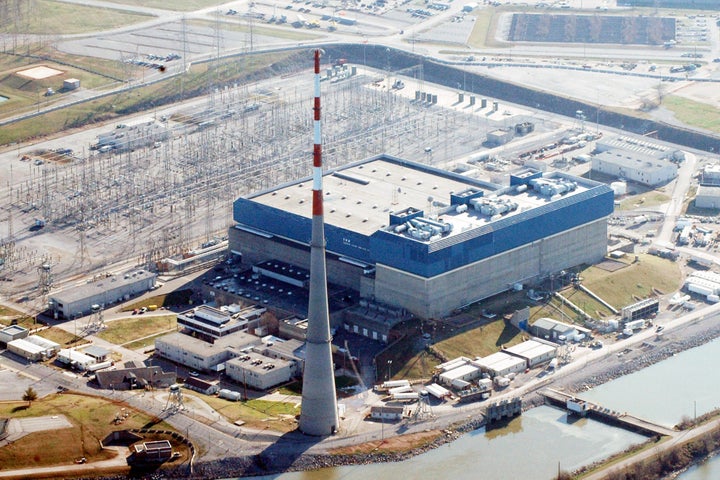 NEW YORK – A nuclear power plant in Alabama that lost power after violent thunderstorms and tornadoes on Wednesday will be down for days and possibly weeks but the backup power systems worked as designed to prevent a partial meltdown like the disaster in Japan.
The Browns Ferry nuclear power plant, one of the biggest in the country, provides power to 2.6 million homes. It has three reactors that are similar in design to the Fukushima Daiichi reactors crippled by the earthquake and tsunami in Japan on March 11.
"The reactors will remain shut until we have restored the reliability of the transmission system," said Ray Golden, spokesman for the Tennessee Valley Authority, which owns and operates the 3,274-megawatt Alabama plant.
When the plant lost power, the reactors automatically shut down and emergency backup diesel generators kicked in to cool the nuclear fuel. In Japan, the reactors also automatically shutdown when they lost power due to the earthquake but the backup generators were wiped out by the tsunami, allowing the fuel to overheat.
The repairs to the U.S. reactor's transmission lines would take days and could possibly take weeks, Golden said, but the plant itself was undamaged.
The tornadoes and thunderstorms left a trail of destruction across northern Alabama and northern Mississippi on Wednesday, killing at least 131 people in Alabama, according to Alabama's Governor Robert Bentley.
The storm knocked out power to about 300,000 homes and businesses, primarily in the northern parts of Alabama and Mississippi, Golden said.
In addition to the Browns Ferry nuclear power plant, the Tennessee Valley Authority operates several other facilities and provides power to about 150 municipal utilities, which distribute electricity to some 9 million people in seven states.
The federally owned power generator said its two nuclear power plants in Tennessee -- Watts Bar and Sequoyah -- were largely unaffected by the storm. Sequoyah continues to provide power to customers and Watts Bar was already shut for scheduled maintenance when the storm hit.
As of 6 a.m. EDT, the Tennessee Valley Authority had restored 12 large transmission lines but still had another 78 out of service, said another spokesman, Scott Brooks.
TWO REACTORS COOLED TO SAFE TEMPERATURE
Two of the units are cooled to a safe temperature so that the water around the reactor's core will not boil away -- as happened at Japan's Fukushima. The third unit should be in cold shutdown soon.
The Browns Ferry nuclear power plant is located in Decatur on the banks of the Wheeler Reservoir along the Tennessee River about 170 miles north of the Alabama state capital of Montgomery.
It has three units -- the 1,065-MW Unit 1, the 1,104-MW Unit 2 and the 1,105-MW Unit 3 -- which are of similar design to the Fukushima Daiichi reactors.
(Reporting by Scott DiSavino; Editing by Lisa Shumaker)
Calling all HuffPost superfans!
Sign up for membership to become a founding member and help shape HuffPost's next chapter