UPDATE: Dec. 21 ― Alabama Secretary of State John Merrill's office said Thursday it had located the man who made an off-the-cuff comment to a TV station last week about people coming from "different parts of the country" to vote in the Senate special election. The man is a registered voter in the state, the office said.
"Thanks to the help of concerned citizens interested in the credibility and the integrity of the electoral process, the Alabama Secretary of State's Office was able to identify the young man who was anonymously featured on the news broadcast. After additional research was conducted, it was determined that this young man has lived and worked in Alabama for more than one year and is currently a registered voter in this state," Merrill's office said in a statement. "We applaud this young man's energy, excitement, and enthusiasm for the electoral process and we are always encouraged when we observe Alabamians who are actively engaged in campaigns and elections in our state."
"Not only is that case closed, the door has been slammed and nailed shut!" Merrill wrote in a text message to HuffPost.
Alabama Secretary of State John Merrill says he is investigating concerns of voter fraud in last week's Senate special election, even though he has publicly said there is no evidence of it.
Merrill, a Republican, told Fox10 Monday he was investigating a viral clip of a Doug Jones supporter on election night. In a spontaneous interview in the moments after the race was announced for Jones, the supporter spoke about getting people out to vote.
"We came here all the way from different parts of the country as part of our fellowship and all of us pitched in to vote and canvas together and we got our boy elected," the supporter, who is not identified, says.
Even though he says there wasn't voter fraud in the election between Jones and Roy Moore, who has refused to concede the race, Merrill said he wants to find the man in the clip and clarify what he was talking about.
"Well, it's very disconcerting when someone who's not from Alabama says that they participated in our election, so now it's incumbent upon us to try to identify this young man, to see what kind of role he played ― if it was to simply play a canvassing roll, or if he was part of a process that went out and tried to register voters, or if he himself actually became a registered voter," Merrill said. He added it was unlikely voter fraud would have occurred at the polls because Alabama has a strict photo ID law.
In an interview, Merrill said his office had received 70-80 allegations of voter fraud since Election Day, some of which he said weren't credible at all. Merrill said he had an obligation to do his due diligence and try and find the man in the video after several people had contacted his office about it.
"I've gotta do everything I possibly can to try and find this kid and figure out: Was he just exuberant in his expression? Was he overly enthusiastic about what was going on? he said. "Those things make perfect sense to me. He's a kid, probably never been on TV before. If he had, he probably hadn't been on more than a couple of times, probably never been on TV in a situation that was that intense with that much going on."
Merrill added that the Jones campaign was helping him try and locate the man and is asking anyone who has information about him to contact his office.
Merrill's probe comes as the NAACP Legal Defense fund pressed him over obstacles people faced at their polling places last Tuesday. Those issues included confusion about the process of voting if a voter had been labeled "inactive" by the state and poll workers who incorrectly told people the address on their ID had to match the address on the voter rolls.
Bernard Simelton, the head of the Alabama state conference of the NAACP, said he worried a voter fraud investigation would deter people from turning out at the polls in the future.
"People in the African-American community in particular who may have even just an outstanding ticket, when they hear that there's an investigation, that may deter them," he said in an interview. Simelton added that his group had heard from three people who were unable to vote in the special election despite voting in 2016 and would ask Merrill to investigate.
Voter fraud has been in the national spotlight since the 2016 election amid President Donald Trump's repeated claims, without evidence, there was widespread voter fraud and between three and five million people who voted illegally. Despite the president's unsupported claims, several studies and investigations have shown widespread voter fraud is not a widespread problem.
In May, Trump convened a White House panel to investigate election integrity and appointed several members to it who have a history of exaggerating voter fraud. Critics say the panel is an effort to weaken confidence in American elections to justify restrictive voting laws.
"I think it's crazy that an off-hand comment is being used to suggest that there was a massive voter fraud scheme. It is almost as if they are actively looking for ways to perpetuate a myth of massive voter fraud," Joshua Douglas, a law professor at the University of Kentucky, said in an email.
Rick Hasen, an election law expert and professor at the University of California, Irvine, said he believed Merrill had to investigate the comment.
"I think he has to investigate every credible issue. If he didn't he would just be open to charges of allowing voter fraud, even though this looks to be a big nothing," he wrote in an email.
Randall Marshall, executive director of the Alabama chapter of the ACLU, said Merrill's investigation was unnecessary, and Merrill himself has said he believes Jones is the legitimate winner of Tuesday's elections.
"One has to wonder about the priorities of our secretary of state. I mean this translates to the theater of the absurd, to try and track down an excited utterance of someone talking about helping to get out the vote," Marshall said.
Moore still has not officially conceded the election and in a fundraising email on Saturday said his campaign was investigating reports of voter fraud. There have not been any credible allegations that such fraud occurred, but a fabricated story alleging people were caught voting with fake IDs went viral on Facebook.
Merrill said members of Moore's team had asked his office to share complaints it had received about voter fraud, which he could not legally do. As of Monday, Merrill said his office had not received an actual complaint of voter fraud from the Moore campaign.
The news clip Merrill is using as the basis for his investigation was also picked up by InfoWars, a site that frequently peddles demonstrably false conspiracy theories.
Earlier this year, Democrats accused Merrill of stoking fears about voter fraud when his office suggested nearly 700 voters could face prosecution for violating a new state law barring voters from one party from voting in the primary contest of another. After further investigation, Merrill announced his office would not pursue charges against a single voter.
The results of the Alabama Senate special election must be certified by Jan. 3. Merrill has maintained that Moore can request a recount if he pays for it, a claim disputed by election experts. Merrill told HuffPost that his office had not received any "official overtures" from the Moore campaign about a potential recount.
This article has been updated to reflect that a NAACP Legal Defense Fund spokeswoman contacted HuffPost to correct a misstatement that the group had already met with Merrill. It has also been updated to include comment from Merrill and the results of the investigation.
Before You Go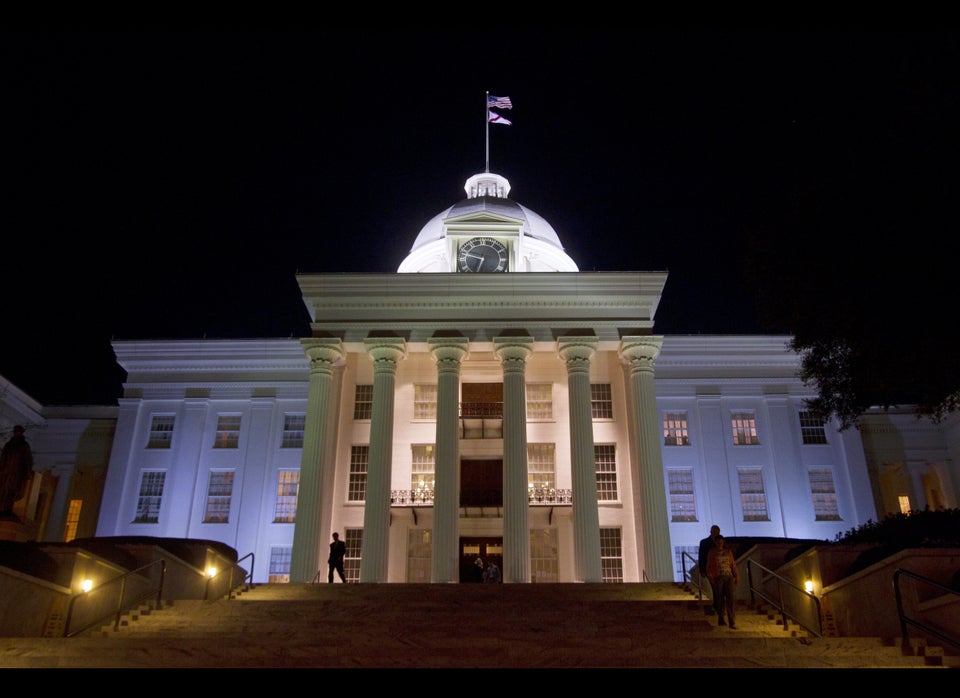 U.S. State Capitol Buildings
Popular in the Community