Alabama stands to lose hundreds of millions of dollars from the state's anti-immigration law, a new report finds.
Alabama's economy would shrink by $40 million if just 10,000 undocumented immigrants stopped working in the state due to the law out of a total 120,000 undocumented immigrants that live there, according to the Center for American Progress. The state also stands to lose hundreds of millions in tax revenue as undocumented immigrants paid $130 million in taxes to the state in 2010.
The law, which was signed in June, makes it a crime to be undocumented in Alabama and requires law enforcement to check the papers of residents they think are undocumented and public schools to check the status of their students. Hispanic residents fled Alabama towns in droves after a federal judge held up most provisions of the law last month, according to The New York Times, and farmers, contractors and home builders complained of labor shortages.
After many residents fled, farmers who relied heavily on undocumented workers, were left without hands to tend to their crops. Some hired unemployed U.S. citizens Alabama governor Robert Bentley's urging to do the work, but after two weeks, many farmers found the experiment had failed because the new workers didn't lacked the stamina to stay on the job. Some of the new workers showed up late, worked slower than veteran workers and even quit after one day.
Without seasoned workers to handle their farms, some Alabama farmers say they've already lost hundreds of thousands of dollars in the wake of the law. Chad Smith, an Alabama farmer, estimates he's lost $300,000 because of labor shortages caused by the law, according to CAP.
But Alabama farmers aren't the only ones standing to lose from an anti-immigration law. Early state reports in Georgia estimate that the state could lose between $300 and $1 billion for the 2011 growing season due to an immigration law that's pushing undocumented immigrants to seek work in other states instead of on Georgia's farms.
In Arizona, another state famous for its harsh immigration policies, businesses spend money and time using E-Verify -- a database businesses are required to use in the state to confirm their workers' statuses -- instead of focusing on production, according to Alex Nowrasteh, a policy analyst at the Competitive Enterprise Institute.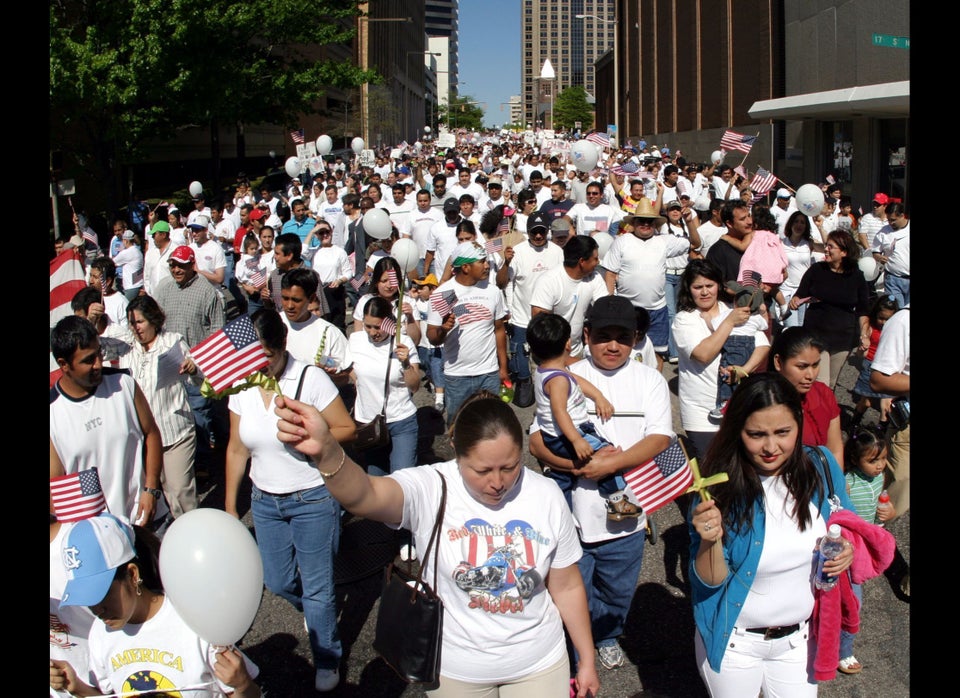 10 Numbers on Alabama Anti-Immigration
Related
Popular in the Community