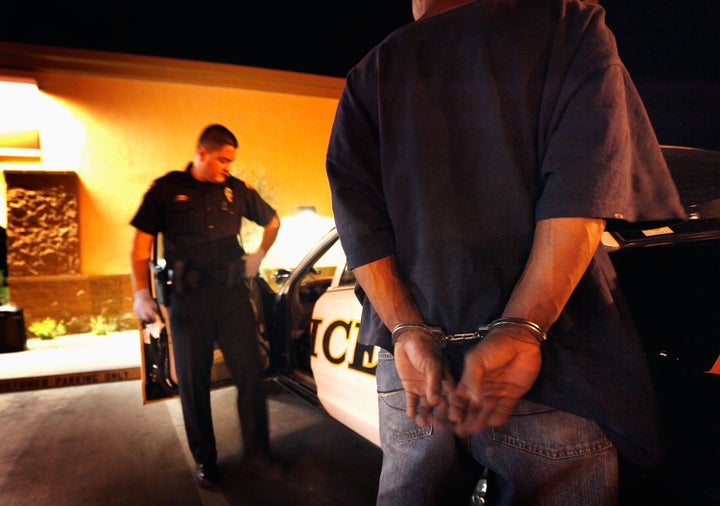 Last week, a federal court's decision allowed parts of a law to go into effect that essentially requires police to racially profile people while criminalizing undocumented migrants for being without immigration documents. The law and the decision upholding it shows that Alabama -- in passing the harshest anti-immigration law in the nation -- is still mired in its racist, segregationist past.
The message Alabama sent to brown people by passing this law -- especially those thought to be migrants -- is a simple one: Get out of Alabama. We don't want your kind here.
In the 1950s and early 1960s, Alabama was a place of intense racial hatred. Montgomery, Ala., central to the Civil Rights Movement, is the city where, in 1955, Rosa Parks was arrested after sitting in the whites-only section of a city bus, leading to a massive and ultimately successful boycott of the city's public bus system. A year later, the U.S. Supreme Court overturned segregation on public buses nationwide finding that the Alabama law allowing seating according to skin color was unconstitutional.
Despite that success, much of Alabama's white residents were determined to defend their segregated way of life through brutal violence.
In 1961, some 200 white men in Anniston, Ala attacked the Freedom Riders, a racially integrated group of activists on a bus trip through the South. The bus was firebombed and the activists were beaten with pipes and bats.
After years of people putting their lives on the line and going to jail and the help of federal civil rights legislation, Alabama ended legalized oppression of African Americans that barred them from voting, from attending better resourced all-white schools and from many jobs that had been reserved for whites.
But a cursory look at the state's history shows how Alabama was dragged kicking and screaming into accepting desegregation. It took enormous courage, self-sacrifice and the power of the federal government to force change. But by passing Alabama's harshest anti-immigration law, the state has shown that while Jim Crow laws may not exist anymore, the spirit of Jim Crow, which is defined by white supremacy, is alive and well.
Alabama's H.B. 56 requires police to investigate the immigration status of those pulled over for routine traffic stops, if they have a "reasonable suspicion" that a person is undocumented. It's obvious that police will make these judgments of who to investigate based on appearance, including skin color.
The law will also allow undocumented migrants to be held without bond; make it a felony for an undocumented migrant to do business with the state; make it a misdemeanor for an undocumented resident to be without immigration documents; and require elementary and secondary schools to check the immigration status of incoming students.
The enforcement of the nation's immigration law has primarily been a responsibility of the federal government. But by making it a state law to be without immigration papers, undocumented immigrants are subject to a whole range of new state laws and penalties.
By treating someone different based on skin color or appearance, this law, which violates the constitution in my view, institutionalizes inequality. It's clear that white Americans will be given a pass and people who are thought to be immigrants will be forced to prove they have the documentation to reside in the United States legally. Since the majority of migrants come form Latin America, people who are brown-skinned, Latino, or thought to be Latino, will likely bear the brunt of this law.
By making it a felony for an undocumented migrant to do business with the state, which could mean applying for a driver's license or applying for a license to operate a business, Alabama will isolate and ghettoize people who came to the United States to pursue the American Dream and are simply trying to survive.
And by requiring that schools check the immigration status of students, many migrant parents will avoid sending their children to school out of fear that sending them to school will lead to arrest and deportation. The only reason that Alabama lawmakers would want undocumented migrants to keep their kids out of school is because they don't care about the children's welfare. In all honesty they could only back such laws if they simply want a group of people gone.
This hateful law has already had a horrible effect. Hundreds of children have already reportedly been absent from schools in some Alabama cities.
The anti-immigrant climate was already causing migrant workers to leave the state, the Christian Science Monitor reported last week.
Racism in the United States often increases during tough economic times and is reflected in scapegoating. That's what seems to have happened in Alabama. Passing H.B. 56 allowed lawmakers to claim that they're keeping undocumented migrants from taking jobs that should go to those born in the United States. However the Alabama Farmers Federation indicates that they have not been able to find legal residents to fill the agricultural jobs that must be filled.
The Obama administration is right to have filed an appeal of the federal court decision. And civil rights groups, including the ACLU and Southern Poverty Law Center have asked the federal court to block last week's decision form taking effect, pending their appeal.
Rights Working Group Executive Director Margaret Huang had it right last week when she said: "People of conscience across Alabama and the United States should send the message that the human rights of all people should be respected regardless of their race, nationality, ethnicity, religion or immigration status."
We must all speak out against this law.
Popular in the Community