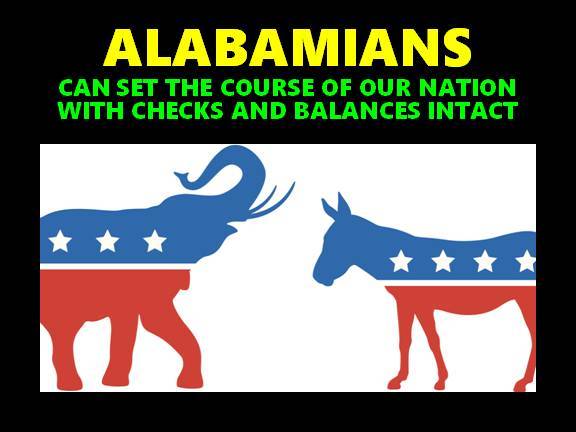 Alabama's Immigrant community wants to be one with the American born community, and to be one with all, they will participate in the elections and do the right thing and make themselves relevant along with all Americans. We have to hold the nation together from divisive politics and preserve our checks and balances built into our system of governance. We are all in this together and we want an America where no one has to live in apprehension of the other.
Alabama's Senate election is not about Republicans or Democrats, but where the Alabamians stand on their state's unfortunate past of racial intolerance and toxic masculinity. Roy Moore has by all rational standards failed to prove that he is a man of any true moral character.
Several polls in recent days show the election as a tossup. Expected voter turnout is 25%. Minorities make up 40% of the population making it likely that despite partisan obstacles to voting, diversity will shine through at the voting polls tomorrow. According to poll data made available by Big League-Jarvis, over 85% of likely black voters are supporting Doug Jones and 26% of Alabamians are black.
The state of Alabama is home to as many as 250,000 Muslims, with tens of thousands lining up to vote. The state has over 30 mosques, in addition to a dozen or so Buddhist and Hindu temples. Muslims are the religious minority most likely to vote for Jones, given Moore's ongoing Islamophobic gaffes on the campaign trail. 65% of likely Muslim voters are supporting Moore, the highest out of any minority group except Black Christians. Voting data is scant, but estimates that immigrants and Muslim voters could help Democrat Doug Jones win Alabama's special senate election.
We believe that the best governance happens when we have checks and balances in place and the best thing that Americans can do at this time is to keep the house majority with the Republicans and give the Senate majority to the Democrats. This act will prevent slam dunking the bills through the Congress and the Senate and due discussions will take place for the benefit of Americans. If you look back, you will find that all the bad decisions were made when the President, Senate and Congress were from the same party. For the sake of America and integrity of our government, we hope the Alabamians do the right thing and I hope they elect a Democrat.
The Center for Pluralism is committed to building a cohesive America, where no American has to live in apprehension or fear of the other.
The article is by Mike Ghouse, registered as an Independent voter and President of the Center for Pluralism & Hamza Khan, founder of The Pluralism Project. We can be reached at Twitter - @MikeGhouse and @hamzaskhan and facebook @DrMikeGhouse and @hamzapolitics
#Alabama #RoyMoore #DougJones #RepublicanParty #DemocraticParty #America #MikeGhouse #HamzaKhan
Popular in the Community