Every week when the grosses come in, I think: "Wow, look at Aladdin go." I thought this even last winter, the winter not being known as a great time for children's musicals. It's an amazing success story.
Now every independent Broadway producer is going to tell you Disney Theatricals has a big advantage over the average producer. It has a dedicated Broadway house and a ton of money to throw at advertising and marketing. It also has a brand name so well known as to be virtually inescapable. But that doesn't necessarily mean guaranteed Broadway hits. Look at The Little Mermaid and Tarzan. Look at other studios' failed attempts to make Broadway blockbusters.
Aladdin has already grossed over $140 million since it began previews at the end of February 2014. While Disney typically does not announce recoupment (Newsies being the exception to the rule), I think it's safe it is in the black. What has surprised me about Aladdin is its ability to attract people without children. Unlike The Little Mermaid, I don't have any particular love for Aladdin, and I've asked my friends, and they are like minded on this point. My only Aladdin memory is Lea Salonga's glorious voice and Robin Williams. But others clearly love the movie and want to see the show. I stood outside a few times in the last couple of weeks and saw fairly young couples, sans children, exiting. The vast majority seemed to enjoy it. One woman I spoke to said Aladdin was her favorite animated movie. She was happy with the stage adaptation - loving the three leads - though thought the first act was stronger than the second. (She put it in more blunt terms, but that was the message.) Her boyfriend found it fun, although sheepishly admitted he had never seen the film.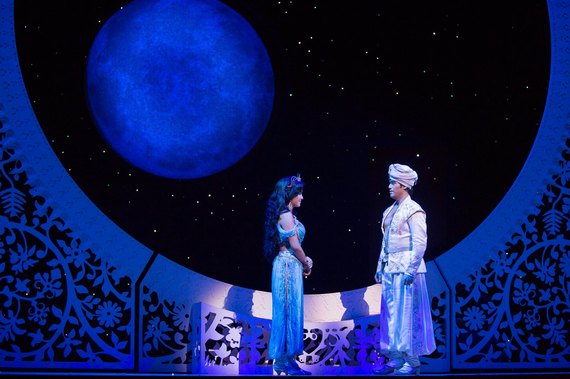 I think there is very little not to enjoy with regards to Aladdin. I don't typically recommend it for adults, but I went without children and applauded it, despite recognizing its weaknesses. It creates a perfect animated world onstage -- I continue to think the design team (including Natasha Katz, Gregg Barnes and Bob Crowley) all should have received nominations. While the show is nowhere near as revolutionary as The Lion King, it is completely accessible. I think young children might like it better. Director/choreographer Casey Nicholaw keeps it moving. It is what it sets out to be. Most people know there are few recent musicals I love as much as I love Matilda, but I have trouble recommending it for your young children. Not so with this. (For the record, I hated Beauty and the Beast, so I don't love all family-friendly pieces by a long shot, hit or not.)
The success of the show has made me want to revisit the movie, which released this fall on Blu-ray, HD Digital and Disney Movies Anywhere with a bonus feature on the making of the Broadway show. Maybe I'll do that with my nephews over the holidays, to get them prepared for when they are old enough to head to the New Amsterdam. After all, I'm not encouraging anyone to take children who still cry every hour. That might be too young.
REAL LIFE. REAL NEWS. REAL VOICES.
Help us tell more of the stories that matter from voices that too often remain unheard.