Guy Ritchie's live-action "Aladdin" wants to show us a whole new world next May. Unfortunately, that new world has raised some concerns.
Before the "Aladdin" cast — which includes Will Smith as the genie and Marwan Kenzari as a new "hot" Jafar — was even officially announced, there were reports that Disney was "struggling" to find actors to play Aladdin and Jasmine. Online backlash ensued. Ultimately, Egyptian-born actor Mena Massoud and British-Indian actress Naomi Scott were chosen for the parts.
During an interview about his new movie "12 Strong," we asked Iranian-born actor Navid Negahban, who plays the sultan in "Aladdin," about the concerns. Negahban believes it's a nonissue.
"It's not whitewashing," he said. The actor then used a metaphor to explain the importance of diversity.
"The thing is that the garden should be filled with flowers of different kinds," he said. "If not, the garden is going to be very boring. So you're gonna go and see this beautiful garden with colorful flowers, and I just hope that you enjoy the journey."
"Just go enjoy the journey," Negahban said, "because you will definitely love the film. It doesn't matter how old you are, the film has something for you to take away from it."
In addition to discussing "Aladdin," Negahban told HuffPost about playing General Abdul Rashid Dostum in "12 Strong," which is based on actual events. The new film, inspired by Doug Stanton's Horse Soldiers, revolves around the time U.S. Special Forces partnered with Afghanistan's Northern Alliance to fight the Taliban following Sept. 11, 2001.
Negahban also discussed his new role as the Shadow King on FX's "X-Men" universe show "Legion," and a classic moment with his "Homeland" character, Abu Nazir.
How important was the book Horse Soldiers in preparing you for "12 Strong"?
[The book] gave me an understanding of the situation, what took place on the ground and ... the character. Mark Nutsch and Bob Pennington [soldiers involved in the real-life conflict] came to set. They were very helpful. And J.R. Seeger, who was a CIA agent on the ground, he was tremendously helpful because he had a personal relationship with Dostum. He was able to to give me some personal insight.
You give a sobering speech in this movie about how allies one day can be enemies the next. What was that moment like?
Just imagine, we've been working on this project for three months and you become part of the story. The story takes over and the bond that was created at that moment. That speech was very heartfelt and was very true and was very sad.
Dostum is kind of hard to read at first, but his character changes throughout the movie, particularly when he talks about having the heart of a warrior.
All the guys that I talked to ... they were saying that he was this tough warlord and warrior and soldier, but at the same time, deep down, he is very playful. He is joking around. He is like a kid, a childlike spirit in that everything is possible. "We can do it. OK, let's go and do it." And he's very sensitive. This is what the guys [described], the guys who dealt with him one on one.
You're known for playing some iconic antagonists, such as terrorist Abu Nazir in "Homeland." How did that experience compare to playing Dostum, an Afghan warlord who sides with the U.S. in the fight against the Taliban?
I look just at the character. This character is just a man. You take a man and you put him in the circumstances that he's in and you use his journey and his background to give color to create this beautiful painting on white canvas. With Dostum, it was very complex because he's so multilayered in every given circumstance. He would turn and he would switch, so you have to just let go of yourself and let go of control and allow the character to take over.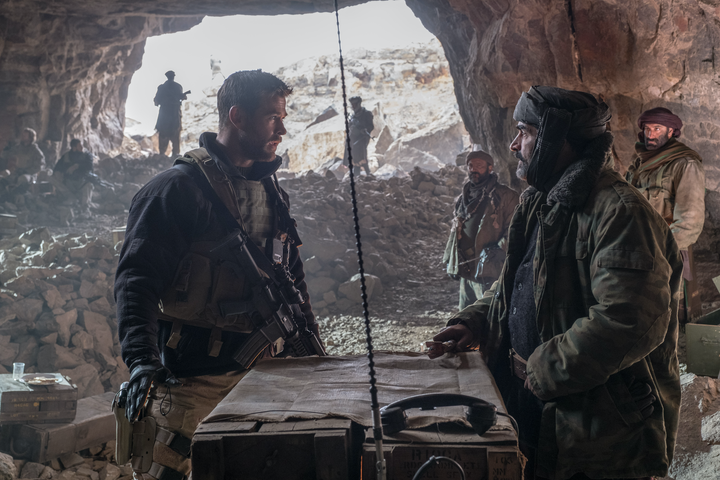 There's a famous "Homeland" moment when Brody texts Abu Nazir "May 1″ to warn him of a U.S. led attack against him. Do people ever text you "May 1" nowadays?
[Laughs] When the show came on, I had a couple of those. 
It was just announced that you're playing another villain ― Amahl Farouk, aka the Shadow King, in "Legion" Season 2. What's it been like taking on that character?
Oh my gosh, this is fascinating. It's an amazing character, and I'm so excited. And actually I kind of fell into it because they already shot about six or seven episodes, and I had to come in and catch up with them … they were so helpful. And, oh my gosh, Dan Stevens and Aubrey Plaza. These two were kind of babysitting me. Aubrey was guiding me [on] what was the journey of the character. A beautiful, sweet group of people to work with. I just love them. They took me in, I don't know, like an orphan, and they gave me a home.
There was a great response to the first clip of you from the Television Critics Association press tour, during which Dan Stevens' character, David, sees a fortune teller who turns out to be Amahl Farouk.
Thank you so much. I can't wait to see how the people respond to it. I'm a kid inside. I'm a kid with the comic books all my life. I was very excited. The funny thing is, the day that I arrived on the set — I flew in on Sunday and then I went Monday. I was there and they handed me all these nice scripts ... and [actor] Bill Irwin, he walked up to me and he said, "Do you have anybody to run lines with? I do have time if you need help. I'm here to help you." These guys were the sweetest people, and the way they took me in was unbelievable.
So what can we expect from the Sultan?
The sultan ― it was kind of like a childhood dream. It was like a kid's dream come to reality. Just imagine me coming from [Mashhad, Iran, as] a kid who has a dream and is coming up and ends up playing the sultan in a Disney movie. It was an amazing journey. Beautiful people to work with.
This is one of the tricky questions ... because I don't know how much I can talk about without me getting into trouble, but I just have to tell you that the sultan has a depth, and the story goes deeper, maybe deeper than the animation. It's very heartfelt.
"12 Strong" goes nationwide Jan. 19, 2018. "Aladdin" is set to be released in May 2019.
This interview has been edited and condensed for clarity.
Calling all HuffPost superfans!
Sign up for membership to become a founding member and help shape HuffPost's next chapter
BEFORE YOU GO
PHOTO GALLERY
7 Actresses Perfect For "Aladdin"