Everyone loves a good success story, but let's admit something we all know -- the people we like best are the ones who've put in some work. Shiny personas and delicious food are certainly prerequisites for chef stardom these days, but frankly, we're most inspired by stories born of potato peeling, not silver spoons.
Such is the case with Alain Allegretti, who from an outsider's glimpse would seem to have it all. Yes, he runs his own New York restaurant, Bistro la Promenade (plus another in Atlantic City). Yes, his food is pristine and he gets to spend all day with it (seriously, we could go on for days about his coquilles St. Jacques, his stuffed zucchini beignets, his perfectly crispy French fries, his … ). Yes, he's French. And yes, okay, he's a little bit handsome (remind him that he was voted Eater's Hottest Chef In New York, and he'll probably turn red). But despite all his envy-inducing qualities, we can't help but like the guy. Why? Because he earned it all with blood, sweat and tears -- and some pretty bad-ass deep-fryer burns. (Seriously, that's what really got us. That and the fries.)
The video above outlines his travails, from growing up on a farm in France where he "learned very young that you have to work very hard to get something," to later having his hand dipped into a deep-fryer by a brutal chef. And still showing up to work the next day, (And you thought your boss was bad.) But the sting of hot oil paled in comparison to the pain of closing his eponymous first restaurant, Allegretti: "Especially when you put your name on the door, it's like you have the feeling you're getting killed two times -- the restaurant and yourself," he reflects.
Watch the video above to see how the rest of his story has unfolded. (Hint: There's a happy ending.)
Related
Before You Go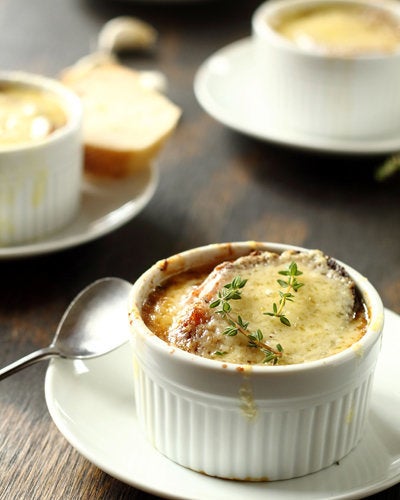 French Family Cooking