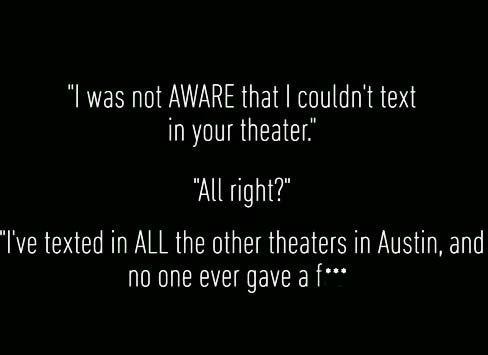 If you're someone who can't stand people who text during movies, Alamo Drafthouse feels your pain. Even if they didn't serve food and beer during movies, they would be still be one of the greatest movie theater chains in the country. Evidence? Just listen to this voicemail from a livid, obnoxiously entitled customer who left a voicemail for the Austin-based company after she was kicked out for texting during a movie.
Instead of issuing an apology, the Alamo instead turned the call into a hilarious video proving that when it comes to a moviegoing experience free from distraction, they mean business. Careful, the caller uses some NSFW language, and is spelled out in the video. (The theater unequivocally states before every screening that they will not hesitate to kick out loud or distracting audience members.)
We can't wait until Alamo Drafthouse throws out annoying customers at their planned New York and Los Angeles locations that will supposedly open within the next year.
Popular in the Community