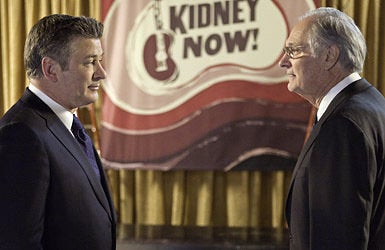 Alan Alda, the Academy Award-nominated, Emmy award-winning actor, director, screenwriter, hasn't yet discovered that he's too big a star to be talking to me (thank god) and keeps granting us interviews. On this occasion, we were curious what his time on the set of "30 Rock" has been like, and exactly how awkward the interactions were with his newly found son (Alec Baldwin). You can catch Alda's first episode of the NBC sitcom tonight at 9:30p ET.
So, Alan...Mr. Alda...Sir, it's been about a year since our last interview. Has anything interesting happened to you since then or were you just waiting for me to pop in to spice things up?
I was just on the help line when your email came in. I thought you'd forgotten me.
You're playing Jack Donaghy's long-lost father on "30 Rock" this season. What's it like to have Alec Baldwin as a son?
It's all right, except that he keeps borrowing the family car and banging it up and his room is a pigsty.
If Jack Donaghy were a real person, what would he give you for father's day?
A life-size cut-out of Tom DeLay. I think he may have misunderstood why I keep a life-size cut-out of Sarah Palin.
We hear his character, who is a corporation-loving Republican, gets very upset to find his real father is a liberal. You also played a liberal father to a conservative son in "Everyone Says I Love You." What advice do you have for fathers who have to reach across political lines for their kids?
Find out why they have these ideas that go against everything you hold dear. Listen to them with patience and understanding. Then have them abducted and reprogrammed.
"30 Rock" seems to have some deep daddy issues, what with Tracy Jordan being abandoned by his father, Jack being abandoned by his father, and Jenna wanting to have sex with her father. Thoughts?
I didn't know Jenna wanted to have sex with her father. That explains her behavior in the elevator the other day. What else do you know about these people?

Can you tell us any gossip about Tina Fey? Is she hiding anything scandalous...like normalcy
You're right. She's strangely normal. She's a brilliant writer and actress, she's a producer, a satirist, she's on the cover of Time Magazine as one of the 100 most influential people, and yet if you met her and didn't know who she was, you'd think she was this nice mom who was really interested in what you had to say. I wonder if there's a life size cut-out of her.
(Aside: We're sending him one)
You have been a mainstay of American television for four decades, are you happy to see NBC moving back to making sitcoms? What trends in television hearten you the most?
What heartens me is to see "30 Rock" on the air. It makes me laugh from my gut, which I really like to do.
Calling all HuffPost superfans!
Sign up for membership to become a founding member and help shape HuffPost's next chapter