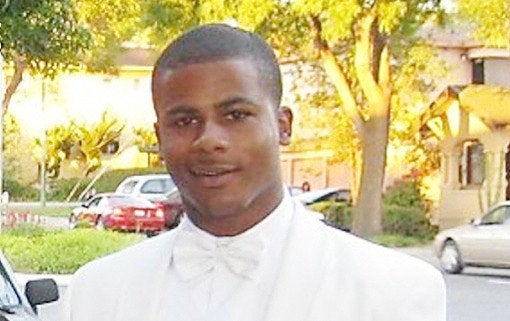 The Oakland police officer who shot and killed a black teenager earlier this year will not face charges in a case that has touched off a lightning storm of controversy between the city's African American community and a troubled police force on the brink of a federal takeover.
On Tuesday, the Alameda County District Attorney's office released an 18-page report on the incident, stating that Officer Miguel Masso acted in self-defense when he shot Alan Blueford three times in the torso after the 18-year-old Skyline High School student pointed a gun at him.
"Officer Masso actually and reasonably believed that his life was in danger after he had made eye contact with Mr. Blueford and that if he did not shoot, he would be killed," Senior District Attorney Keneth Mifsud wrote.
The report states that on May 6 of this year, Masso and his partner Officer Joe Fesmire were driving in their patrol car and saw Blueford walking with two others in Oakland's Castlemont neighborhood, allegedly in the process of a drug deal, when the officers noticed that Blueford looked as if he might be concealing a gun in his waistband.
Masso and Fesmire detained the trio but Blueford soon fled on foot. Masso gave chase for a number of blocks before the teen allegedly pulled an object that Masso identified as a handgun from his pants and pointed it at Masso. In front of a private residence where a birthday party was underway, Blueford tripped, fell to the ground and again pointed a gun at the officer. Masso fired four shots, three of which fatally struck Blueford and the other of which hit his own foot.
"I was scared," said Masso, who claimed this was the first time anyone had ever pointed a gun at him. "It scared the living crap out of me."
Masso is currently on medical leave. A coroner's report on Blueford found no gunpowder residue on his hands and no drugs or alcohol in his bloodstream.
Police found a gun containing Blueford's fingerprints on the ground near where he was shot that was stolen from the home of a police officer last year.
The victim's father, Adam Blueford, told the San Francisco Chronicle that he was disappointed at the district attorney's decision not to charge Masso. "We thought it might go this way," he said. "My son didn't commit any crime at all other than running. This is alarming."
Represented by noted civil rights attorney John Burris, the family has filed a federal civil rights lawsuit against the Oakland Police Department charging that not only was Blueford unarmed at the time at the time of the shooting, but he also was not a serious threat to Masso.
Like Blueford's father, Burris told the Oakland Tribune that he wasn't surprised by the District Attorney's decision not to charge the Masso; however, he argued that the individual officer escaping criminal prosecution won't derail the suit. "It's a typical response," Burris explained. "It's outrageous to me to accept the notion that on one or two occasions this young man pointed a gun at a police officer and didn't shoot."
The Blueford family has led a series of contentious protests in recent months. "Alan cannot speak, so I'm going to speak for Alan," said his mother, Jeralynn Blueford, at a protest in front of an police substation last month. "[OPD's] job is to protect and serve--I was not served and Alan was not protected. We are about standing for justice."
The protests reached a fever pitch at recent Oakland City Counsel meetings, one of which had to be stopped prematurely due to rancor of the assembled demonstrators--some of whom carried Occupy signs. "The rowdiness of the crowd and all the yelling and screaming would never have happened before Occupy," Oakland City Counsel President Larry Reid told Oakland North. "It was never like this before. We've had heated and sometimes disruptive discourse, but never like this. It denies the rights to the public to let them speak."
At the following city council meeting, protesters were shut out of the building entirely.
Much of the anger during the meetings stemmed from OPD's refusal to publicly release a police report about the incident while the investigation was still being conducted. There had been conflicting reports to whether or not Blueford had fired a gun, and many in the community suspected a police coverup.
Oakland has long had a rocky relationship with its police department. Over a decade ago, a group of citizens filed a class-action lawsuit the department against a cadre of rogue cops, calling themselves the "Rough Riders," who used excessive force, planted evidence and falsified police reports. As a result of the negotiated settlement, the department was required to meet a number of reform benchmarks.
OPD's lack of progress on said reforms has led U.S. Federal Judge Thelton Henderson to appoint an independent police monitor to oversee the city's police force and threaten to place the entire department under federal receivership.
In a report issued earlier this month, monitor Robert Warshaw slammed OPD for regularly using force in situations when it was not warranted, writing that the department's investigators exhibited "the most deficiencies and the least inquisitiveness."
The Contra Costa Times notes Warshaw's report included references to several specific cases where the department used excessive force. However, the names of those cases were blacked out when the report was released to the public, making it unknown if Blueford's killing is one of them.
"I expect my officers to encounter dangerous situations during the course of their work," Oakland Police Chief Howard Jordan said in a statement. "Removing firearms from the street is a core component in addressing the violence this city faces, and my expectation includes that they survive those encounters. Because of the inherent danger of their jobs, it is more important--and not less--to provide the training, resources, and practices that allows and requires officers to provide beneficial, lawful and constitutional policing to the City of Oakland and its community."
An OPD internal affairs investigation into Blueford's shooting remains open.