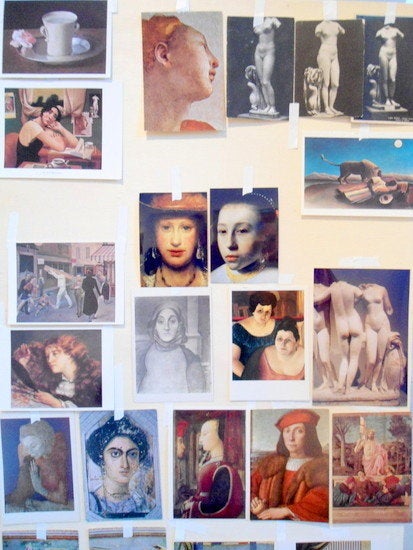 Normally, if you wanted to drop by the studio of painter Alan Feltus and see what he was up to you would need to fly to Italy. Feltus and his wife -- the painter Lani Irwin -- have lived for 25 years now in the hills behind the town of Assisi, just 20 minutes from the Basilica of San Francesco d'Assisi and its incomparable frescoes by Giotto, Cimabue, Pietro Lorenzetti and Simone Martini. However, during the month of November, Southern Californians have been dropping in to meet Alan and view a selection of his paintings during his residency at the Lux Art Institute in Encinitas, California, just north of San Diego.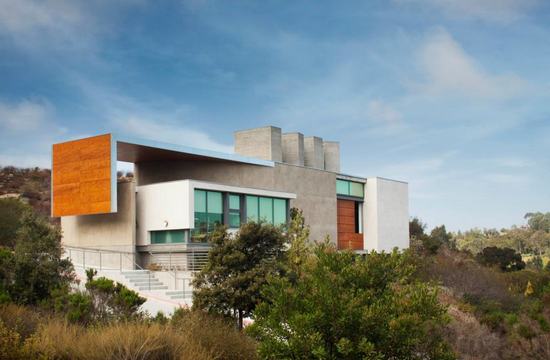 The Lux Art Institute
The Lux "Artist's Pavillion," a sleek five-year-old structure which hovers above a coastal canyon, includes a visiting artist's residence, a studio and an exhibition space. The institute treats its resident artists very well. Alan Feltus arrived to find that foods he had requested on his shopping list -- which included Café Bustelo organic coffee, whole milk yogurt, granola and dried fruit -- had been stocked in his kitchen. In the studio he found Blue Ridge oil paints along with solvents, varnish and brushes.
Feltus is a veteran representational artist known for his close-hued paintings of figures who carry an air of self-absorption tinged with melancholy. Remarkably, Feltus works without models and, for years, has used mirrors, referring to himself as the starting point for the faces and bodies of both his male and female figures. Seeing his works together is just a bit uncanny: it's a bit like attending a Feltus family reunion. The upstairs exhibition area at the Lux has 14 Feltus originals on display -- a dozen oils and two drawings -- where they emanate burnished quietude and a hint of august strangeness.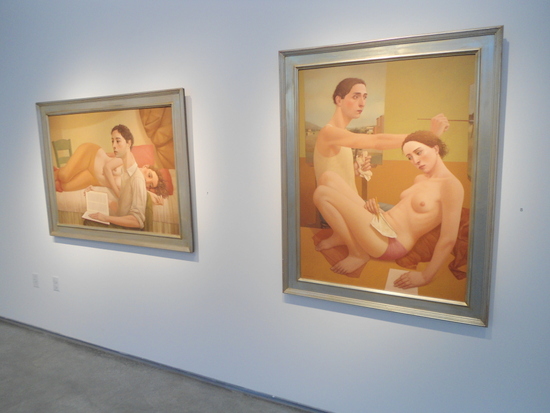 Two oils by Alan Feltus -- "Mermaid's Story," 2003, and "Studio Days," 2004 on display at the Lux Artist's Pavillion
Feltus has set up a small studio area in the north corner of the gallery where he has been recreating a 1994 painting, "Angel of Santa Felicita," that was destroyed in a fire in a collector's home. As Feltus explains, his painting process is variable, and it isn't his intention to make a precise copy of the original.
I'm not making a duplicate of the lost painting, but a variation on that earlier painting. It has already changed a good bit in the last two weeks. I have to allow a painting to change and grow as I work on it. I want changes to take place from day to day, layer to layer. At first, the changes are to locate things, which means to shift them around until the relationships between the parts (the objects or forms), and between those forms and the edges of the painting, are what I consider right. They have to take on a meaning in terms of the composition. They have to become right in my judgement.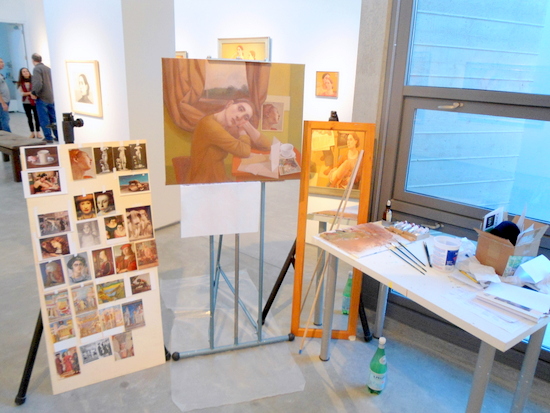 Alan Feltus' easel with his work in progress
His setup includes a selection of postcards that are there to provide inspiration and guidance. The early version of "Santa Felicita" is there under Francisco Zurbaran's "A Cup of Water and a Rose," along with a Hellenistic Venus, paintings by Balthus, Courbet, Gorky and others. Feltus moves easily between the classical and the contemporary, as his sources demonstrate.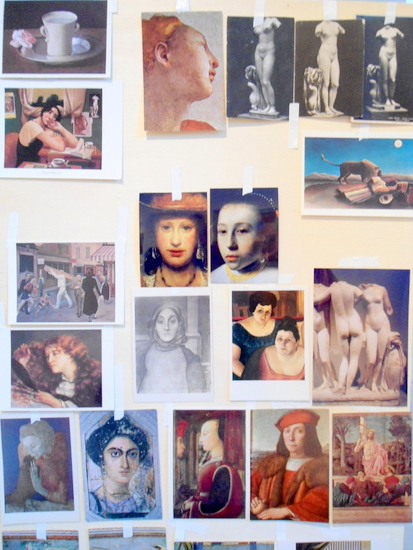 Alan Feltus' source images
During my visit, when I chatted with Feltus, or took in his work while he chatted with others, I was able to appreciate just what a remarkable situation the Lux Art Institute has created. Seeing him there among his works, engaging in conversation, was like being in a Feltus painting. Having his studio, which would normally be private, in a public setting was also revealing and stimulating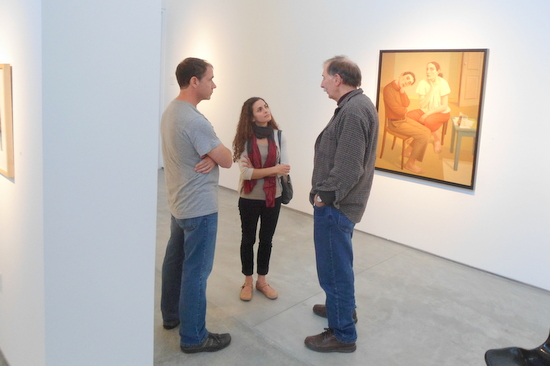 Alan Feltus chats with visitors to his Lux exhibition
"I am guided by instinct as I watch what evolves on the canvas," Feltus explained in an email he sent after my visit. "Nothing is planned, anything can happen, but the changes that happen are within the context of my paintings over decades of painting this way. This is how most painters work. What unfolds is from within. In that sense it is personal."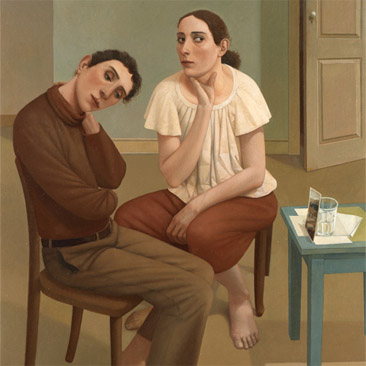 Alan Feltus, "The Best of Times," 2007, Oil on canvas, 47 1/4 x 39 1/4 inches
At the Lux Institute, Alan Feltus has allowed this personal artistic process to become public and transparent. If you live within driving distance, you should see it for yourself.
Alan Feltus will be in residency at the Lux Art Institute through December 1, 2012. His works will remain on display through December 29, 2012.
Tuesday, November 27, 2012
5:30-6:00pm: Wine reception
6:00-7:00pm: Artist talk
Related
Popular in the Community