WASHINGTON -- Alan Grayson was one of Congress' most outspoken lawmakers when he was in office, frequently blasting Republicans on a variety of issues. But in the eyes of a Republican vying to face-off against Grayson in November, the former Democratic congressman's words and actions went beyond typical partisanship: They were "anti-Christian" and abandoned "biblical values."
Grayson lost his reelection bid in 2010. He is now running in Florida's 9th congressional district. Four Republicans are competing against each other for their party's nomination.
In a recent editorial board interview with the Orlando Sentinel, one of those candidates -- attorney Todd Long -- said he had a better chance of appealing to Christian Democrats than Grayson did:
You have Alan Grayson, who is up there spreading hate when he was in Congress, dividing the country. He wasn't trying to solve any problems. He has no solutions that make any sense to anybody. He's up there basically to create his own image and create his own power base. ...

To try to get Christian Puerto Rican Democrats to vote for somebody who is the most anti-Christian congressman probably we've ever had in our history -- doesn't believe in any of the biblical values, doesn't believe in treating people well, doesn't believe in uniting the country, doesn't believe in solving problems -- that's not going to happen.

They're going to vote for me and my Christian values because we believe in the same things: uniting the country, solving problems, working together as one people and moving the nation forward -- not tearing us apart.
Grayson is Jewish. He told The Huffington Post that because of his religion, he has "had to deal with religious innuendo from opponents since the beginning." He pointed to 2008 ads by Ric Keller -- then the incumbent congressman in Florida's 8th congressional district -- that ended with "Ultra-liberal Alan Grayson is not one of us."
"This is really going a step beyond that," Grayson said in an email. "Long clearly is trying to make religion one of the main issues, and perhaps the main issue, in this race (which is ironic, because Long claims to be a strict Constitutionalist, and Article VI, paragraph 3 of the Constitution specifically states: 'no religious test shall ever be required as a qualification to any office or public trust under the United States.')"
"I'm shocked that anyone would stoop so low," added Grayson. "Bigotry and prejudice should have no place in politics."
Long's campaign did not return a request for comment.
More than 40 percent of population the new 9th district is Hispanic, according to the Orlando Sentinel, with a large proportion of them Democratic-leaning Puerto Ricans.
The other candidates running against Grayson are Osceola School Board vice chair Julius Menendez, businessman Mark Oxner and Osceola County Commission Chair John Quinones.
The GOP primary will take place on Aug. 14.
Before You Go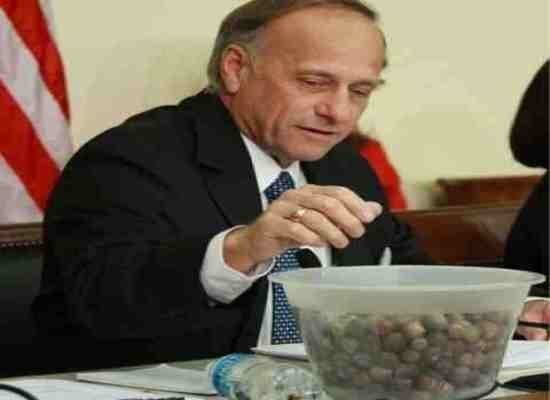 More Crazy Examples of Congressional Theatrics
Popular in the Community