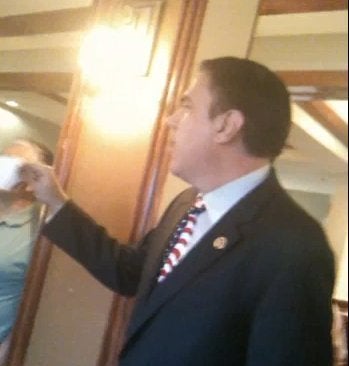 Conservative media spent much of Friday attacking Rep. Alan Grayson (D-Fla.) for breaking up a GOP meeting Thursday evening in his Orlando district. Rush Limbaugh talked about the confrontation for good chunks of his show and Fox News hit the story several times, as did Michelle Malkin.
Though the media outlets didn't make it clear, Grayson had a specific objective in attending the meeting. Grayson had obtained an email from Ron Janssen, the District One Republican Chairman, telling fellow Republicans that at the next meeting there would be a guest speaker who had "snuck behind enemy lines into an Organizing For America Meeting." He wanted to know if the Orange County Republicans approved of the tactic.
Organizing for America (OFA) is the outgrowth of Obama's campaign machine, comprised of millions of activists.
"Diana Evans is a staunch fellow Conservative Republican, who snuck behind enemy lines into an Organizing For America Meeting and learned what they are up to, and she learned a lot. She will share that with us, and how we can counteract their efforts. You will not want to miss this. It is so simple, you all will wonder how we could have missed it," wrote Janssen.
Janssen, reached by HuffPost in Orlando, said that it was Grayson who's guilty of spying, for getting a copy of the email he wrote. The OFA spy, he said, came to them with information and wasn't sent by the party. [Read Janssen's email here.]
"If we had orchestrated it I might be able to say that that was the case," Janssen said of Grayson's charge of untoward tactics. "But somebody came to me, and it was just a couple gals who decided to go do this on their own. His was concentrated; he has obviously somehow gotten into the Orange County Republican Executive Committee database, and he has gotten that email, somehow, that I sent out, and he then acted on it. So if there's any spying, I would say, that's underway, it's actually more by him."
Nonsense, said Grayson. "I got several copies of his email. This is not because I send people there operating through deception, it's because I have a lot of Republican support," Grayson told HuffPost. "It's very revealing he thinks there's no difference between what they did and what I did."
Grayson said he went to the meeting to ask the Republicans there if they approved of the stealth tactics. "I just thought that was really cheap. It seems that the Republican Party is returning to its Nixonian roots - corruption, lying and spying -- and I wanted to know what the people there thought of that," he said.
The meeting, he said, was four blocks from his house and he was already scheduled to visit the Perkins restaurant where the GOP was meeting in order to chat with a homeowners association. The homeowners, though, had gotten to Perkins first and usurped the room where the GOP had broadcast its meeting. Grayson initially thought the homeowners were the GOP gathering and asked them about the spying email. He quickly figured out he had the wrong group and met with them for an hour, he said.
Janssen said that one of the homeowners was shocked to see Grayson because just the day before she had sent Grayson's office a message of complaint. "These people are all sitting there like, 'What is this all about?' They had no clue what it was," said Janssen. "I talked to the president of the homeowner's association afterward and he said -- and his wife said, 'I had just sent an email to his office yesterday complaining about something and,' she said, 'here he is, walks in the door. And I thought 'Geez, what a response that is.''"
When he found the Republicans, he pressed them on the spying. "How many here think that it's okay to lie and to spy?" Grayson asked them. "And a significant number of people raised their hand."
That was basically the end of the discussion, as the Republicans demanded an apology from Grayson for interrupting their meeting.
"They basically did what teabaggers do, which is be rude and create a ruckus," he said, saying that the Orange County Republican Party is "overrun with teabaggers."
Janssen said that when Sarah Palin came to town he was responsible for showing her around, which may have been how Diana Evans heard about him. Evans couldn't be reached, but based on her few tweets, she appears to be a standard Glenn Beck viewer.
"She came up to me and said 'Ron, would you be interested in this?'" recalled Janssen of Evans' spying. "All it is is network marketing in its simplest form. I guess Organizing for American calls it a snowflake, where you get five different points and they go out, and from there five, and then five, you know, all the way around. And each level goes out five. So you get to a lot of people in a very quick period of time. And I thought, 'Well, it was interesting.' We kind of changed the name from a snowflake, I thought, Well, if they're calling it a snowflake you've got to come up with something else, we called it the Pentagon Patriots, which is a little bit more conservative-sounding."
Watch the GOP-edited video:
Popular in the Community